Best fitness trackers of 2015: Buying guide
This article by Simon Crisp for Gizmag may be of interest to subscribers. Here is a section:
This is the big one: you need to seriously consider what aspects of your fitness and activity you want this wearable to measure and track. It might be that you just want to keep an eye on how many steps you take per day, the distance you cover or the calories you are burning. Other trackers also offer built-in heart-rate tracking which can be a great indicator of how hard you're working, and let you work-out in different zones for fat-burning, endurance, or speed.

Another feature offered by some trackers is the ability to log location via GPS. This is good for users who want more precise measurements of the distances they have run or cycled. While some trackers have GPS built-in, others can use the information from your phone (if you have it with you while you work-out).

In terms of activity tracking, not all devices can monitor all activities. While most cover things like walking, running and cycling, you can't always select exercises like yoga, gym-equipment based activity or sleep quality, and you will need to check a tracker's compatibility with your fitness schedule.
Many of us who have been involved in athletic activities over the last thirty years will have tried out heart rate monitors. My own experience was that I found the chest strap uncomfortable while sculling and chaffing while running so I never really adopted heart rate monitoring into my workout despite the potential advantages.

Apple's Watch incorporates the same technology as the Pulse Oximeter hospitals clip to your finger to measure oxygen in your blood. This has greatly increased interest in heart rate monitoring and while there are trade-offs with the chest strap variety, technology is improving all the time. The number of products offering this functionality is proliferating rapidly and apps incorporating the data are improving at an even faster pace.

Dutch listed Philips holds a number of patents in this sector. It is also active in creating consumer products within its 3D printing business (Shapeways) http://www.shapeways.com/ and also has significant 3D imaging segments for the medical sector.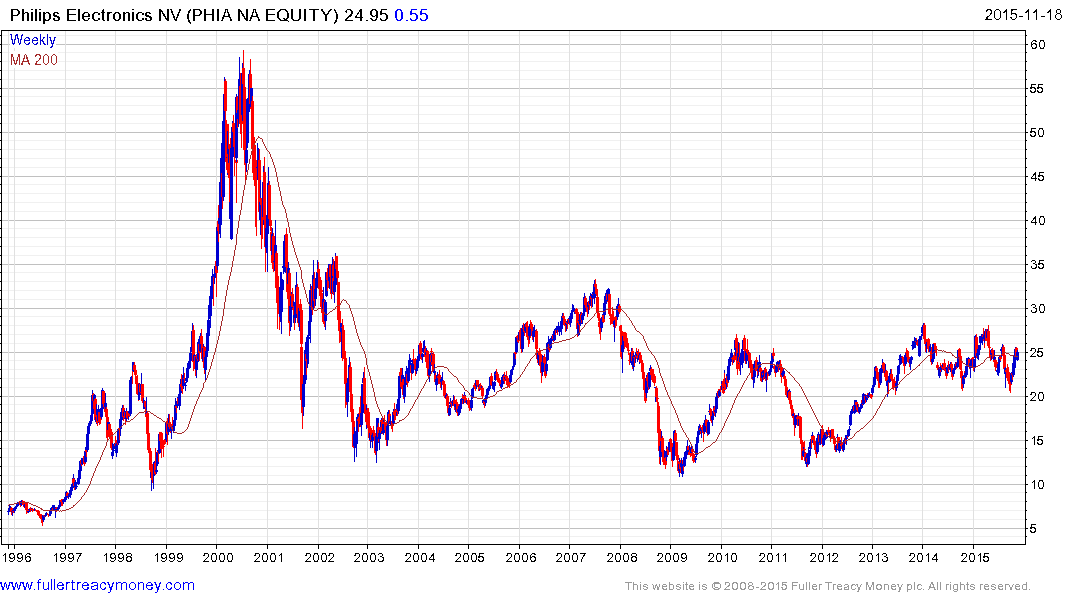 The share remains in a more than decade-long base and continues to firm from the €20 area. A sustained move above €30 would suggest a return to medium-term demand dominance.
Back to top