Australia ASX 300 Overextensions
Over the last two days I have created spreadsheets for the constituents of the S&P500 and the FTSE-350; ranking them by overextensions relative to the trend mean. Today I am conducting the same exercise for Australia's ASX 300.

This is a particularly illiquid time of year and it takes less capital for traders to move markets. This is easiest where accelerated moves are in evidence, stops will have been placed and algorithmic systems have little difficulty identifying them.


Whitehaven Coal is in the top three best performers on the Index this year following what has been an impressive rebound from very depressed levels, but it now also has one of the largest overextensions relative to the trend mean. Many coal companies went bust over the last 18 months with the result that the survivors are in a better competitive position not least because Asian coal demand is not about to evaporate. The share has lost momentum over the month and a sustained move above A$3 will be required to signal a return to demand dominance.

As with the UK list miners have been both among the best performers and sport some of the widest overextensions relaitve to their trend means. Galaxy Resources with an overextension of 31.2%, Fortescue Metals at 34.57% and South32 at 33.83% are clear examples.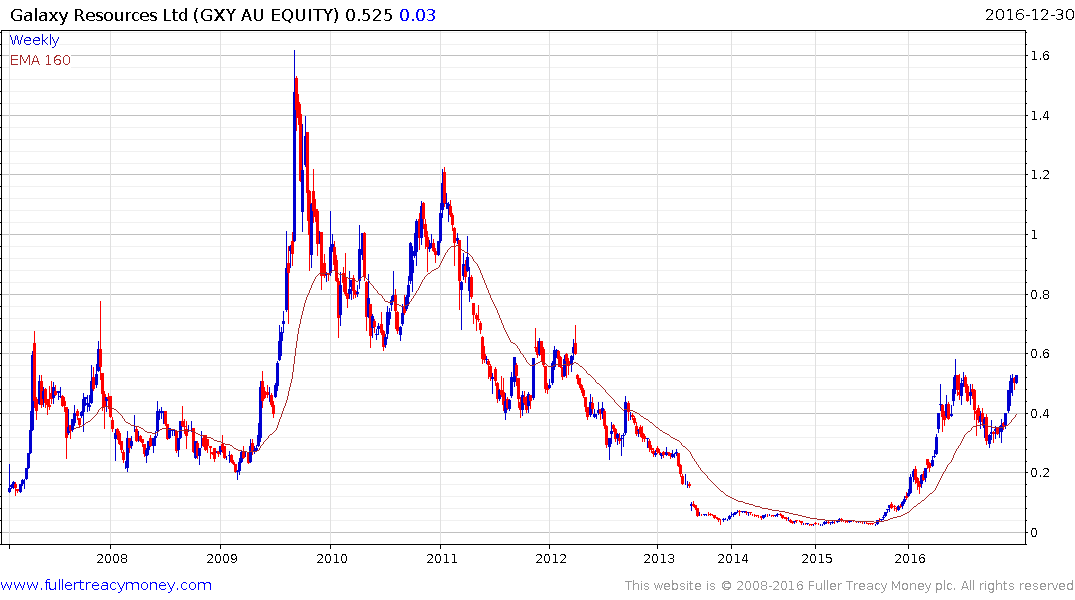 Galaxy Resources is a lithium explorer and is representative of the strong performance that sector has posted globally this year. The share expereicned a sharp pullback between June and September but has since rebounded and a sustained move below the trend mean would be required to question recovery potenital.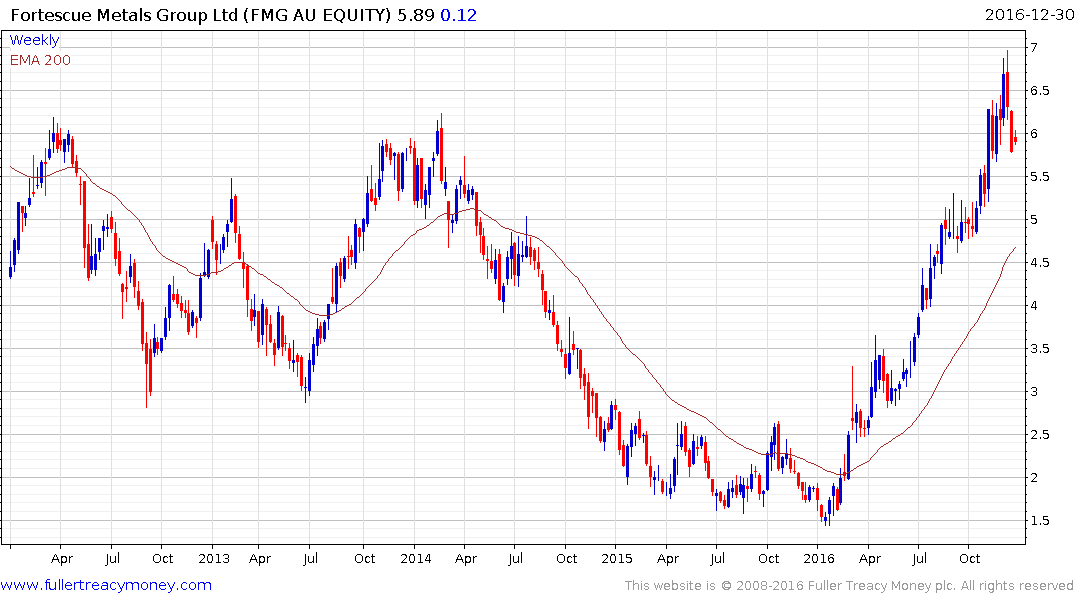 Fortescue Metals is more heavily leveraged than other iron-ore miners and has outperformed as a result. The share hit a near-term peak near $7 three weeks ago and at least some consolidation of this year's impressive advance is now underway.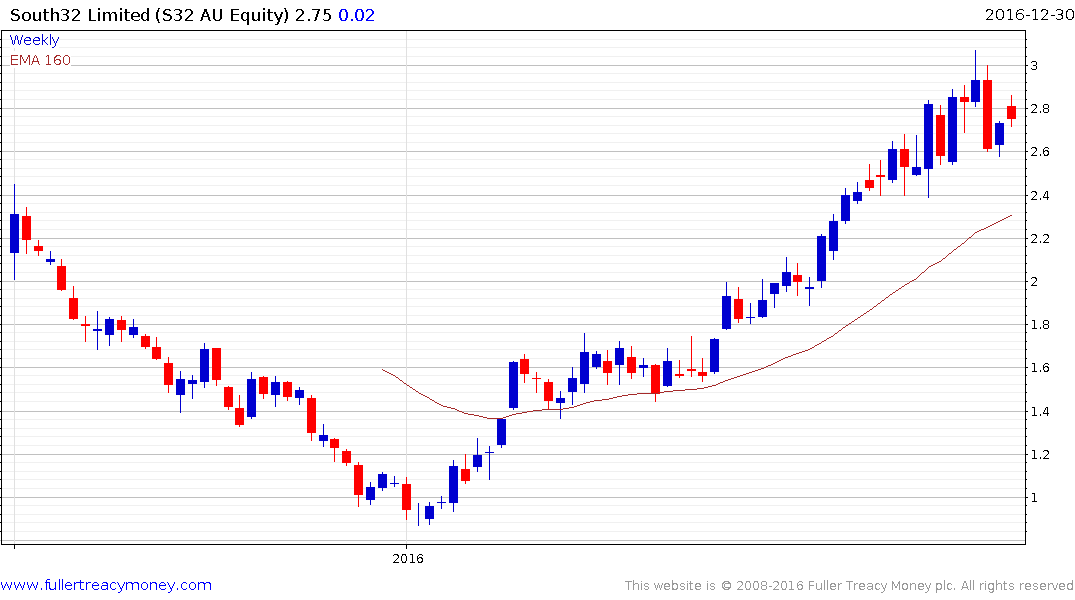 South32 posted a large downward dynamic in the middle of the month and at least some consolidation of this year's gains is also evident in this chart.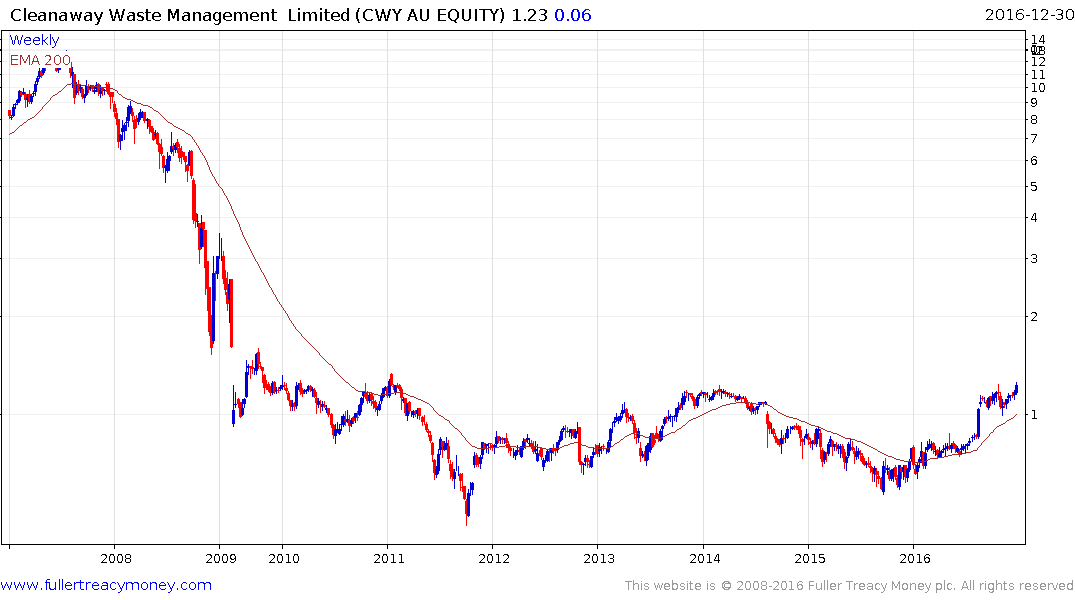 Cleanaway Waste Management has rallied impressively recently to test the upper side of a developing eight-year base. A sustained move above A$1.30 would signal a return to demand dominance beyond the short term.

At the other end of the spectrum gold miners have experienced a deep pullback over the last few months which in some cases accelerated in the last two weeks. There is now some evidence of at least short-term support being found amid deep oversold conditions.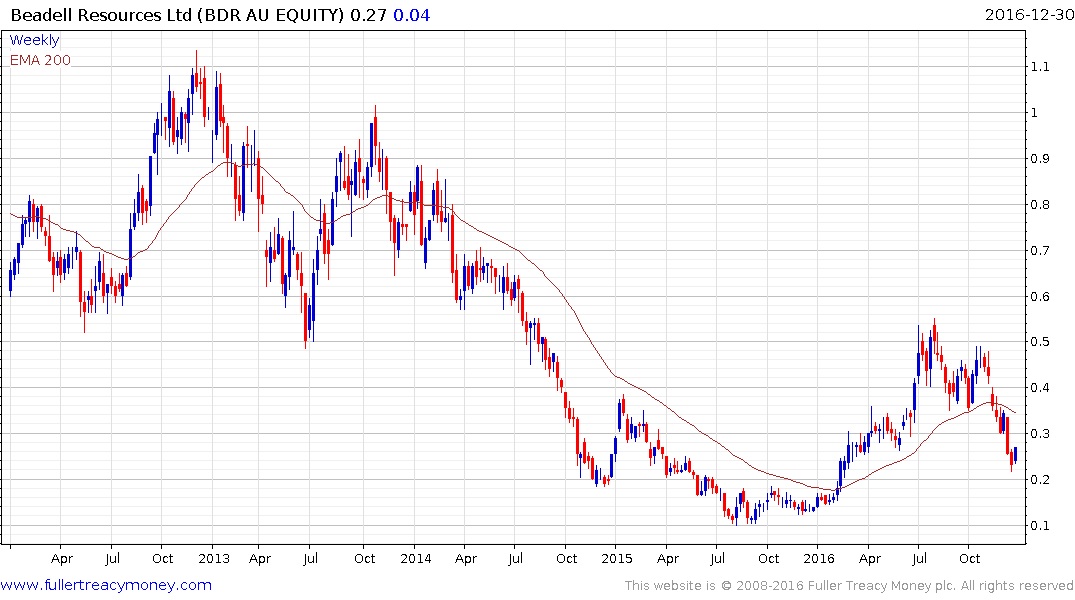 Beadell Resources more than halved from its August peak and has found at least near-term support. St. Barbara Ltd, Alacer Gold, Saracen Gold and Northern Star all have similar patterns and are bouncing following accelerated declines.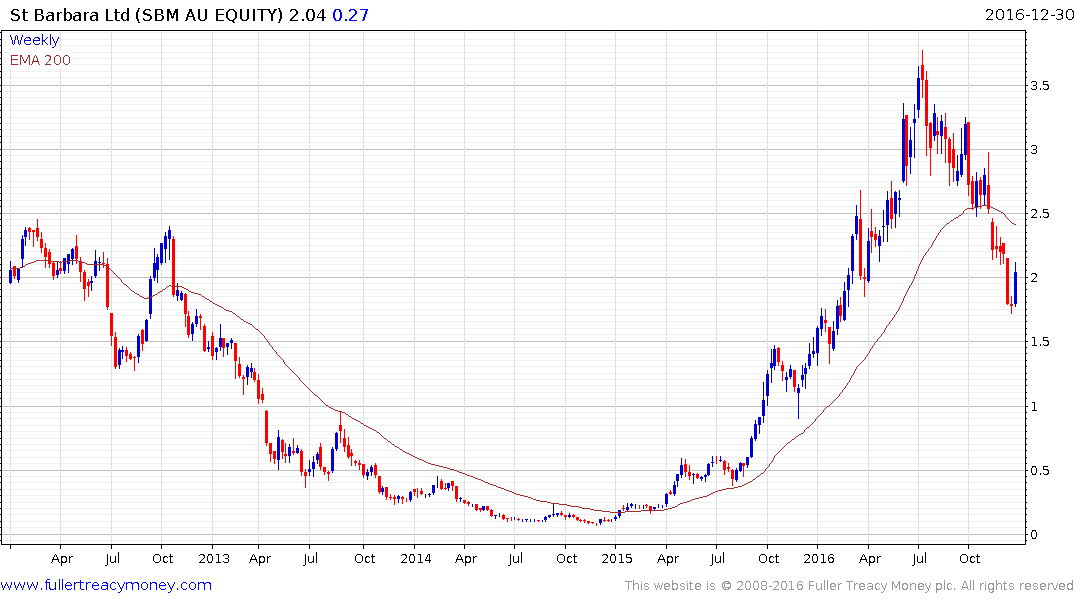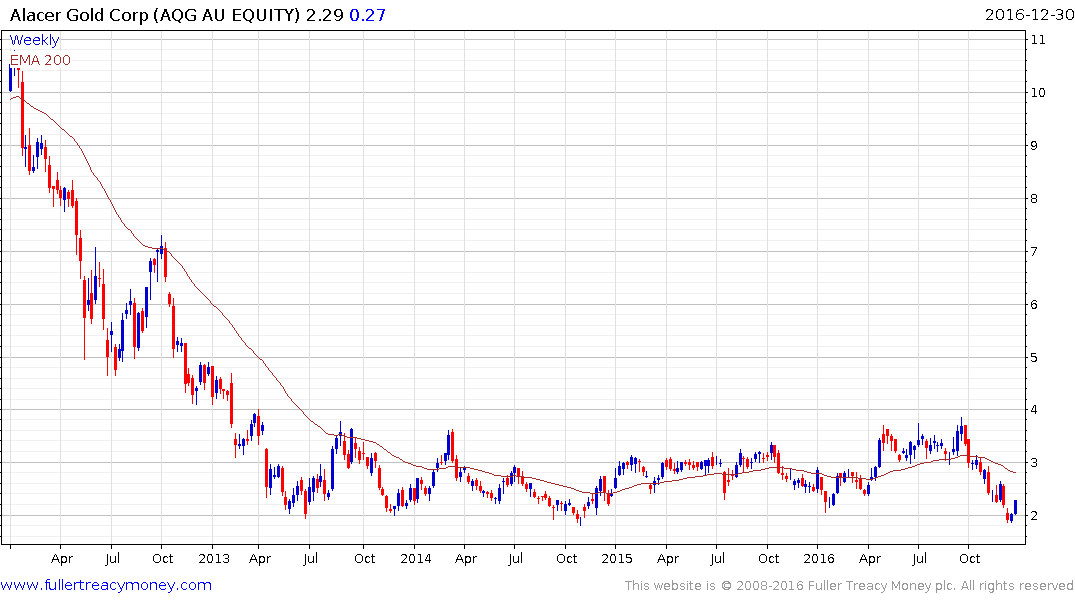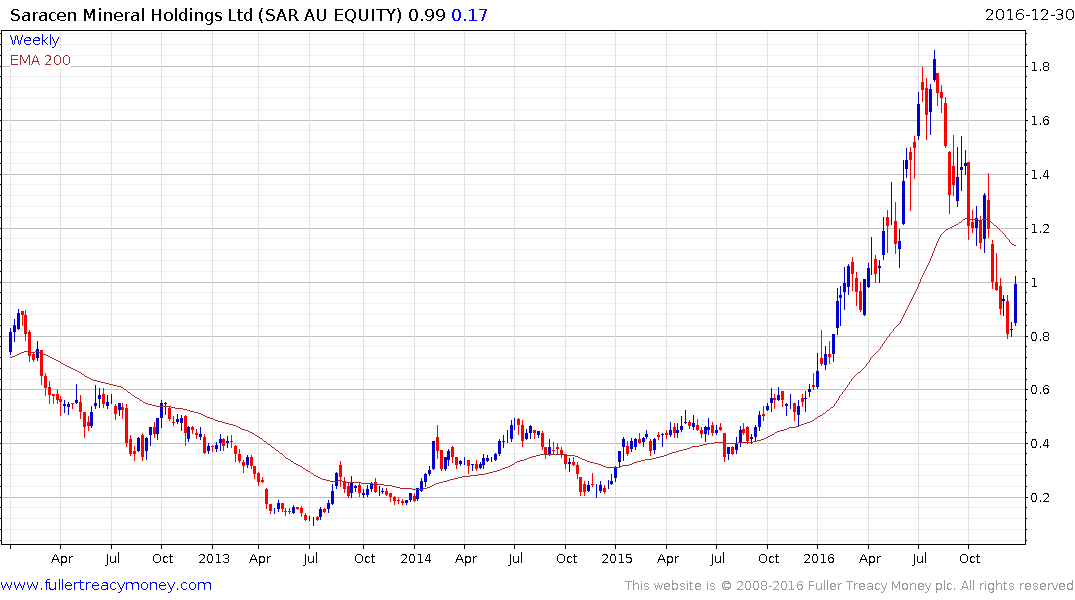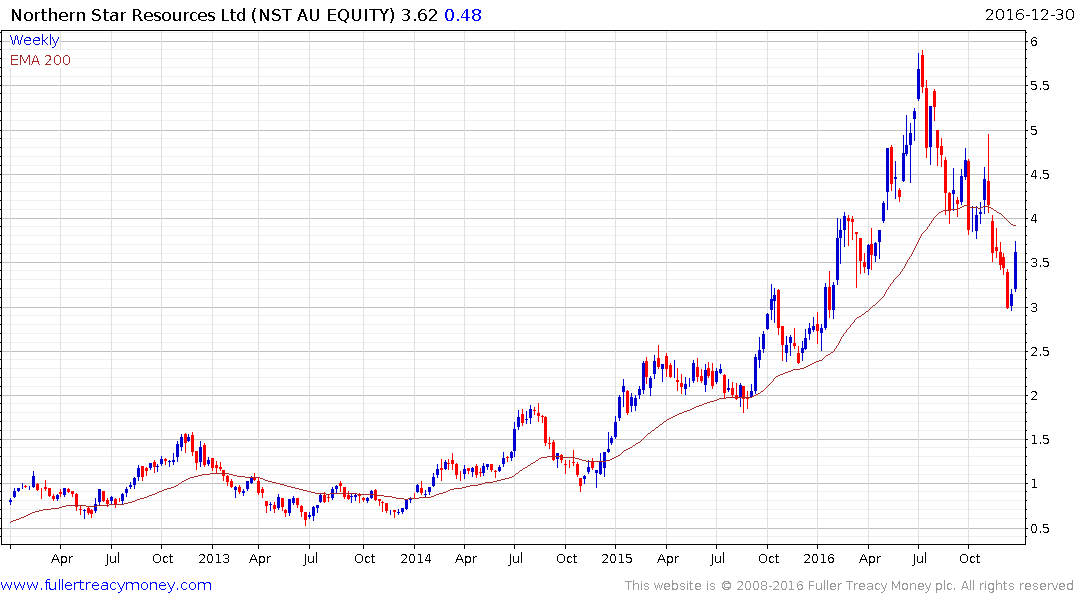 Newcrest has led the bounce in smaller gold miners and has already closed its overextension relative to the trend mean.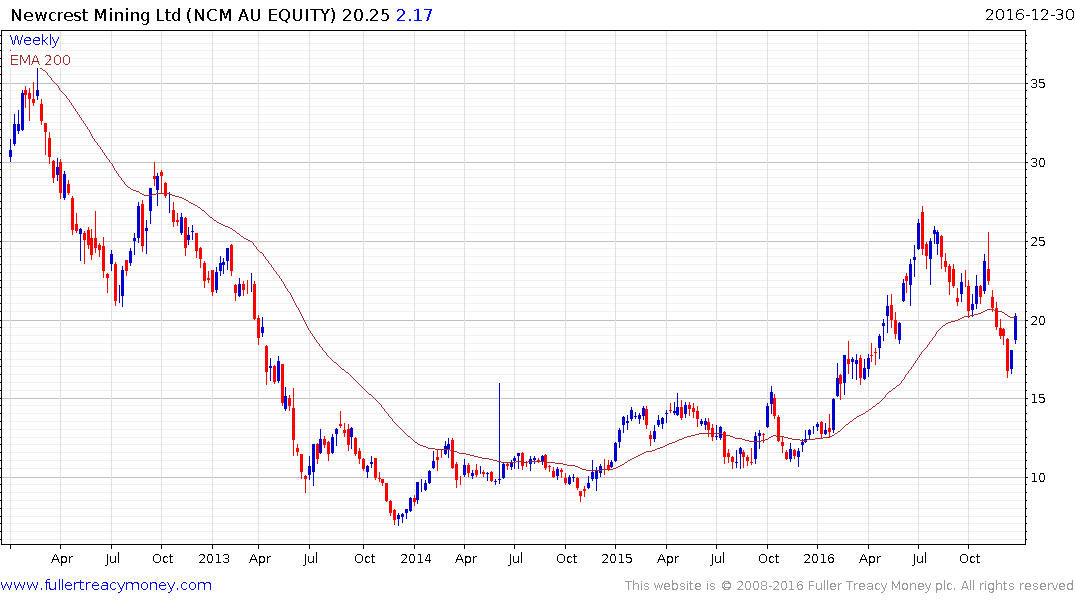 The challenge for gold miners will of course be whether gold can hold it recent low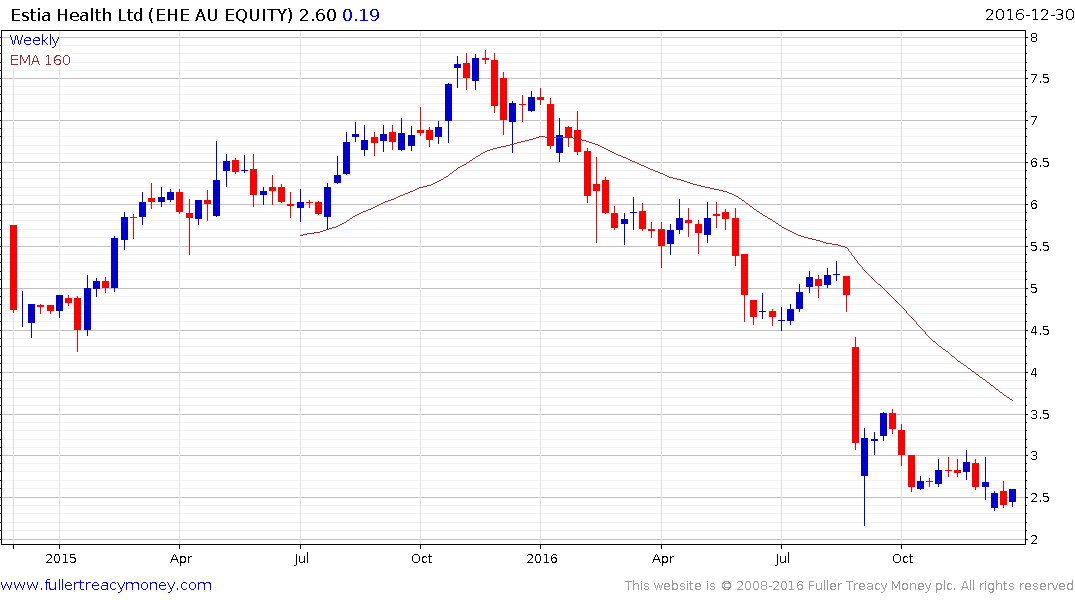 In the residential healthcare sector Estia Health collapsed in August following disappointing results. This story from the Australian Financial Review details how many of the company's largest shareholders sold out during that collapse suggesting that while a number of issues still face the company a lot of selling has already taken place. The share has stabilised above A$2 and has been relatively inert for four months. A break above A$3 would signal a return to demand dominance
Back to top