As Trump Takes On China, Another Trade Challenge Looms in Asia
This article by Connor Cislo and Jiyeun Lee for Bloomberg may be of interest to subscribers. Here is a section:
But at the same time, there's been a spike in sales to China of precision metal working machines and equipment for making chips from firms like Japan's Yaskawa Electric Corp. With a Chinese state-backed fund gearing up to pour as much as $31.5 billion into homegrown semiconductor manufacturing, there's potential for trade flows to start to shift.

China's ambitions, set out in its sweeping Made in China 2025 plan, go much further than semiconductors and would see its technical prowess advance in a host of areas, ranging from bio- medicine and artificial intelligence to new-energy vehicles and aircraft. The challenge to Japan, Korea and Taiwan also applies to European exporters like Germany, and comes on top of the risks to global trade from the Trump administration's embrace of tariffs.

"The bits of the global supply chain that are currently the preserve of Korea, Japan, Taiwan, the U.S., and Germany, are the bits of the supply chain that China has a decade-long industrial strategy to move into," said Tom Orlik, Bloomberg's chief Asia economist. He said it's only a matter of time before many components for electronic products are made domestically and the country is on track to become a car exporter. Eventually, it will be selling airplanes, said Orlik.
China is moving up the value chain in just about all industries. It's policies in achieving that goal are openly mercantilist. It has unabashedly supported domestic industry by whatever means necessary, closed off the mainland market to global competitors, engaged in industrial espionage on a grand scale and none of these actions are without precedent.
As the Trump administration launches tariffs, the most sensitive issue is likely to be Taiwan which represents the soft underbelly of Chinese foreign policy. The Communist Party has always maintained that Taiwan is a part of China, while the USA has a mutual defense agreement with the island. The status quo has persisted for decades but no Communist leader could stand by and concede de facto independence is in fact permanent. It appears the Trump administration clearly understands this is a touchy subject China can be pressed on to receive concessions elsewhere. That can't be particularly comforting for the Taiwanese who now face a strong likelihood of becoming a pawn in the Great Game.
The island's status would become particularly relevant if for any reason China were precluded from acquiring the technology to build a domestic semiconductor sector since Taiwan's sector is world class and represents the crown jewel of the island's economy.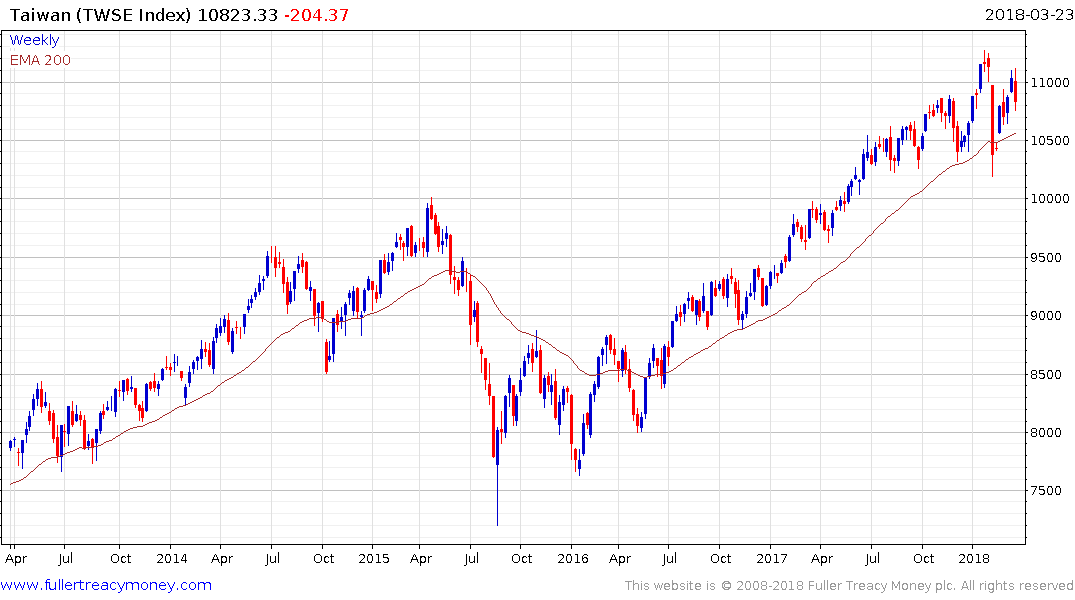 The TAIEX Index has been rallying in a persistent manner since late 2015. It failed to hold the break above 11,000 in January and posted a downside key reversal from that area last week. The Index needs to hold the psychological 10,000 level if medium-term scope for continued upside is to be given the benefit of the doubt.
Back to top