Apple goes all-in on services, with new video, games and news subscription packages
This article by David Neald for NewAtlas may be of interest to subscribers. Here is a section:
Last and definitely not least, Apple unveiled a serious move into video content production, called Apple TV Plus. Dedicated to "the best stories ever told," the service will feature high-profile content from a variety of big names – Steven Spielberg, Jennifer Aniston, Reese Witherspoon and Jason Momoa were some of the stars who appeared on stage.

Again, we don't know how much it's going to cost, but it will involve a monthly fee and it will work across all Apple devices. It's coming to more than 100 countries later this year, and will use downloads rather than streaming. You can think of it as Apple trying to be HBO as well as Apple.

Apple is adding some improvements to the existing TV app as well as launching its own programs, including iTunes movie integration and easier navigation, and it's introducing a separate service called Apple TV Channels at the same time.

The idea is you only pay for the channels you need, and access them all through the one TV app on your Apple devices. HBO, Showtime, and Starz are three of the channels that are going to be available, and live sports and movies get pulled in too (assuming you've subscribed to the necessary channels).
Apple has come up with something to do with its cash and it is going to have to outbid Netflix in order to get the best shows. In the near term it is going to be selling those shows to a smaller audience of Apple product users than the vast number of Android, Microsoft and smart tv users that will be outside its ecosystem.
Subscription business models are being implemented everywhere and Apple has struggled because it has not had one. This range of announcements for TV, news and gaming all point towards the company seeking to take a slice out of providing content others create in return for access to its ecosystem, which is very much in line with iTunes model. There is definitely money in it but I'm not sure investors were buying Apple stock because they thought of it as an agglomerater. There has been distinct lack of products that come anywhere close to the iPhone's wide ground-breaking appeal and little chance of one appearing any time soon.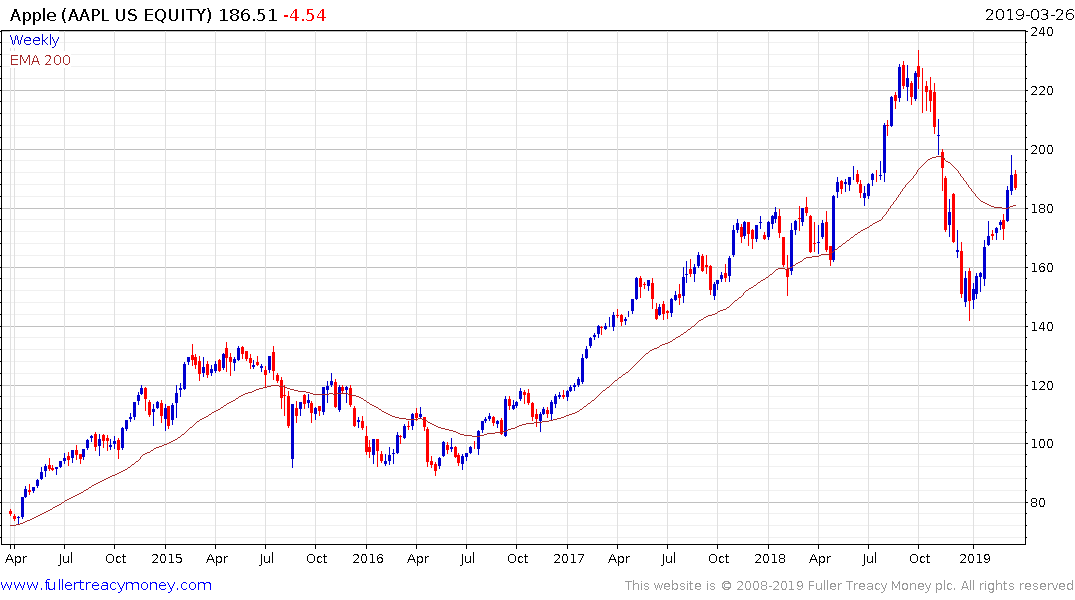 The share has posted two large medium-term corrections during the course of the decade, each lasting about 18 months and being resolved with a clear upward break. It is now forming a third such congestion area and is short-term overbought following an impressive rebound.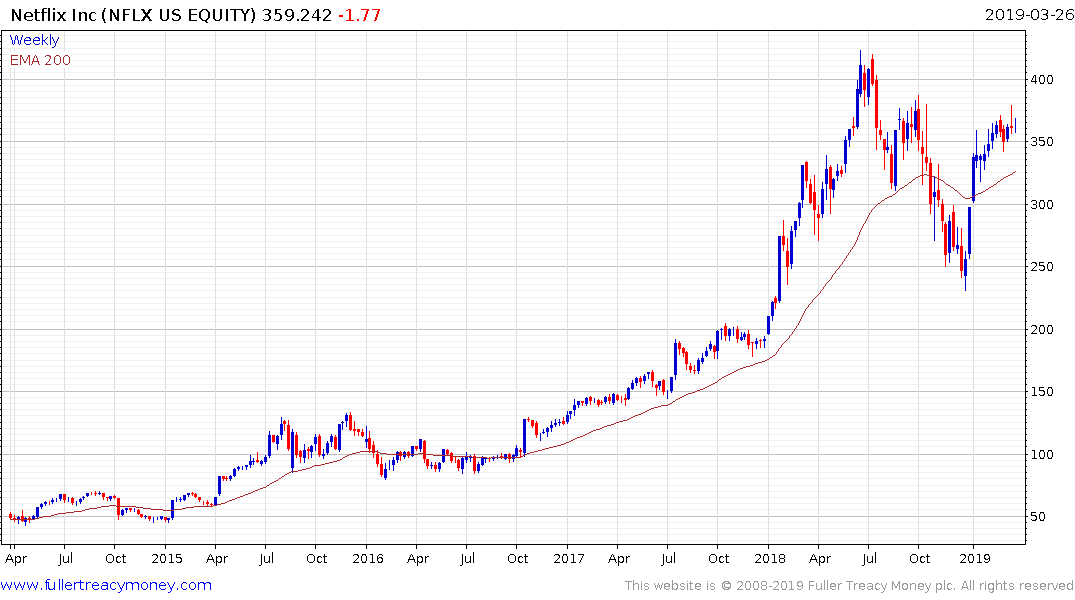 Netflix's growth is now focused on overseas markets suggesting India is where the company's growth trajectory resides. Apple is engaged in a high cost competition with the company but it has cash and Netflix is losing about $3 billion a year. The share rebounded impressively in January but has lost momentum over the last couple of months as it tests the region of the October high. A break in the short-term sequence of higher reaction lows would confirm at least near-term resistance in this area.
Back to top