Alibaba's revenue beats estimates; mobile revenue soars
This article from Reuters may be of interest to subscribers. Here is a section:
Alibaba's total revenue rose to 32.15 billion yuan, or $4.84 billion, in the quarter ended June 30 from 20.25 billion yuan a year earlier. Analysts on average had expected revenue of 30.17 billion yuan, according to Thomson Reuters I/B/E/S.

Mobile revenue from the company's China commerce retail business increased 119.3 percent to 17.51 billion yuan, while monthly mobile active users increased 39 percent.

"We passed an important milestone this quarter in achieving higher monetization of mobile users than non-mobile users for the first time," Chief Financial Officer Maggie Wu said.

The company said its gross merchandise volume (GMV) - the value of transactions carried out by third-party sellers on the company's platforms - rose 24.4 percent to 837 billion yuan.

Alibaba said in June it would in the future only release GMV figures on an annual basis. The change followed the disclosure that the U.S. Securities and Exchange Commission was looking into the company's accounting practices.
Mobile is quickly becoming the dominant force in internet search, retail and advertising not least because of the heavy focus users of social media have on their handheld devices. That trend is even more pronounced in emerging markets; where many consumers first experience of the internet is via their mobile device. That represents a significant growth trajectory for companies that have dominant positions in the respective social media and mobile advertising markets.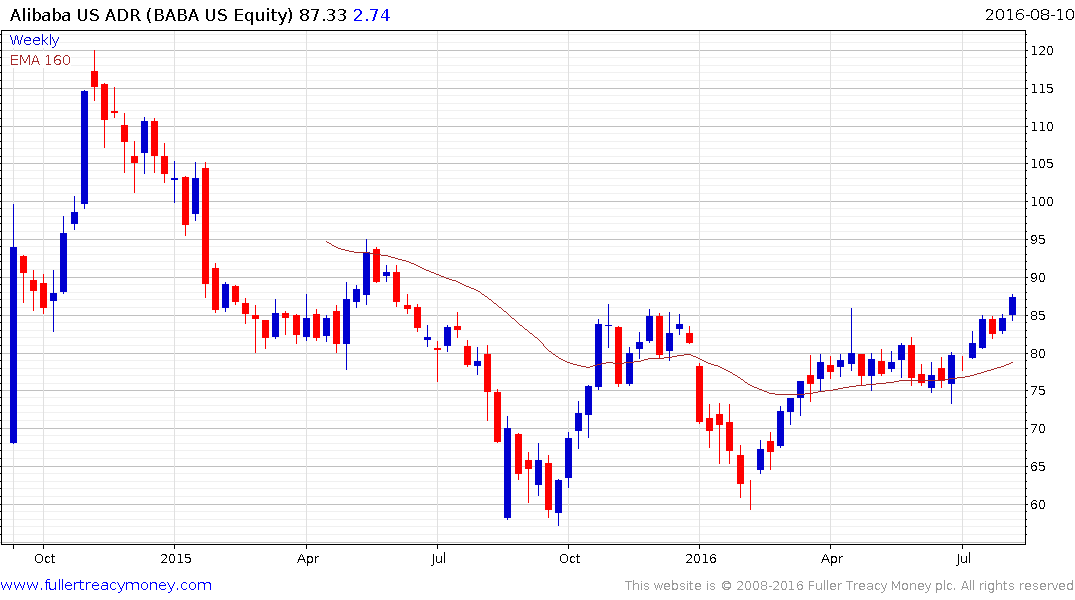 Alibaba has long had governance issues and the fact the SEC is looking into its accounting is unsettling. Nevertheless there is no denying that it has a dominant position in the Chinese market and is increasingly making inroads into the US online retail market and the European payments market. The share broke a progression of lower rally highs, evident since its IPO, last week and surged higher on today's news. A sustained move below the trend mean would be required to question recovery potential.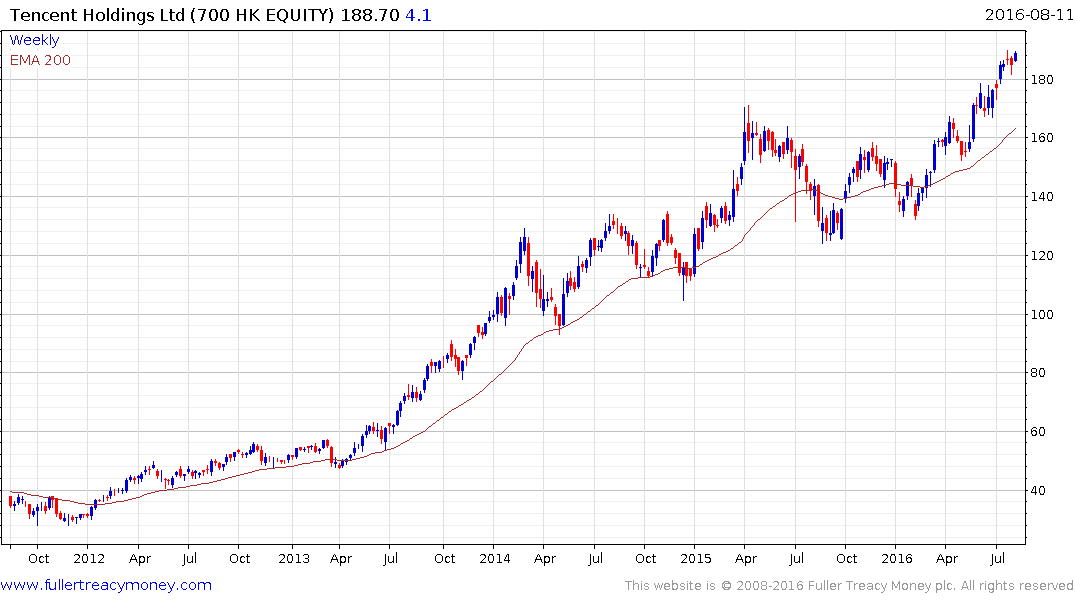 Tencent Holdings remains a relative strength leader in the Hong Kong market and, while somewhat overbought in the short-term, a sustained move below the trend mean would be required to question the consistency of the medium-term uptrend.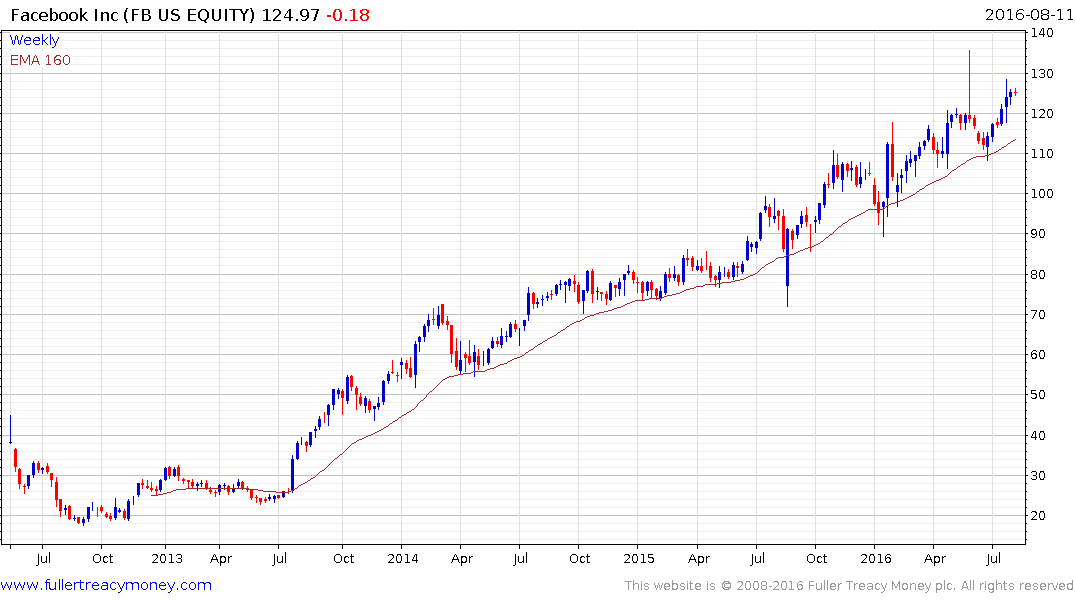 Facebook remains in a consistent medium-term uptrend.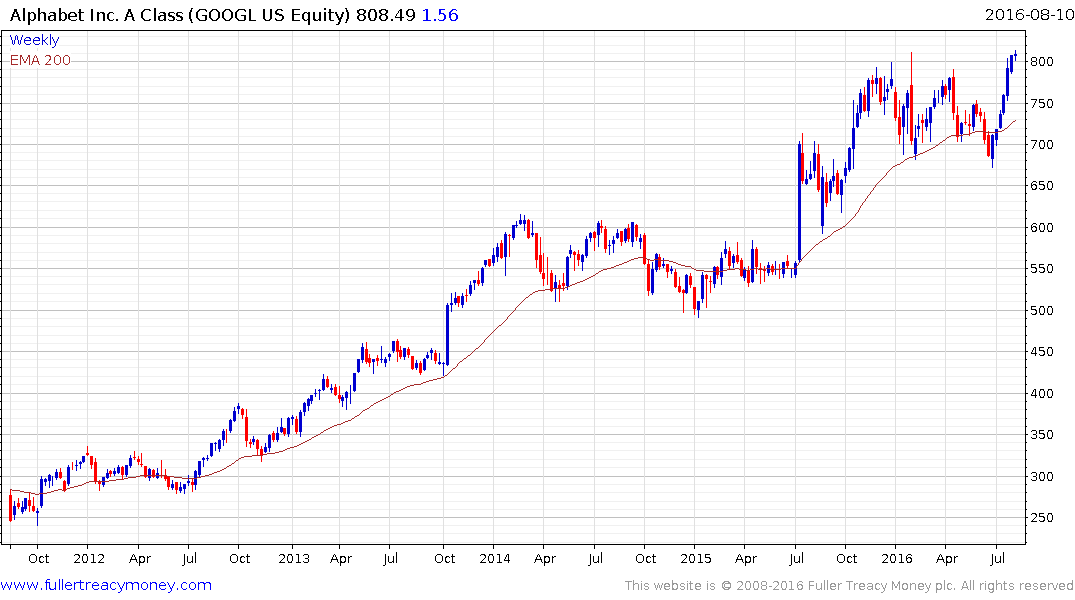 Alphabet is somewhat overbought since surging to a new high following the failed downside break in June. While some consolidation is looking increasingly likely, a clear downward dynamic would be required to check momentum.
Back to top