African Presidents Push Burkina Faso Army to Hand Over Power
This article by Simon Gongo and Pauline Bax for Bloomberg may be of interest to subscribers. Here is a section:
The presidents of Nigeria and Ghana are in Burkina Faso to press the army to cede power to civilians after its takeover last week.

Ghana's John Dramani Mahama, chairman of the Economic Community of West African States, and Nigeria's Goodluck Jonathan arrived in Ouagadougou, the capital, today to join mediation efforts. The African Union yesterday labeled the military's takeover a coup, and reiterated a demand for army chiefs to step down within two weeks or face sanctions.

The army took charge of the country last week as President Blaise Compaore, who had held the office for 27 years, was ousted amid protests against his efforts to extend his rule. Lt. Col. Isaac Zida, the transitional leader, told religious chiefs yesterday that he will step down and have power to civilians.
Governance is a relative consideration rather than an absolute. There is no doubt that the Ebola crisis in West Africa has highlighted just how underdeveloped the region is in absolute terms but on a relative basis, the macroeconomic condition of an increasing number of countries is improving albeit from a low base. If Burkina Faso does in fact embrace a democratic model, it will be another step forward for the continent in terms of a desire to improve the standards of living for the majority.
Nevertheless, because African economies are generally small, have under developed capital markets and are heavily reliant on commodity exports, they have been susceptible to volatility of late. Liquidity is an additional consideration when one comes to take profits in such thinly traded markets.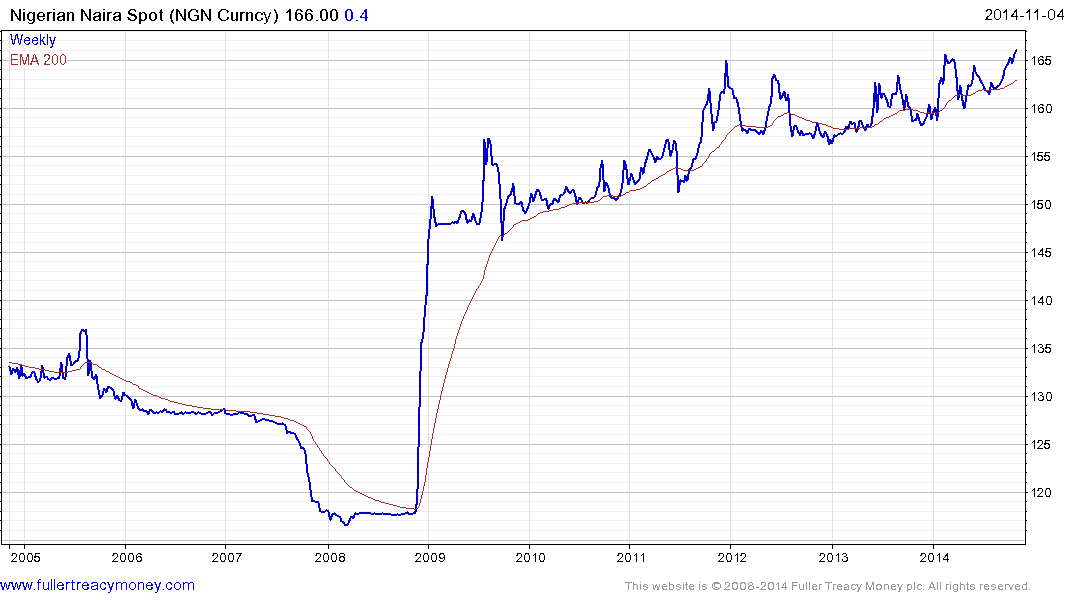 Nigeria is by the far the largest Sub Saharan African economy but it has not been immune from selling pressure as oil prices have declined. The US Dollar continues to hold a progression of higher reaction lows against the Nigerian Naira and the Nigerian Index fell to break a medium-term progression of higher reaction lows three weeks ago.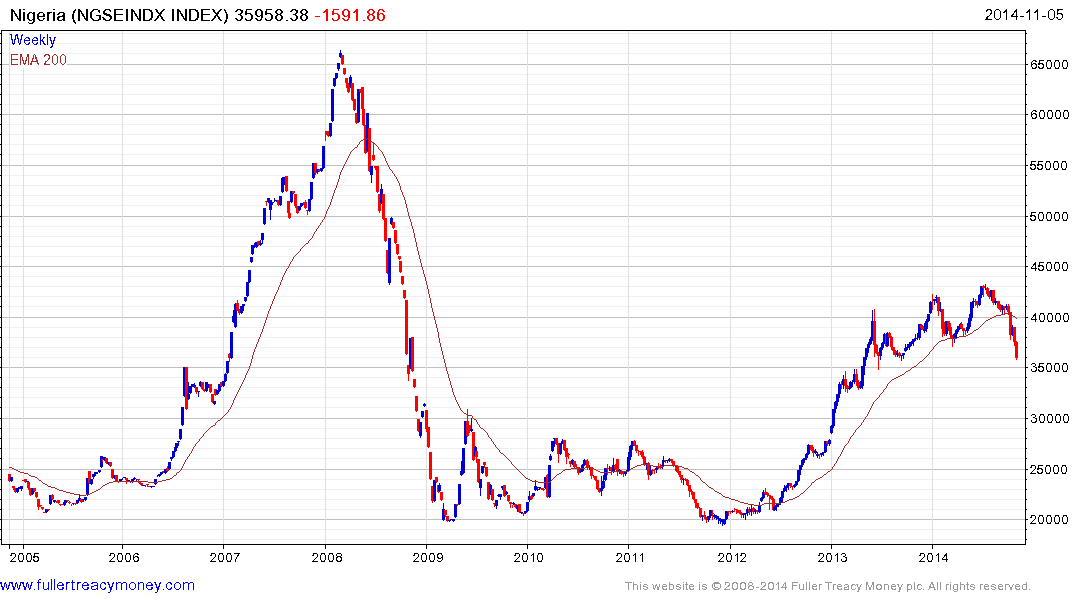 Back to top