Africa's Amazon Set for New York IPO as Online Retail Takes Off
The company, which has headquarters in Berlin and got early funding from German startup incubator Rocket Internet SE, isn't profitable. Jumia reported a loss for 2018 of about 170 million euros and has warned prospective IPO investors that it has accumulated losses of 862 million euros since its inception and relies on external financing to compensate for negative cash flow.

Still, investors tend to give e-commerce companies leeway because customer growth and market share are seen as more important, according to Seema Shah, a consumer analyst at Bloomberg Intelligence in New York. While the company competes with the likes of Amazon's Souq.com and Naspers Ltd. In individual markets, Jumia has said it believes it's the only pan-African e-commerce site.

"If an online retailer develops a name and offers a good consumer experience, people feel safer to use it," Shah said. For the IPO to be successful, investors will have to see Jumia as "a chance to play in Africa with less risk."
This map of the median age of world with green denoting the youngest countries highlights the fact that Africa is where the growth of the middle class needs to occur if the theme is to persist over the next few decades. Major population centres like India and Indonesia are already evolving and have years of growth ahead of them but the birth of the consumer is a ground floor opportunity in the majority of Sub Saharan Africa. http://world.bymap.org/MedianAge.html
Low liquidity markets are a classic late stage outperformer so it is to be expected that we start to see interest in Africa pick. Meanwhile there is no denying the fact opportunities to invest in African consumers are relatively scarce so there is likely to be demand for Jumia shares. The bigger question is whether the company will survive through the next recession.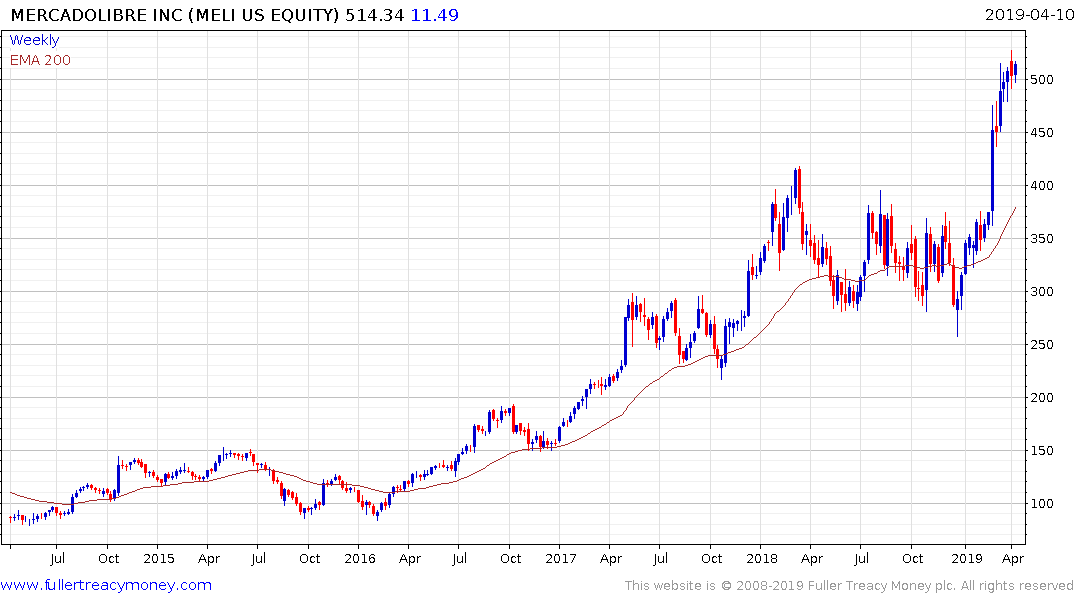 MercadoLibre, Latin America's Amazon, completed a yearlong range in February and, while somewhat overbought in the short term, a sustained move below the trend mean would be required to question the medium-term uptrend.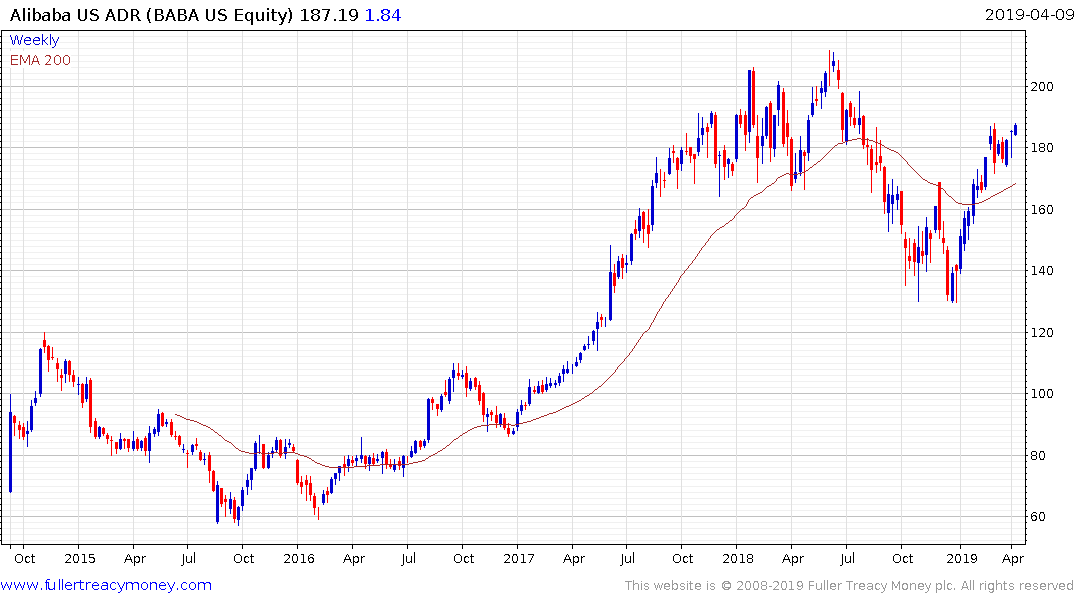 Alibaba or JD.com are two of China's largest online retailers. Alibaba is consolidating above its trend mean.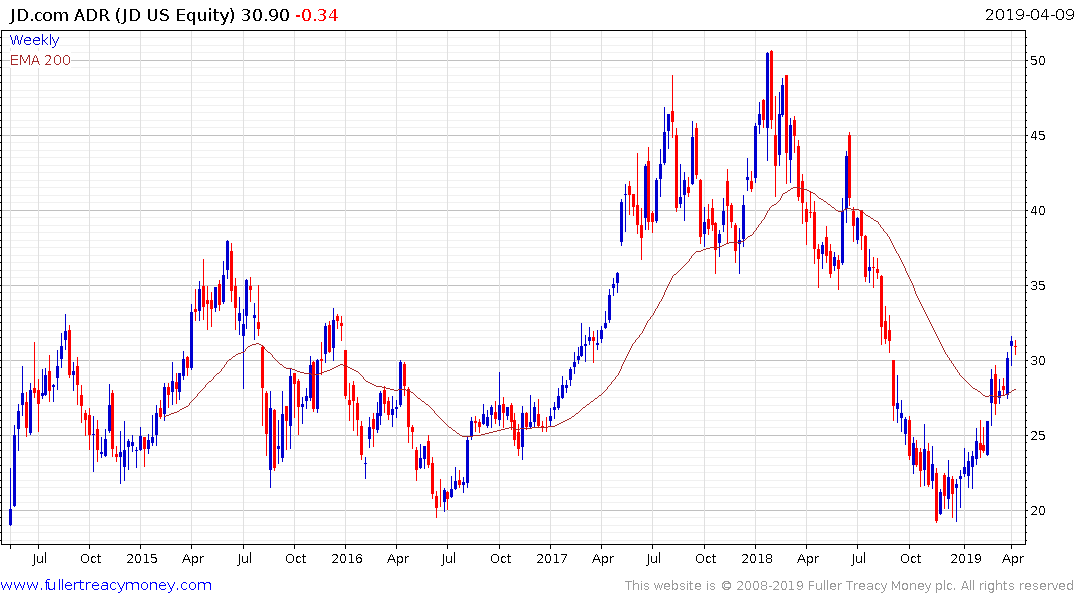 JD.com has broken its progression of lower rally highs.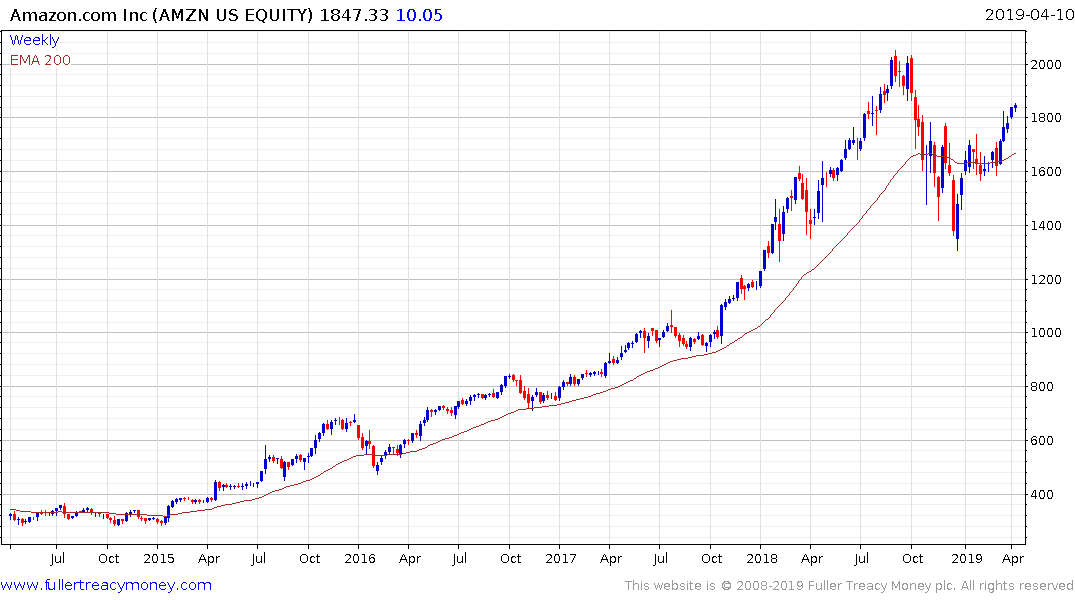 Amazon itself is rallying from the region of its trend mean.
Back to top