Adidas Drops Most in 17 Yrs, Berenberg Sees Credibility On Line
This note by Heather Burke for Bloomberg may be of interest to subscribers. Here it is in full:
Management communication, credibility "appear on the line" after profit warning, Berenberg says in note.

In golf, mkt "over-bloated" with inventory, U.S. chains such as Dicks have to right size existing goods, cut future orders

TaylorMade-adidas Golf restructuring may cost ~EU25m-EU30m ex loss of sales, profit anticipated in 2H14

In Russia has done an about-face, will now accelerate store closings, big effect is associated loss of 2H sales, profit, as E. Europe ~14% sales, 20% Ebit, Russia is >90% of that region

Scope of downgrade hard to quantify

Baader Bank says share price reaction "adequate," sees potential downside revision for mkt consensus of 20%-25%

Profit warning expected, but sharper than seen.
Adidas' expansion into Eastern Europe has not been as successful as planned and the closing of stores in Russia reflects this. Tighter sanctions imposed on Russia by Europe may have been the final catalyst for this decision. By contrast the reorganisation of TaylorMade is a significant but much smaller issue.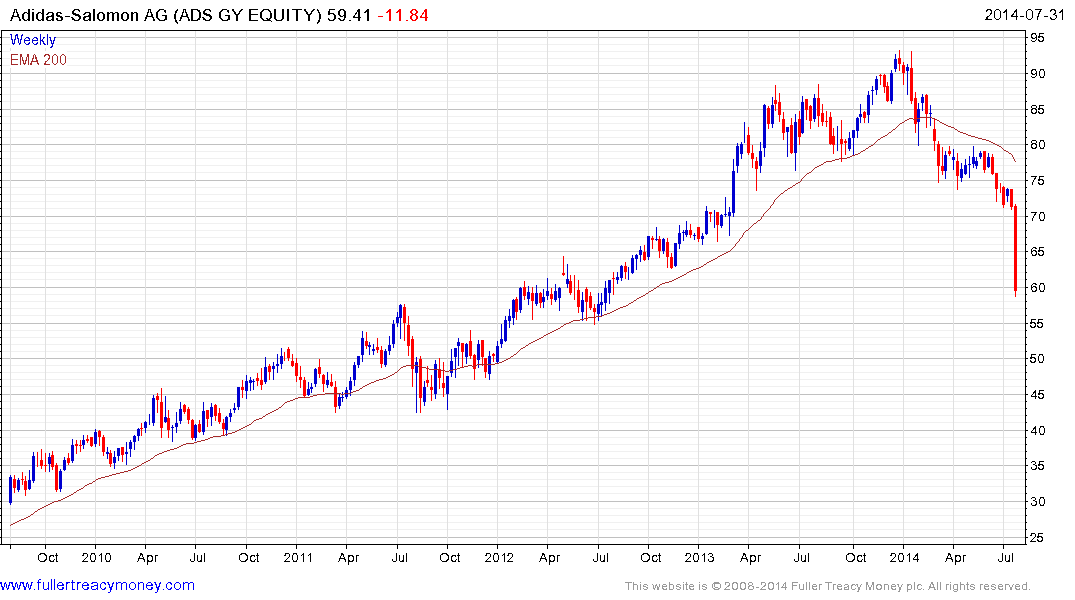 Adidas' share price has been deteriorating since late last year and it began to encounter resistance in the region of the 200-day MA from March. Today's action represents an acceleration of the downtrend but there is no evidence yet that it is over. Some scope for a reversionary rally exists but a potentially lengthy period of support building will be required before investors are likely to support significantly higher levels.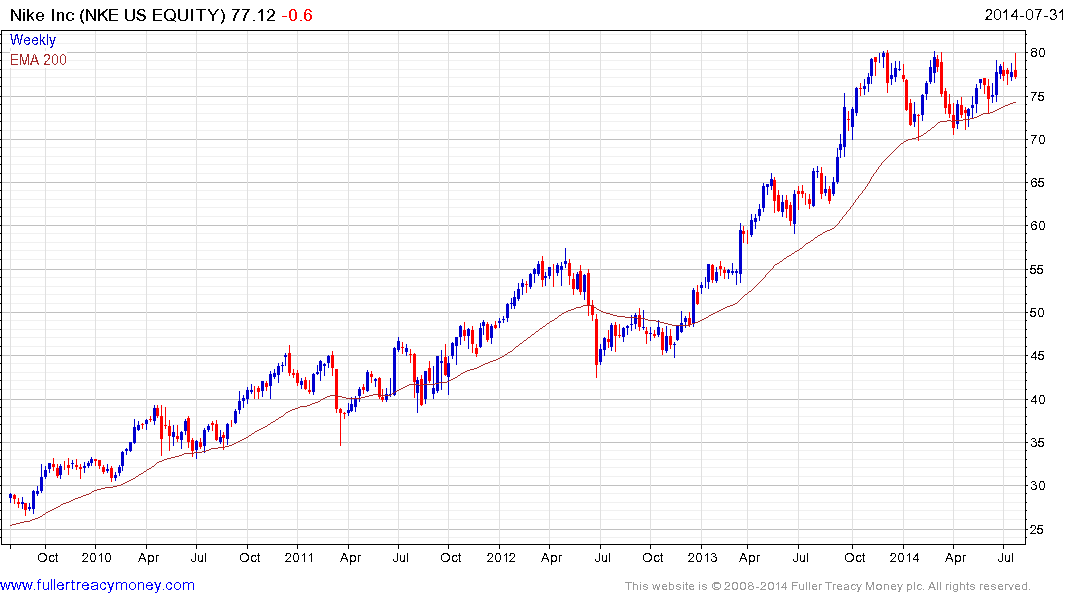 Nike remains the clear leader in the leisure wear sector. The share has been ranging below $80 since December and is pulling back from that area again today. It will need to hold the $70 if medium-term potential for additional upside is to continue to be given the benefit of the doubt.
This article from Forbes focusing on Samsung's relationship with Under Armour may also be of interest. Here is a section
"As of the first quarter of fiscal 2014, Samsung controls over 7o% of the global wearables market. The company made about 500,000 shipments over the quarter on the back of the launches of the Gear Fit, Galaxy Gear 2, Gear Neo, and Gear Live. It's not entirely clear that Samsung knows what it is doing with these devices: the Fit runs on a real-time Operating Software, the Galaxy Gear 2 and Gear Neo run on Tizen, Samsung's proprietary OS, and Gear Live runs on Google's Android Wear. In addition, Samsung is also trying to convince third-party companies to license its Simband modular technology to make new smart watches with biometric sensors that can be swapped.
"More worryingly, Samsung's 500,000 smart watch shipments in the first quarter seem puny compared to the forecast made by the research firm ON World for annual global smart watch shipments by 2018: 330 million. Furthermore, if Apple launches its smart watch by the end of the year, sales of the wearable could be anywhere between 30 and 60 million units, completely beyond the current market size that Samsung is dominating. Essentially, in the long run, Samsung wants to gain a firm footing in the consumer fitness market, like Apple and Google, which could ideally be integrated to the hospital-based market through cloud-based data. Hence, Samsung is hedging its bets on Under Armour, a company widely considered to be "the next Nike". Apple has a long history of partnerships with Nike. It started in 2006, with the Nike+ iPod kit, which used a sensor in running or training shoes to transmit workout data to an iPod. Apple and Nike later expanded the arrangement to allow iPods to record detailed workout information from other compatible fitness equipments. Even recently, the two got into an alliance which will allow Apple's HealthKit platform to receive data from Nike's FuelBand along with other iOS compatible fitness bands(and apps) into a single iOS 8 app called Health. Samsung's attempts at partnering with Under Armour are mere signs of imitation of the Apple-Nike relationship. Through it, Samsung hopes to be able to create competitive or better wearable devices with cross-compatibility features like Apple and Nike."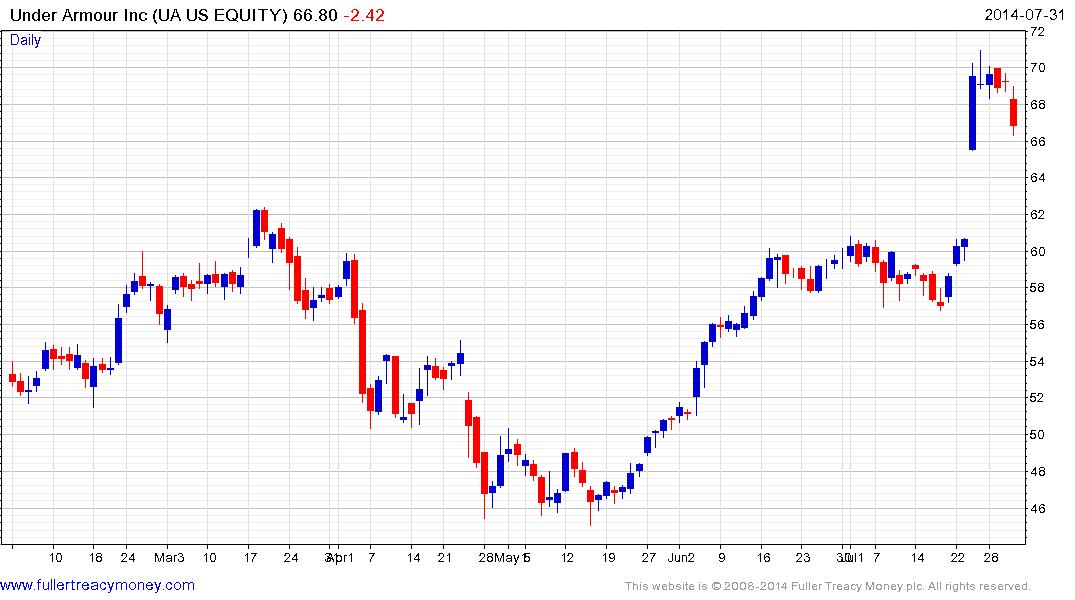 Under Armour continues to accelerate higher and while it remains a tower of strength, the potential for a reversion towards the mean is increasing. If one were lucky enough to have had the foresight to buy the share in 2009 this would not be a bad time to think about taking profits.
Back to top