About 40,000 Verizon unionized workers walk off the job
This article by Malathis Nayak may be of interest to subscribers. Here is a section:
Tens of thousands of Verizon Communications Inc (VZ.N) workers walked off the job on Wednesday in one of the largest U.S. strikes in recent years after contract talks hit an impasse.

The strike could affect service in Verizon's Fios Internet, telephone and TV services businesses across several U.S. East Coast states, including New York, Massachusetts and Virginia.

The strike was called by the Communications Workers of America and the International Brotherhood of Electrical Workers that jointly represent nearly 40,000 employees, such as customer services representatives and network technicians in Verizon's traditional wireline phone operations.
Verizon has in the region of 170000 employees so this strike action is specific to what might be described as legacy business units relating to fixed line and by extension its Fios fibre optic network. Unions are under increasing pressure as fewer employees are covered by them and those that are represent businesses at risk of offshoring and/or automation.

A situation has arisen over the last year where union workers stand to make less than non-union workers in cities where the minimum wage has gone up. That leaves unions campaigning against higher minimum wages to sustain their relative competitiveness or negotiating for even more attractive packages which is a much harder prospect.

Teachers, service workers and state/municipal workers represent the largest unions with teamsters in 4th place. All are at risk from technology innovation but some have more negotiating power due to their privileged positions than others.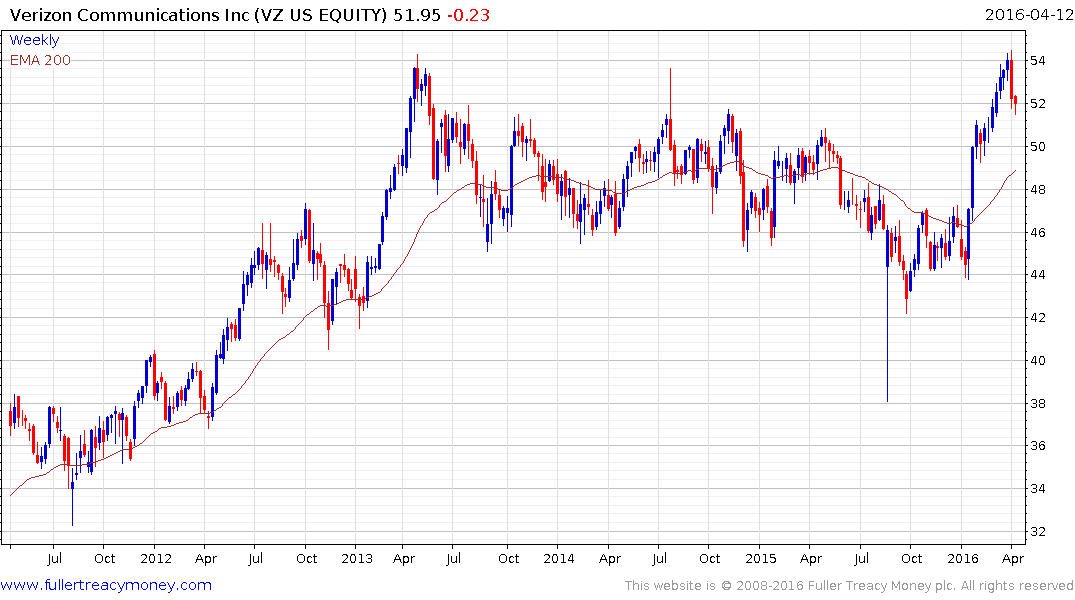 Verizon posted a large downside weekly key reversal last week following a retest of the 2013 highs. Some consolidation of the rebound from the lower side of its range is underway and a sustained move below $48 would be required to question medium-term scope for continued higher to lateral ranging.
Back to top