A Year of Poor Planning Led to Carmakers' Massive Chip Shortage
This article by Debby Wu, Gabrielle Coppola and Keith Naughton for Bloomberg may be of interest to subscribers. Here is a section:
Carmakers don't deal directly with TSMC and other contract chipmakers. Instead, they work with auto-part suppliers like Robert Bosch GmbH and Continental AG, which in turn deal with automotive-chip designers including NXP Semiconductors NV and Infineon Technologies AG.

While those two European chipmakers both make some parts in-house, they outsource a significant portion of production to TSMC and other foundries. It's difficult for automotive-chip designers to get their orders prioritized by foundries because their volume is dwarfed by their consumer-electronics peers.

Because of carmakers' "just-in-time" manufacturing model, their suppliers worried about quick inventory buildups and canceled orders originally planned for foundries in the first half of 2020, the people said. At the same time, foundries began seeing a surge in demand for gadget chips after Apple Inc., Samsung Electronics Co. and Chinese brands prepped an avalanche of 5G devices including the iPhone 12, which require as much as 40% more silicon content as 4G handsets.

One contract chipmaker notified all its customers in the third quarter that it might be time for them to place more orders as it anticipated a rebound in demand, but automotive clients demurred and ended up being the last ones to seek more capacity, one of the people said.
Globalisation enabled just in time manufacturing. With abundant labour and companies willing to build to whatever spec was desired, large companies no longer had to hold inventory. The expense of warehousing and commodity trading disappeared. That removed a source of volatility from balance sheets. Meanwhile, the supply ecosystem of parts and equipment was considered strong enough to weather a minor hurdle. First the trade war and then the pandemic poked large holes in that practise.
The byword in 2nd and 3rd quarter earnings calls was "resiliency". That means holding more inventory. So far there is little sign that companies have made the transition to thinking more than 10 weeks forward. The challenge is chip manufacturers only have so much capacity. Resiliency has been an urgent consideration for China's tech companies as they respond to US sanctions. They have led the world in stockpiling.
One of the biggest disparities likely to be laid bare by the pandemic is educational opportunity. Poor children with no access to electronics and the internet have lost a year of education. Wealthier children have everything from online programs to zoom classes to keep their minds active.
My brother is the head of physics at a boarding school in Scotland. He was telling me last week that sometimes he envies the public sector workers on furlough at 80% of their wages, because he is working 50% more hours to try and keep up with the demands of online school. He has created a whole series of videos of experiments for his A-level students for example. For the millions of children lacking access to these kinds of resources, 2020 is a write off.
A program to ensure every child has internet access and a Chromebook is looking increasingly likely in many countries. That's the kind of demand auto manufacturers are competing against in attempting to source their parts. It's a new experience for them. Chips are fungible commodities that are used in a host of applications. They are a different market from car mirrors or steering wheels which have almost not application outside of the auto industry. That suggests they may have little choice than to compete by holding more inventory.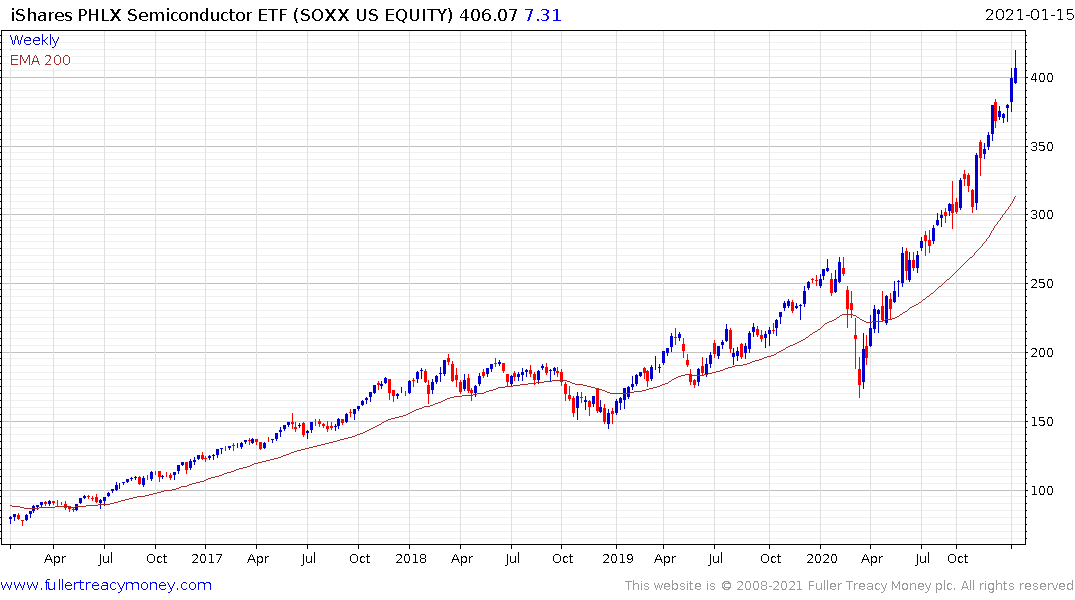 That's the primary argument behind the continued steep uptrend in the semiconductors Index. A break in the sequence of higher reaction lows will be required to check momentum beyond a pause.
Back to top