World's biggest clean energy project to power Singapore from Australia
This article from NewAtlas may be of interest to subscribers. Here is a section:
The Australia-Asia PowerLink project, led by Australia's Sun Cable, plans to create a mammoth "Powell Creek Solar Precinct" on 12,000 hectares (29650 ac) of arid land about 800 km (500 miles) south of Darwin. The site, chosen because it's one of the most consistently sunny places on Earth, would be home to a mind-boggling 17-20 gigawatts of peak solar power generation and some 36-42 GWh of battery storage.

To give you a sense of scale, that's nearly 10 times the size of the world's current largest solar power installation, the 2.245-GW Bhadia Solar Park in India, and more than 30 times more energy storage than the last "world's biggest battery" project we covered in February. It's a bit big.
Not all that long ago spending more than $20 billion on a first of its kind project was considered completely unreasonable. Today, $20 billion is a rounding error compared to the quantities spent on stimulus.
The market for High Voltage Direct Current lines has been growing for more than five years. The first report of a feasibility study for an Australia - Indonesia connector is from 2016.
These sections from an article in Power Engineering International may be of interest:
The electrical loss through HVDC cable is approximately 3% per 1,000km resulting in a 10% total electrical loss along this interconnector.
And
Typical linear weights of these subsea HVDC cables range from 40 kg/m to 60 kg/m with diameters in the order of 150 mm and a capacity exceeding 1GW. It is estimated that the total cable weight of this interconnector (two off 3,200km cables) would reach 300,000 to 400,000 tonnes.
The size of the loss during transmission highlights the need to go for scale in proposing the project. Plans for Italy/Tunisia, Portugal/Morocco, UK/Morocco and an Israel/Cyprus/Greece connector have also been proposed. The EU has long had plans to source solar energy from the Sahara. This report may also be of interest.
That's thousands of kilometers of cable weighing between 40-60kg per metre. It represents a massive additional new source of demand for both copper and steel.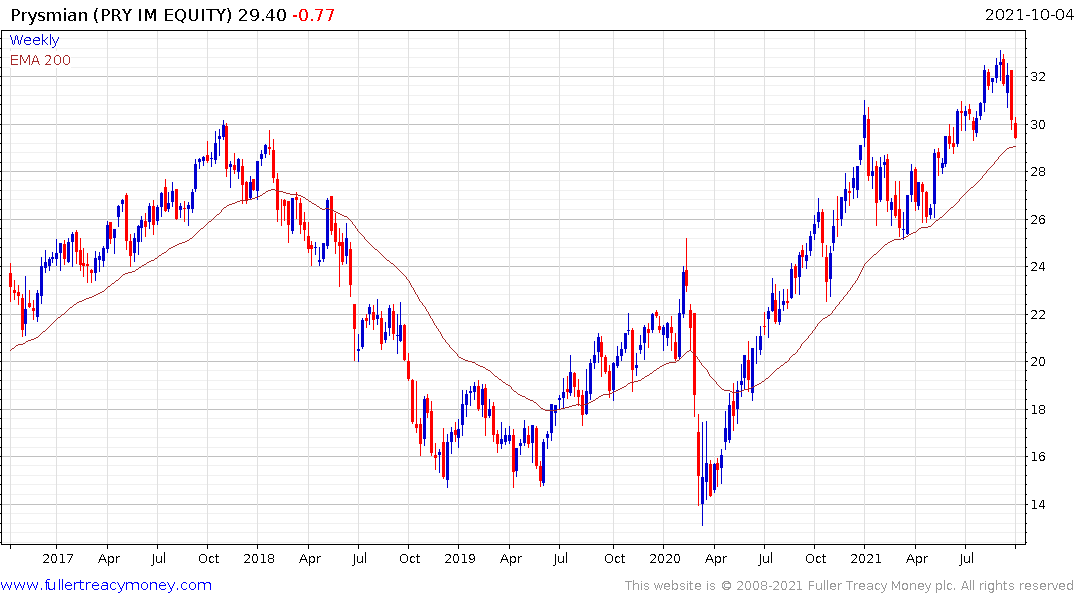 Italy listed Prysmian is currently unwinding a short-term overbought condition relative to the trend mean. It will need to find support soon if the benefit of the doubt is to be given the upside.
Back to top