Venezuela Will Seek to Restructure Debt, Blaming Sanctions
This article by Katia Porzecanski, Patricia Laya, Ben Bartenstein, and Christine Jenkins for Bloomberg may be of interest to subscribers. Here is a section:
Prices on PDVSA's $3 billion of bonds maturing in 2027 were quoted at 20 cents on the dollar at 9:23 a.m. in London, according to pricing source CBBT. Venezuelan government bonds maturing in 2018 slid 16 cents on the dollar to 63 cents, while longer-maturity debt was little changed.

Even after the oil producer known as PDVSA made an $842 million principal payment Oct. 27, the nation is behind on about $800 million of interest payments. All told, there's $143 billion in foreign debt owed by the government and state entities, with about $52 billion in bonds, according to Torino Capital.

Sanctions imposed in August by the U.S. have made it difficult to raise money from international investors, and effectively prohibit refinancing or restructuring existing debt, because they block U.S.-regulated institutions from buying new bonds. It's an unprecedented situation for bondholders, who have limited recourse as long as sanctions are in effect.

"I decree a refinancing and restructuring of external debt and all Venezuelan payments," Maduro said. "We're going to a complete reformatting. To find an equilibrium, and to cover the necessities of the country, the investments of the country."
60 is a big level for many higher cost private sector oil producers. It's a number many companies have quoted as they struggled with cutting costs while prices traded below economic levels. Their fortunes are improving now that prices are at two-year highs. Venezuela's breakeven is well above current levels so the recent rally is less of a salve, while bond payments are a constant drain on revenues.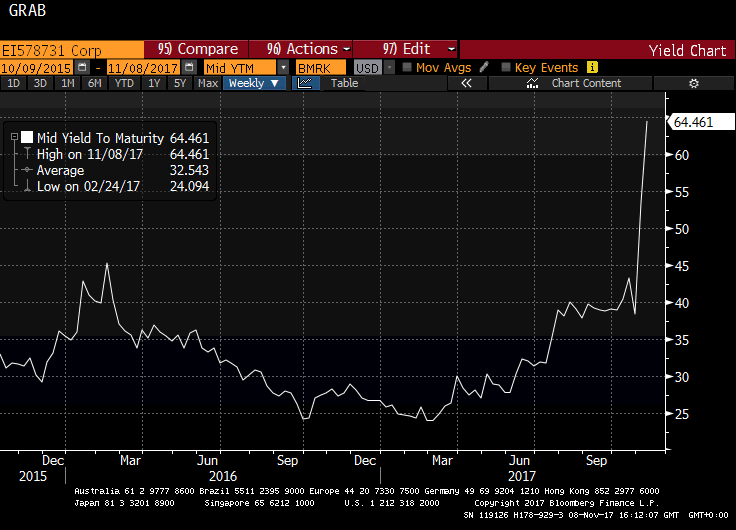 PDVSA's 12.75% 2022 sinkable bond is trading at a yield of 63% today versus 38.5% at the end of October. With Maduro wishing to restructure/renegotiate/default after the next coupon payment bond investors are understandably taking flight.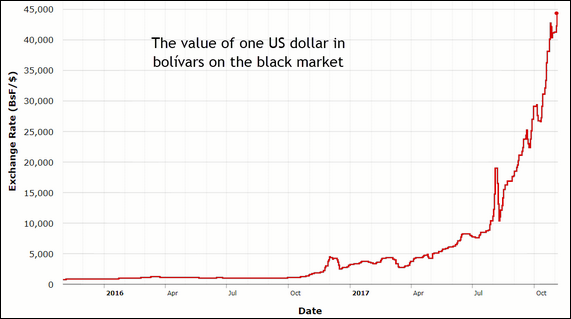 The official fix for Venezuela's Bolivar to the US Dollar is close to VEB10,000 while the black market is trading at closer to VEB45,000. Any restructuring is likely to be accompanied by a precipitous decline in the currency. For a country like Venezuela, where all its sovereign debt is denominated in Dollars, that represents a major headache and not least for creditors.

Venezuela's deteriorating situation represents a tailwind for the oil price, for at least as long as it takes for management of the national oil company to returned to a situation where supply can be increased. The fact that one of the world's largest oil companies is incapable of managing production is a clear testament to how it has been plundered to fund vanity projects and more recently daily expenses by Venezuela's government.

While the Maduro government has so far been adept at quelling insurrection, revolution is a real possibility the direr the situation of regular people becomes.
Back to top