The UK's largest cap index is in the process of completing a 16-year range by breaking on the upside. The Index has rallied for six consecutive weeks, hit new all-time highs last week and improved on that performance this week. Prior to this breakout it had spent three years ranging below, but in the region of, its previous peaks. While a short-term overbought condition is evident that is consistent with what is to be expected from a major breakout.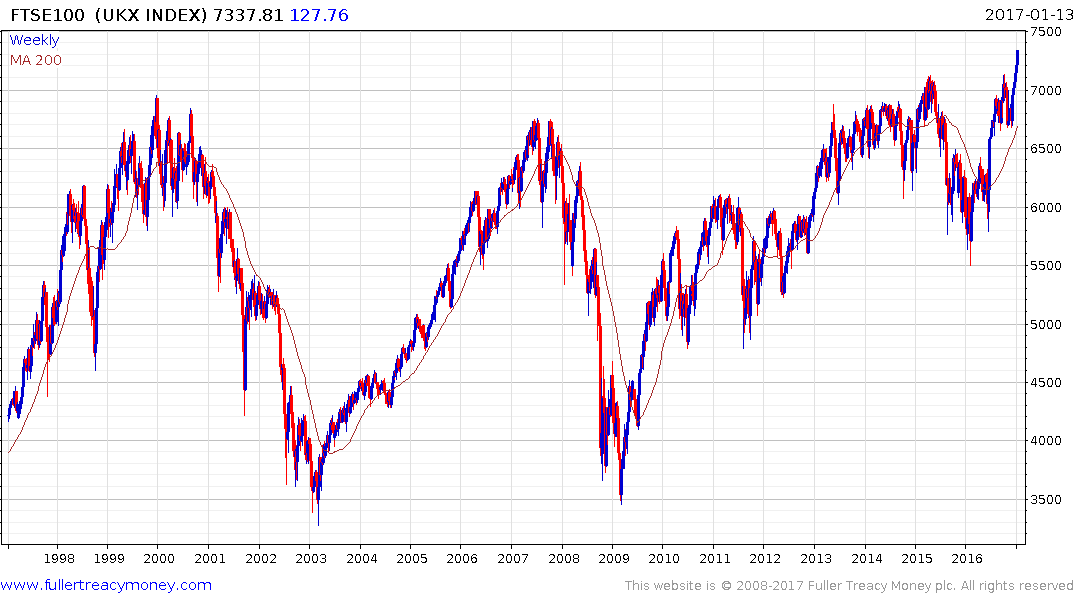 The Index is being supported by a number of complimentary themes. The first of these has been the relative weakness of the Pound which flattered the nominal performance of the Index following the Brexit vote in July. There is little appetite for a stronger currency in Whitehall but a lot of bad news has already been priced in. A sustained move below $1.20 would be required to reassert supply dominance.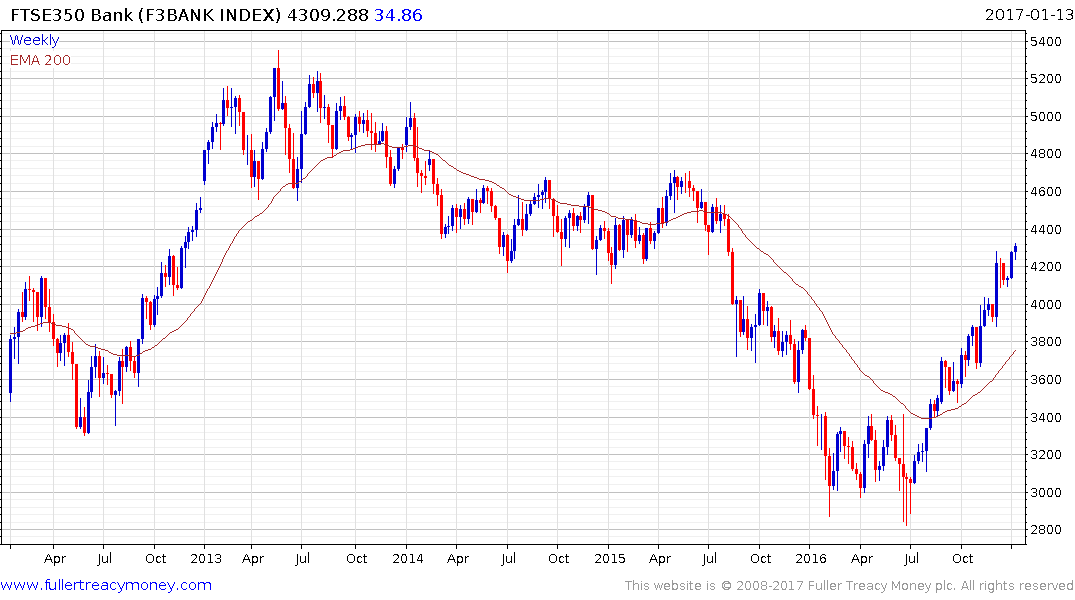 The UK's banking sector is much more internationally oriented than that of its European neighbours and this is being reflected in the outperformance of HSBC and Barclays relative to a more domestic oriented bank like Lloyds. The increasing prospect for deregulation in the USA is an additional positive factor for the sector.

Elsewhere in the financial sector asset managers and insurance companies are relatively well placed to benefit from the potential for inflationary pressures to increase. The FTSE-350 Insurance Index remains in a consistent medium-term uptrend and a sustained move below the trend mean would be required to question that view.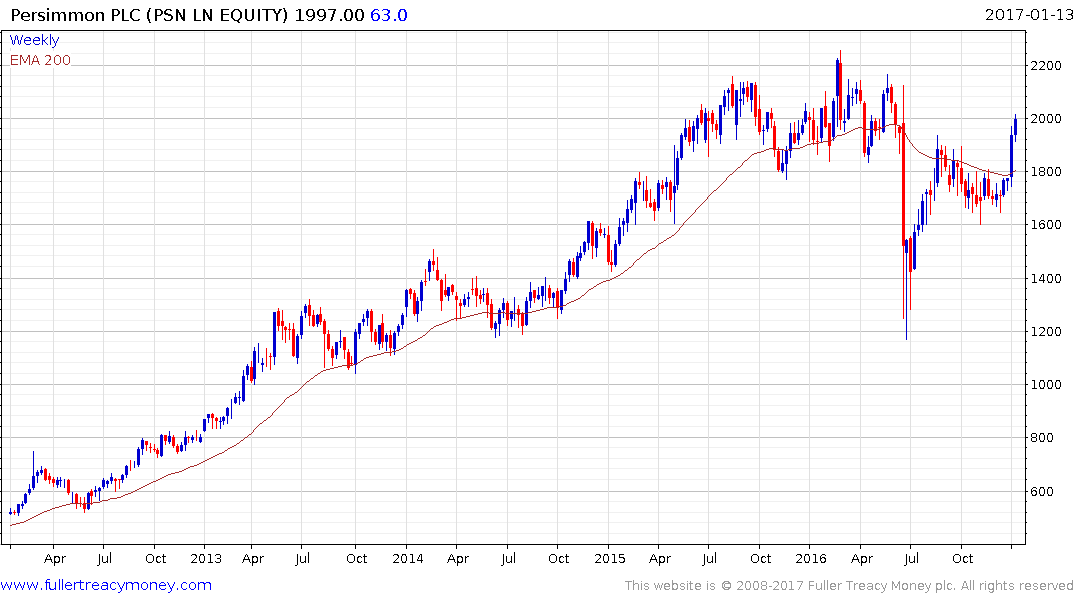 Taken together, the banking and insurance sectors represent 17% of the FTSE-100. The homebuilding sector is considerably smaller but is benefitting from the prospect of improving government support for increasing the supply of affordable housing. Persimmon, for example, broke successfully back above the 200-day MA last week and improved on that performance this week.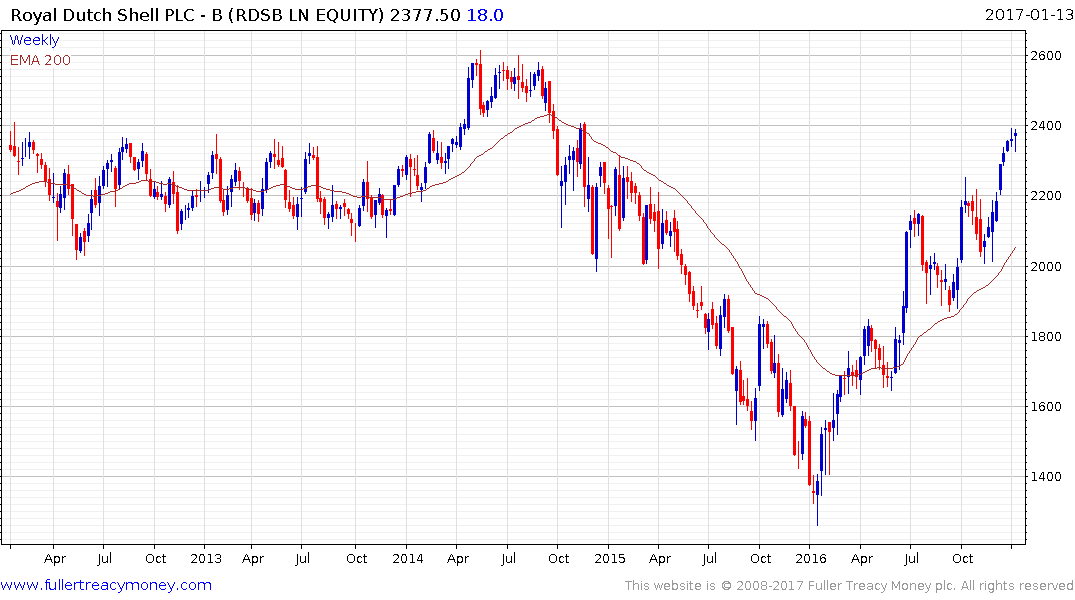 The oil and gas sector, led by Royal Dutch Shell, continues to perform impressively. Nevertheless a short-term overbought condition is currently present.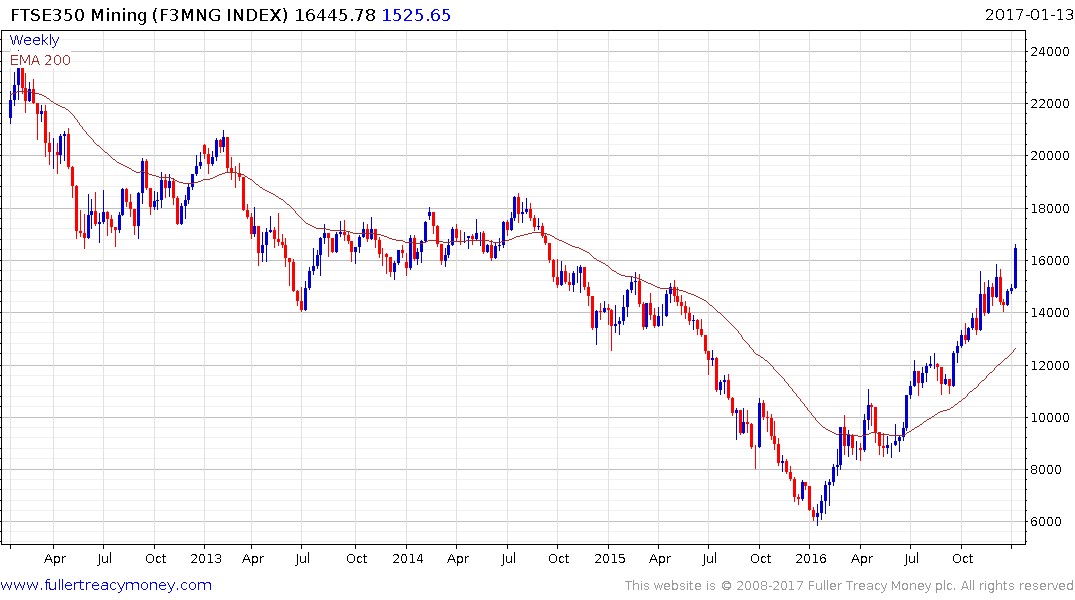 Elsewhere, the return to form of the basic resources sector has been an additional contributor to the wider Index's outperformance. The FTSE-350 Mining Index extended its yearlong uptrend this week to hit new recovery highs.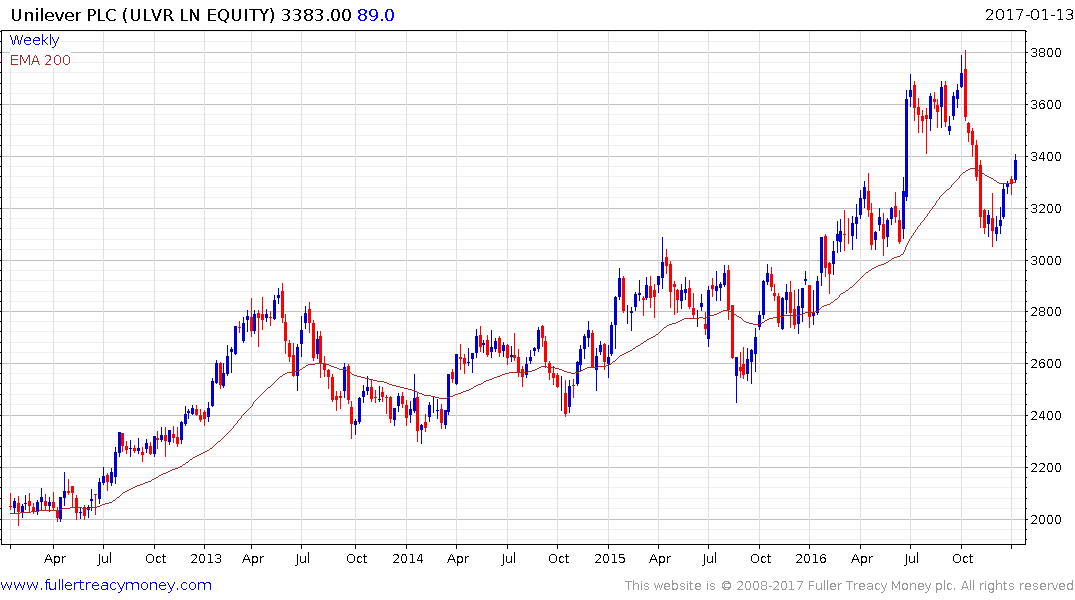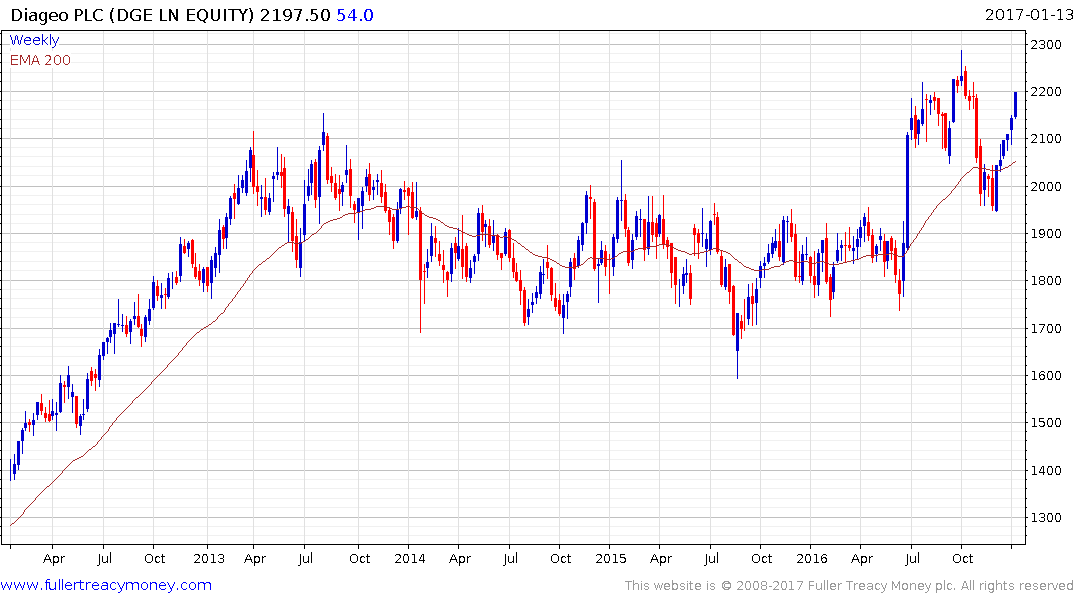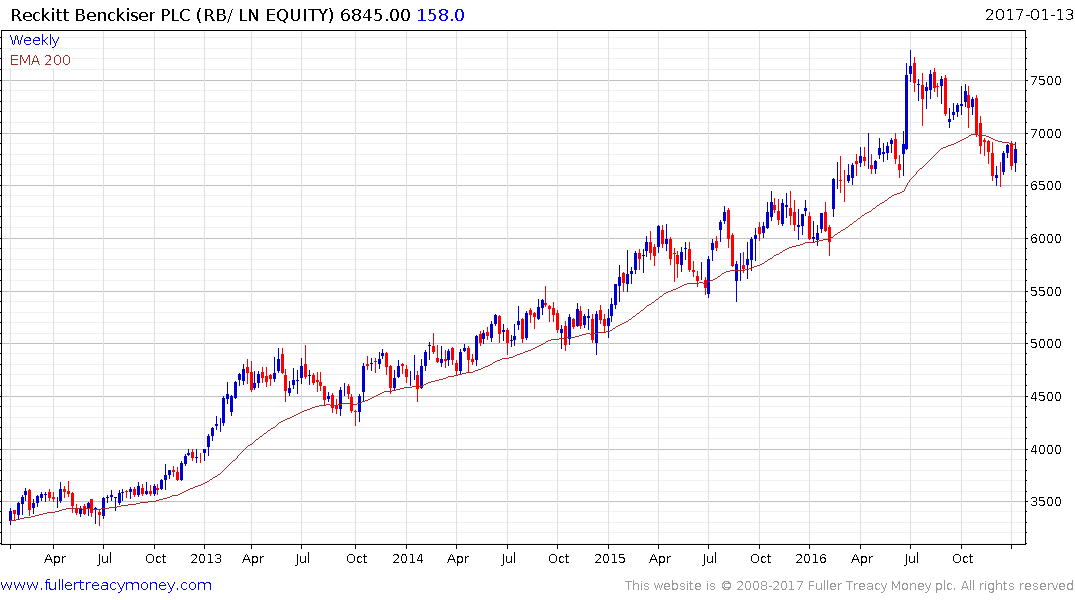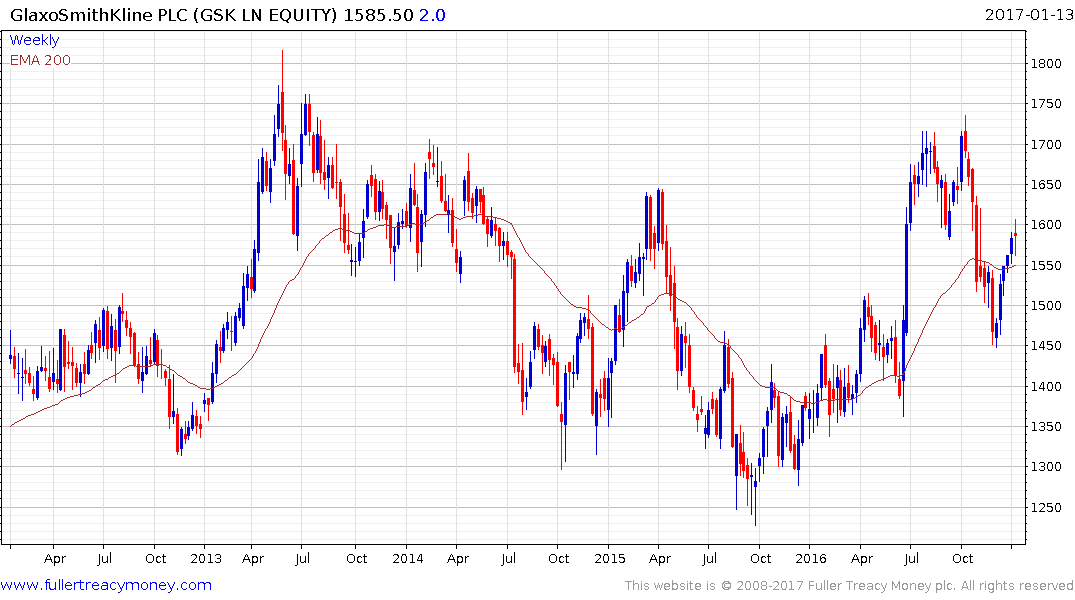 Globally oriented consumer shares like Unilever, Diageo, Reckitt Benckiser and GlaxoSmithKline are bouncing from tests of the region of their respective 200-day MAs.
GKN, (aerospace supplies) hit a new recovery high today and may now be completing a first step above the base.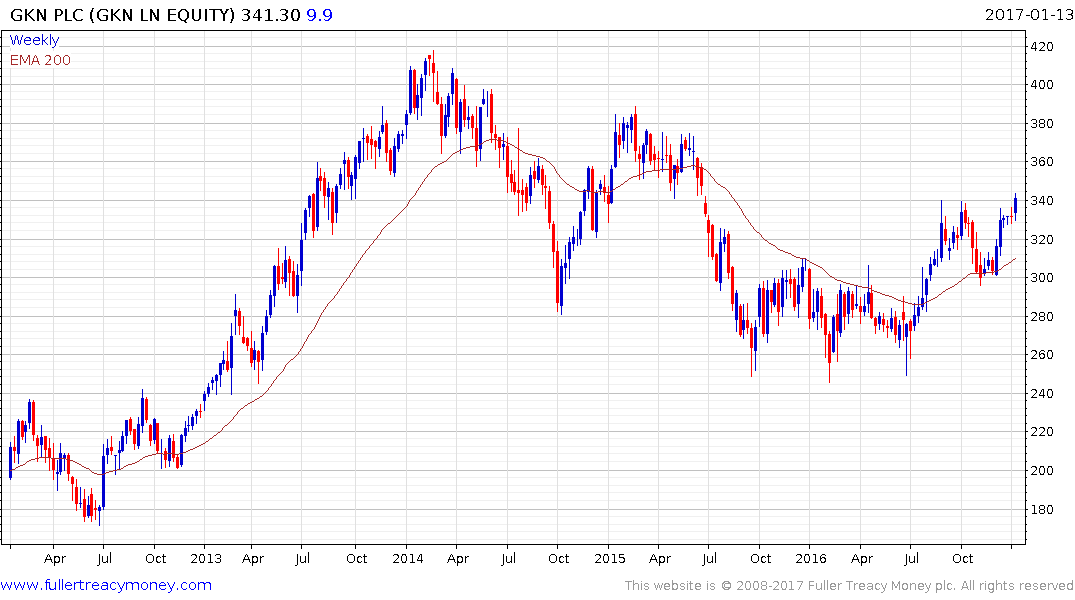 Clicking through the ranks of the FTSE-100 there is ample evidence of a broad-based demand dominated environment, supported by globally oriented companies. That suggests the breakout will be sustained despite the short-term overbought condition.
Back to top