Tesla Hackers Show an Energy Revolution Closer Than Once Thought
This article by Matthew Campbell, Tim Loh and Mark Chediak for Bloomberg may be of interest to subscribers. Here is a section:
Consider the crash effort at the Joint Center for Energy Storage Research in suburban Chicago. Within five years, researchers want to create one or more battery types that can "store at least five times more energy than today's batteries at one-fifth the cost," according to George Crabtree, an agreeable silver-haired scientist who runs the U.S. Energy Department-backed battery-research skunk works.

Harvard University, the Massachusetts Institute of Technology, leading-edge technology companies like Elon Musk's Tesla Motors Inc. and scads of startups are getting into the act. Some are seeking to double the capacity and dramatically cut the costs of the lithium-ion battery, the standard in iPhones and electric vehicles. Others are working on mega-scale battery systems using novel chemistries that could cheaply store enough energy to help power entire cities.

Battery entrepreneurs have begun to even talk like revolutionaries. "The ability for a battery company to change the dynamics of the world is what has got us excited," says Bill Watkins, chief executive officer of Imergy Power Systems Inc., a Fremont, California, startup working on utility-scale batteries. "We can actually make a big difference here. I call it democratizing energy."

As the former CEO of Seagate Technology Plc, the Silicon Valley digital storage maker, Watkins can speak from experience about tectonic technology shifts. In 1980, a Seagate five- megabyte hard drive that rendered floppy disks obsolete was a $1,500 PC add on. These days, drives holding two terabytes of data -- equivalent to two million megabytes -- can be had for a retail price of under $200.

What's primarily driving the battery revolution is the phenomenal growth of rooftop and other forms of solar energy and an awakening by renewable energy advocates that storage is the lagging piece of the transformative puzzle. Solar now powers the equivalent of 3.5 million American homes and accounted for 34 percent of all newly installed electricity capacity last year.

Wind supplies enough electricity for the equivalent of about 14.7 million U.S. homes, about the same as 52 coal-powered generating plants, according to the Wind Energy Foundation.
An exponential breakthrough in battery capacity and cost would bulldoze the limitations to adopting renewable energy on a massive scale, be a potent weapon to fight climate change by lowering carbon emissions and potentially bring billions of dollars in profits, never mind fame, to the winners. The knock on renewables is that while fossil fuels keep the power on all the time, solar fades when the sun doesn't shine and wind power fizzles when the wind doesn't blow – unless you have a way to store the excess for when you need it.

"What's holding back solar and wind isn't their availability but the fact that the technology to generate renewable energy has lept far ahead of the capacity to store and deploy it round the clock as needed," says Crabtree of the Joint Center project, which is run out of the federal Argonne National Laboratory.

Prophesies of energy revolutions always come with caveats, of course, and some researchers note that an exponential breakthrough in battery storage and cost has been forecast for more than a decade and still hasn't arrived. "Of all these other battery technologies people promote, how many of them are real?" says Jeff Dahn, a professor at Dalhousie University in Nova Scotia who continues to plug away at making stronger and cheaper lithium-ion batteries. "All that remains to be seen."
When we first started writing about the massive investments in battery technology as early as 2010 there was a great deal of enthusiasm about how batteries were going to make the case for renewable energy more compelling than ever. However, the difficulty of innovating in the chemical sector and the lead time in bringing new methodologies to market was underestimated.

There is now a continual flow of news stories about the advances in battery technology but it remains to be seen which of these will come to market first. Japanese companies are currently in the lead. Considering that the evolution of battery technology rests on expertise in developing anodes, cathodes and catalysts, I added a number of companies specialising in filters and membranes to the Battery Manufacturers section of the Chart Library. They have as good if not a better chance of being the companies that develop the next meaningful leap forward in battery technology.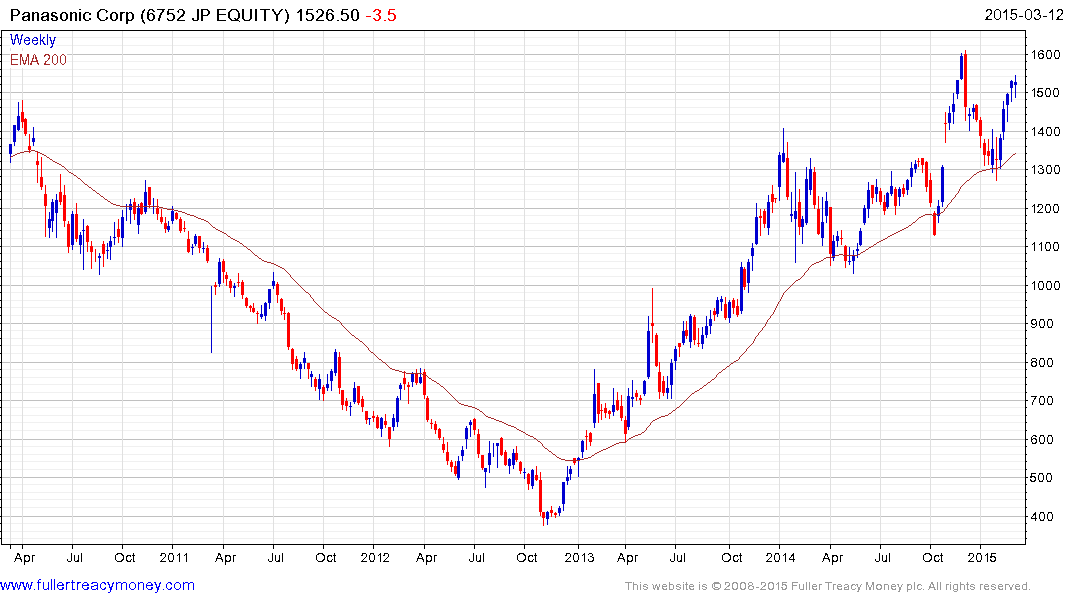 Panasonic is Tesla's partner in building the company's battery gigafactory and is following an economy of scale route to driving prices down rather than focusing exclusively on developing new technology. The share has held a progression of higher reaction lows since bottoming in 2012.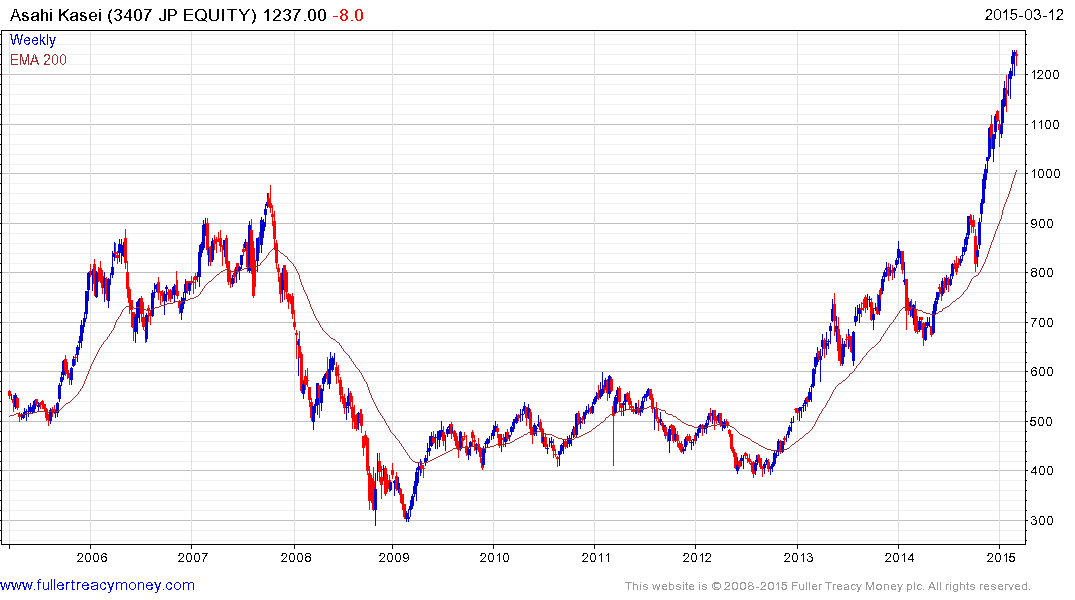 Asahi Kesai moved to acquire Polypore Technology today as it expands its product range in advanced membranes and filters. The share is somewhat overextended at present but a break in the progression of higher reaction lows would be required to signal mean reversion is underway.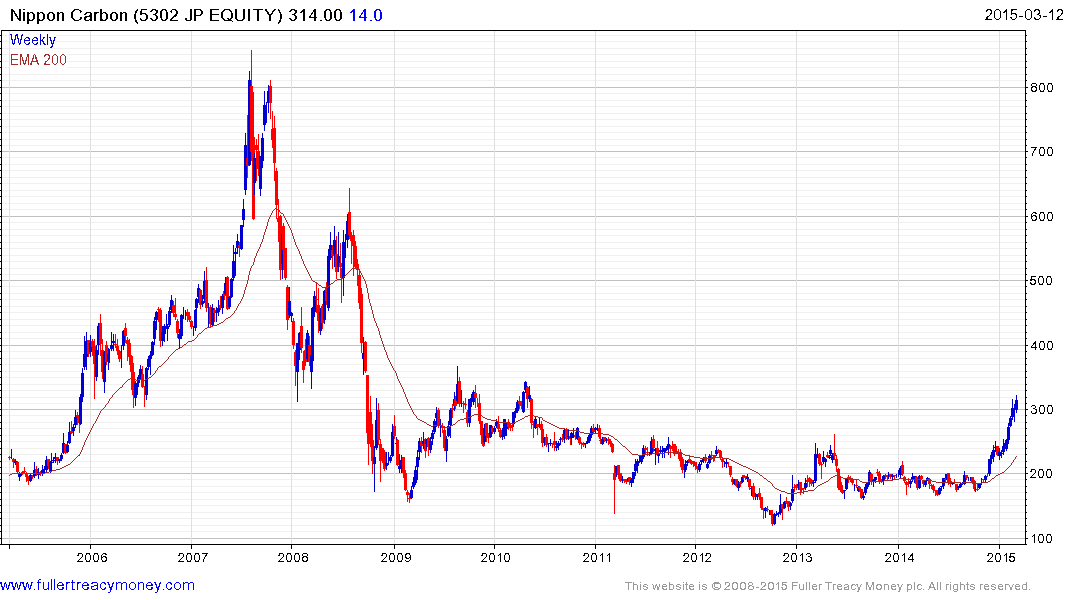 Nippon Carbon develops carbon anodes for lithium ion batteries as well as a range of other highly specialised carbon products. The share broke out of a lengthy range in November and continues to extend the breakout. The first clear downward dynamic is likely to signal a peak of at least near-term significance.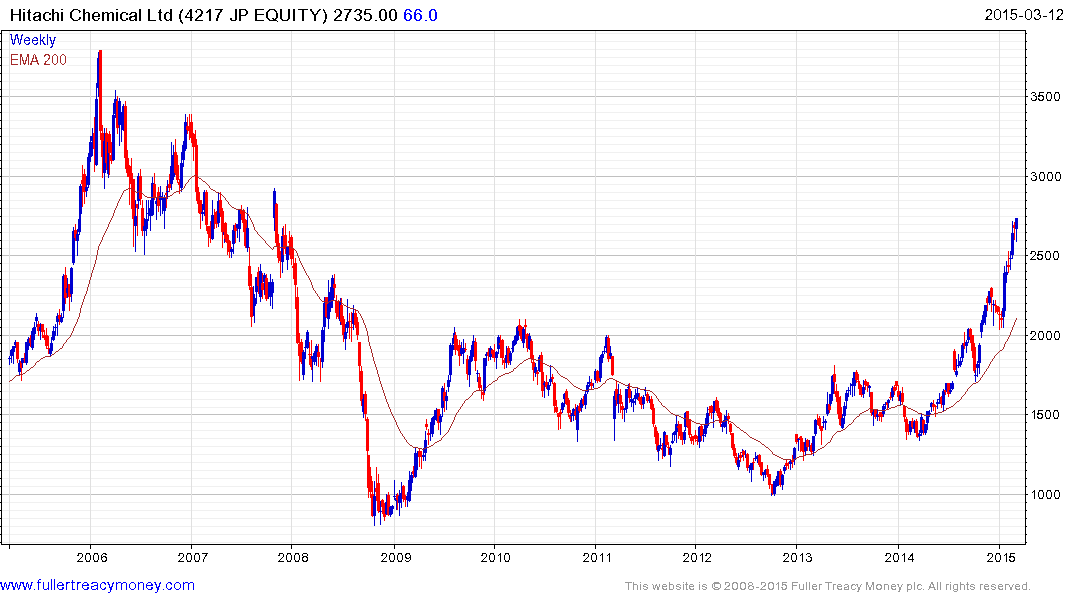 Hitachi Chemical is already selling a range of industrial sized batteries. The share completed a five-year base in October and continues to extend the breakout.
Back to top