SolarCity Unveils World's Most Efficient Rooftop Solar Panel, To Be Made in America
This press release from SolarCity may be of interest to subscribers. Here is a section:
SolarCity will begin producing the first modules in small quantities this month at its 100 MW pilot facility, but the majority of the new solar panels will ultimately be produced at SolarCity's 1 GW facility in Buffalo, New York. SolarCity expects to be producing between 9,000 - 10,000 solar panels each day with similar efficiency when the Buffalo facility reaches full capacity.

SolarCity's panel was measured with 22.04 percent module-level efficiency by Renewable Energy Test Center, a third-party certification testing provider for photovoltaic and renewable energy products. SolarCity's new panel—created via a proprietary process that significantly reduces the manufacturing cost relative to other high-efficiency technologies—is the same size as standard efficiency solar panels, but produces 30-40 percent more power. SolarCity's panel also performs better than other modules in high temperatures, which allows it to produce even more energy on an annual basis than other solar panels of comparable size.

SolarCity initially expects to install the new, record-setting solar panel on rooftops and carports for homes, businesses, schools and other organizations, but it will also be excellent for utility-scale solar fields and other large-scale, ground level installations.
The low price of oil and other energy commodities has taken a toll on the moveable feast of solar power breakeven calculations. The sector simply has to continually introduce more efficient products and there is good reason to expect it will. Solarcity's announcement of a production-ready panel sporting 22% efficiency is great news provided the final announced price is competitive. In the lab efficiency rates of over 40% are achievable but it's a big leap from a sterile environment to rooftops. This is the primary reason SolarCity's announcement is important.

The danger with such a wide gap between what is achievable in the lab and what is being installed on people's homes is that the company one owns shares in may not be the one that achieves the next boost in deliverable efficiency at a competitive price. Considering the pace of technological innovation there is also ample room for totally new technology to completely displace the sector as it stands today; much like what has happened with 3-D printers. As a result I view investments in individual solar companies as risky but right now they are looking interesting from a trader's perspective.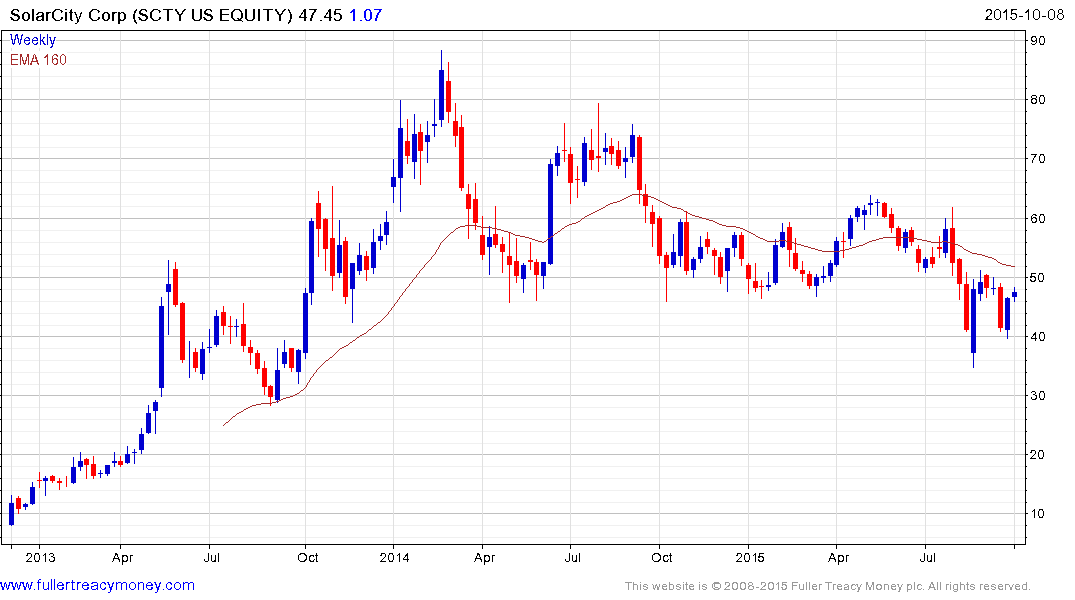 SolarCity more than halved from its early 2014 peak and has stabilised over the last month mostly above $40. A sustained move below that level would be required to question current scope for continued higher to lateral ranging.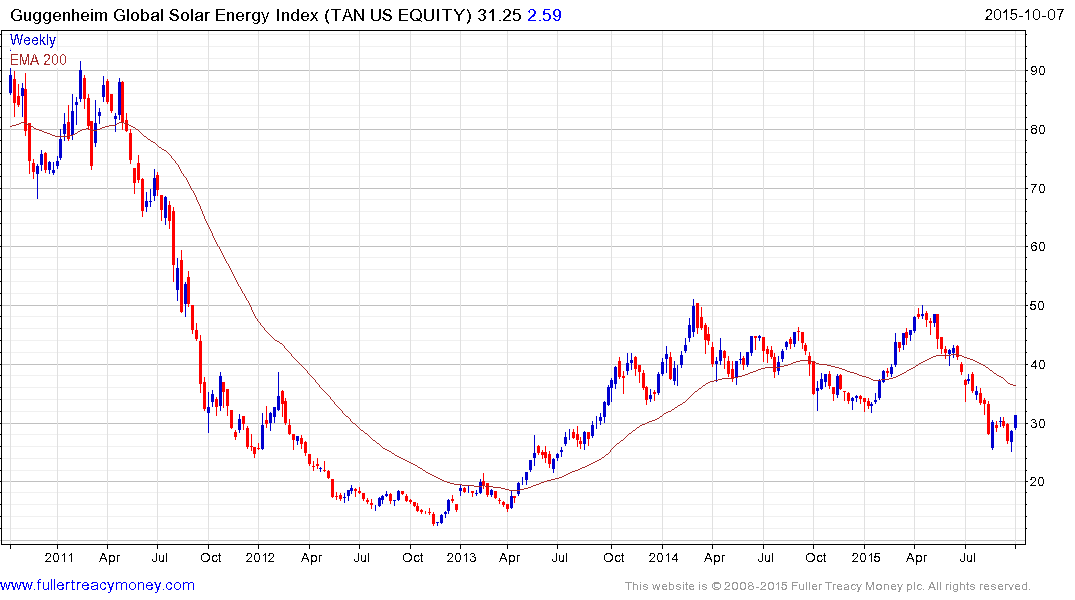 The Guggenheim Solar ETF has also stabilised following a steep decline and a sustained move below $25 would be required to question potential for additional firming.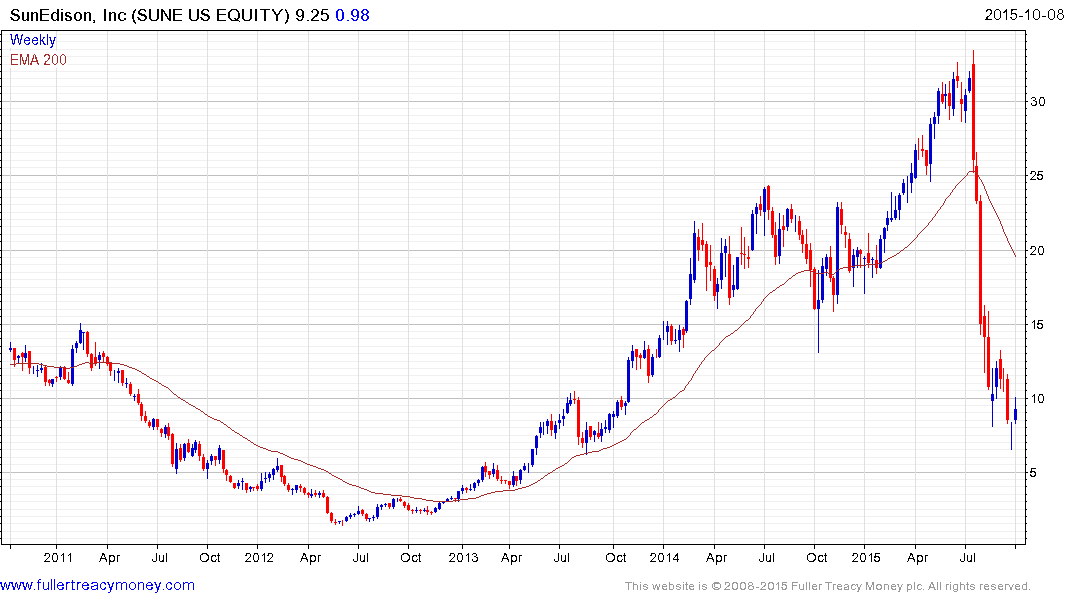 SunEdision collapsed from its July peak but is losing downward momentum. It will need to hold the low near $6.50 on the current pullback to demonstrate demand coming back in at a higher level.
Trina Solar, China's largest manufacturer, has been less volatile and is bouncing from the lower side of its range but will need to sustain a move above $13.50 to break the medium-term progression of lower rally highs.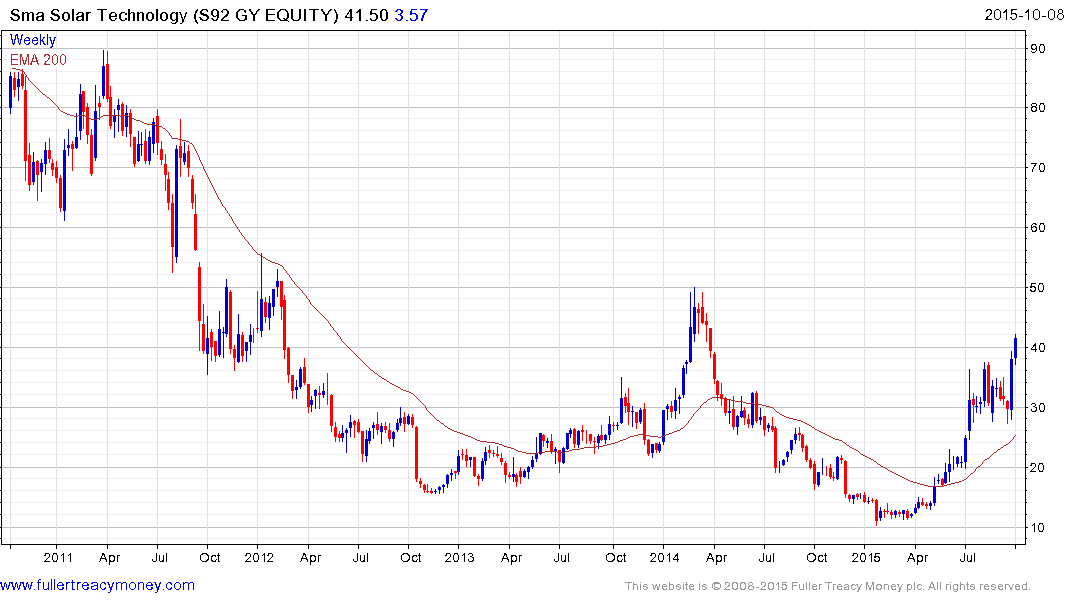 SMA Solar Technology produces solar inverters and home batteries and as such is more volume than technology reliant. The share found support last week in the region of the 200-day MA and broke out of its range last week. A clear downward dynamic would be required to question scope for additional upside.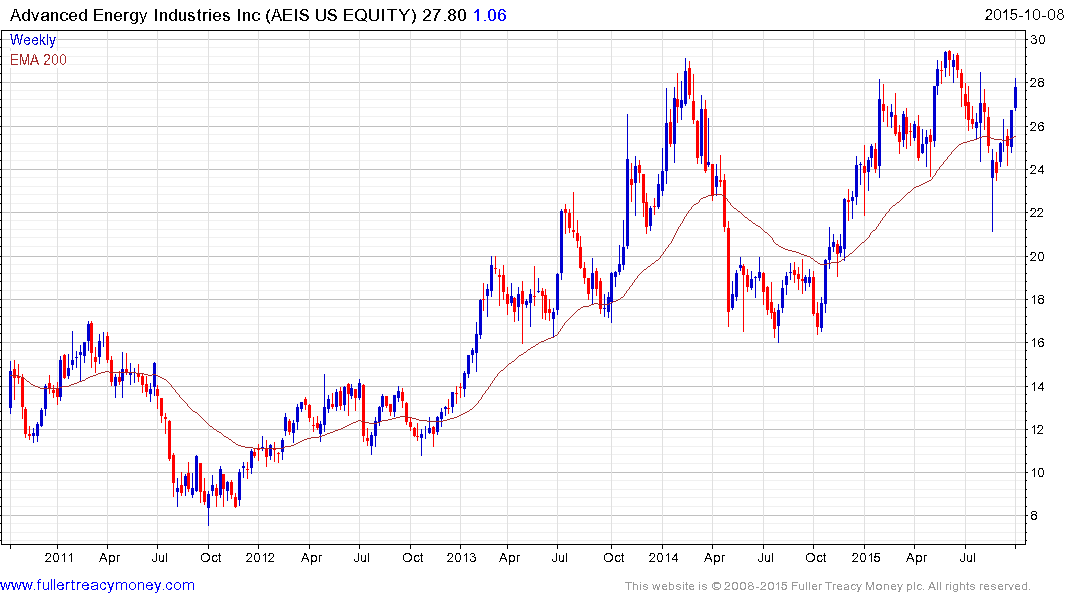 Advanced Energy Industries also produces inverters but solar represents only 38% of its revenue so it might be viewed as a tangential play on the sector. The share has bounced back impressively from the August low but some consolidation is likely in the region of the peaks below $30. Potential for additional higher to lateral ranging can continue to be given the benefit of the doubt provided it holds the $25 area.
Back to top