Shell's Floating Prelude LNG Poised to Load First Cargo
This article by Stephen Stapczynski for Bloomberg may be of interest to subscribers. Here it is full:
Shell's Prelude floating LNG plant offshore Australia is expected to load its first cargo on the vessel Valencia Knutsen, which is currently idled in the area, according to commodity shipment tracker Kpler.

* The vessel arrived near Prelude on June 4 and was likely attempting to load from the facility, but it left berth range a few hours after arrival, Kpler analysts said

** The vessel will probably be moored alongside the Prelude facility before the end of the week: Kpler

* NOTE: Shipment of the first LNG cargo is "imminent," Platts reported on June 4, citing Shell's head of integrated gas, Maarten Wetselaar
When Royal Dutch Shell announced it was ready to spend billions on developing a major offshore LNG processing facility in Northern Australia a few years ago it was considered a risky venture. However, the company's long-term bet on natural gas representing a much better demand growth trajectory than crude oil has been proved correct.
The IEA estimates global gas consumption grew at 4.6% last year which is the highest rate in years. It is being driven by China's efforts to clean up its air and migrate away from coal consumption as well as wider economic growth in Asia.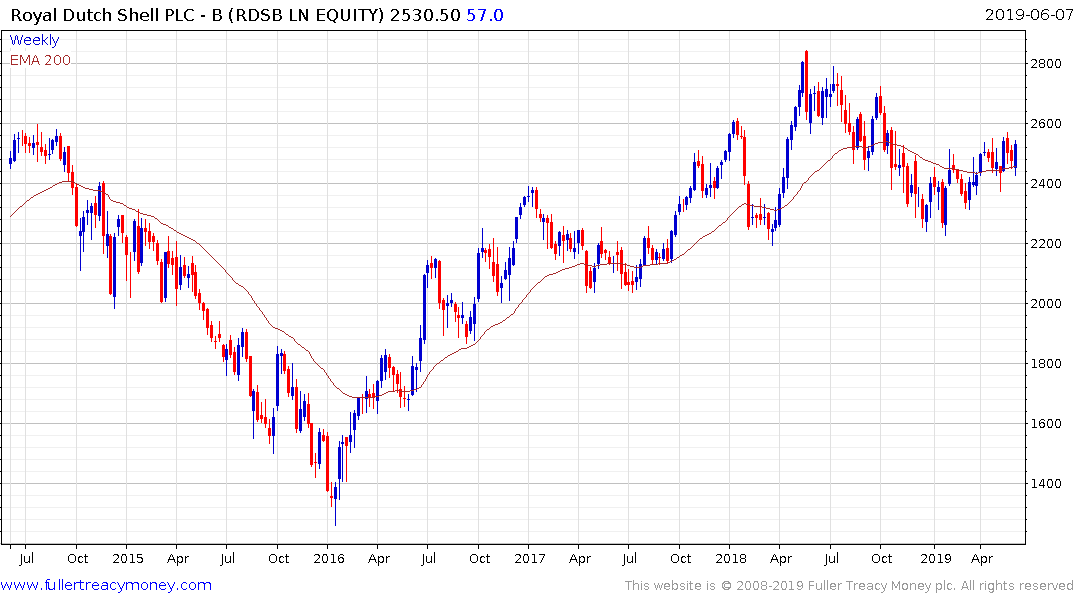 The share continues to hold its sequence of higher major reaction lows and rallied this week from the region of the trend mean.
Back to top