Saudi Arabia Considers Accepting Yuan Instead of Dollars for Chinese Oil Sales
This article from the Wall Street Journal may be of interest to subscribers. Here it is in full:
Saudi Arabia is in active talks with Beijing to price its some of its oil sales to China in yuan, people familiar with the matter said, a move that would dent the U.S. dollar's dominance of the global petroleum market and mark another shift by the world's top crude exporter toward Asia.

The talks with China over yuan-priced oil contracts have been off and on for six years but have accelerated this year as the Saudis have grown increasingly unhappy with decades-old U.S. security commitments to defend the kingdom, the people said.

The Saudis are angry over the U.S.'s lack of support for their intervention in the Yemen civil war, and over the Biden administration's attempt to strike a deal with Iran over its nuclear program. Saudi officials have said they were shocked by the precipitous U.S. withdrawal from Afghanistan last year.

China buys more than 25% of the oil that Saudi Arabia exports. If priced in yuan, those sales would boost the standing of China's currency.
Gold is a monetary metal because it is the barometer against which we can compare the performance of fiat currencies. However, gold stopped being a currency when President Nixon took the USA of the gold standard in 1971.
By 1973, the surge in oil revenues created an excess reserve issue for Gulf states and recycling savings into Treasuries made sense. That created the so-called petrodollar system. Since oil is used in every country in the world it is also used as a unit of account.
There is already the prospect of Russia accepting Renminbi for its oil. That's particularly true now that Russia is desperate for both new customers and currency inflows. If China also succeeds in convincing Saudi Arabia to do the same, the prospect of a petrorenminbi evolving will be even more likely.
China is the world's largest consumer of oil so it is not unreasonable that they would want to pay for it in their own currency. The challenge for the USA is that this kind of relationship is a threat to the Dollar's hegemony as sole reserve currency.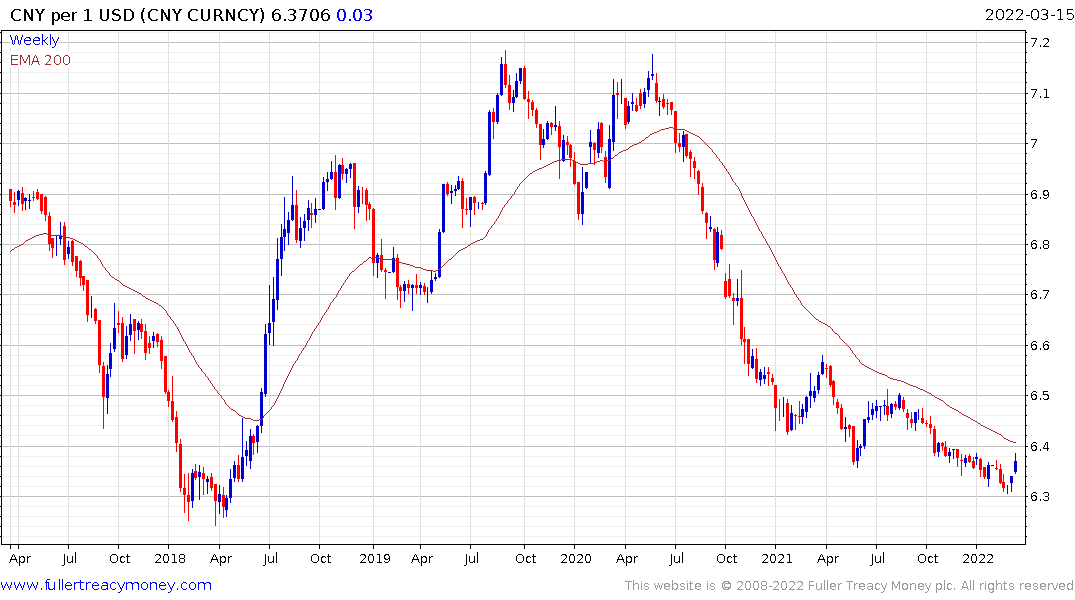 The renminbi steadied today from the region of the trend mean.


Crude oil bounced today from the psychological $100 as enthusiasm about an imminent armistice proved short lived.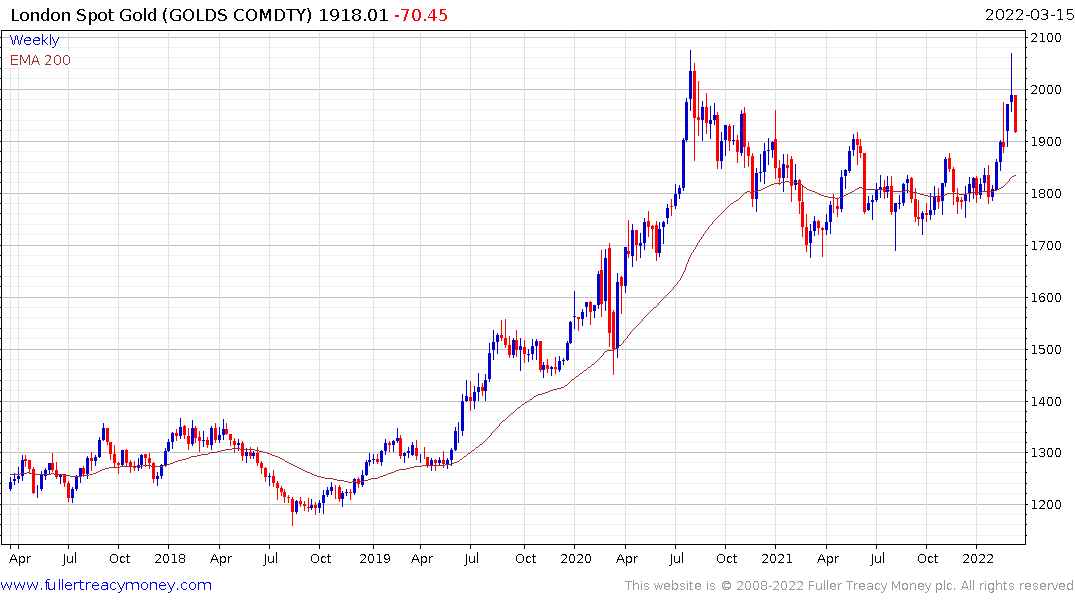 Gold is back at the first area of potential support. $1900 coincides with the upper side of the underlying range.
Back to top