Riding in Waymo One, The Google Spinoff's First Self-Driving Taxi Service
This article by Andrew Hawkins for the Verge may be of interest to subscribers. Here is a section:
Over the course of three separate trips in Chandler, the trained drivers in my Waymo vehicles never take control. I've ridden in a Waymo vehicle without a human being in the driver's seat once before, but it was not on public roads. I was fully prepared to experience a fully driverless ride while in Chandler, but, alas, Waymo rejected my request.

The rides are uneventful, but it is exciting to experience the little flourishes that have been added for ride-hailing customers. The minivans still smell new, or at least recently cleaned. The screen on the back of the driver's headrest features a large blue "start" button that I could press to initiate the ride. (There's also a physical button in the headliner of the vehicle that performs the same task.) After pressing the button, a musical chime sounds and a robotic-sounding woman's voice says, "Here we go."

As I said, I'm an experienced Waymo rider — three trips and counting — but this one feels more mature. Before, it felt like you were being driven by your half-blind grandmother, but now, riding feels… mostly normal. The car slows down for speed bumps, accelerates for lane changes, and handles a number of difficult maneuvers like unprotected left turns. And it even surprises me a couple of times, like when it ended up braking too far into the crosswalk at an intersection, and then reversed back a few inches to make room for pedestrians. Of course, it probably shouldn't have stopped so abruptly in the first place, but it is still comforting to see the car correct its mistakes in real time.
This is perhaps the biggest news this week, even though the arrest of Huawei's CFO and the tightening of liquidity are what are making global headlines.
Waymo are going slow on rolling out autonomy because they are very aware of the damage road deaths by semiautonomous vehicles have caused to companies like Uber and Tesla. However, the important point is riders are reporting the cars are delivering smoother rides and fewer unexpected stops where the car has to pause and figure out what to do next.
The important thing about artificial intelligence systems is they only have to learn to drive once. Then it's a matter of copy and paste to every other vehicle; everywhere. Phoenix was chosen as a test bed because it has fewer trees that obscure signs, clear road markings and predictable weather. California announced the first permits for autonomous vehicles last week and there are obvious issues the cars will need to overcome with driving in rain, ice and snow if they are to truly offer an alternative.
Nevertheless, the productivity growth potential for autonomous vehicles has the potential to completely reshape economies and that is something that has the potential to form the basis of the remainder of this secular bull market.
That's something to bear in mind as this medium-term correction persists. There are events on the horizon that are likely to help to limit downside scope for a significant subset of the economy.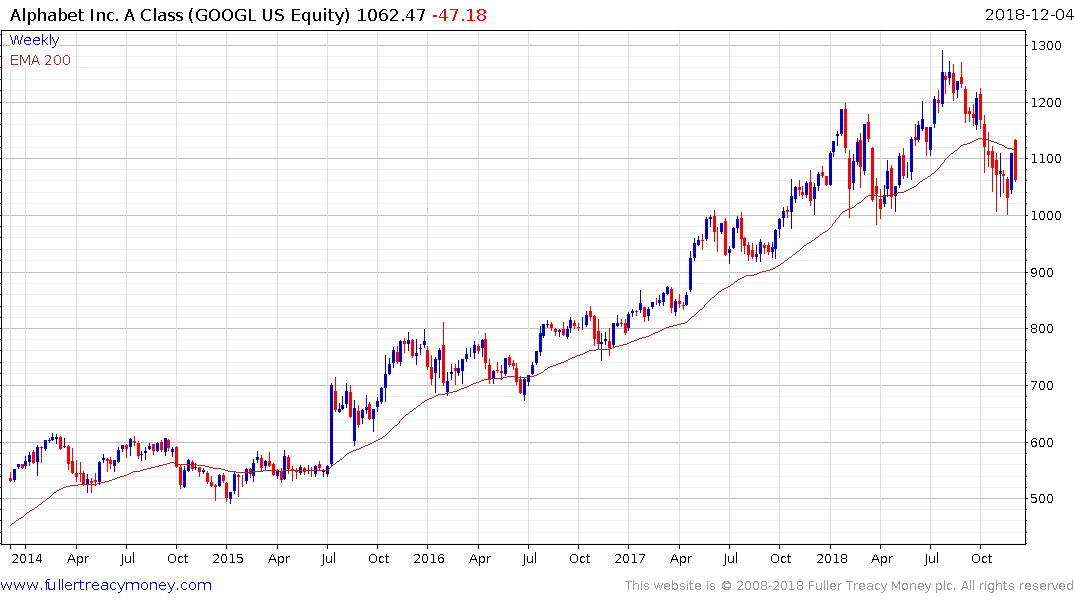 Alphabet continue to hold the $1000 level.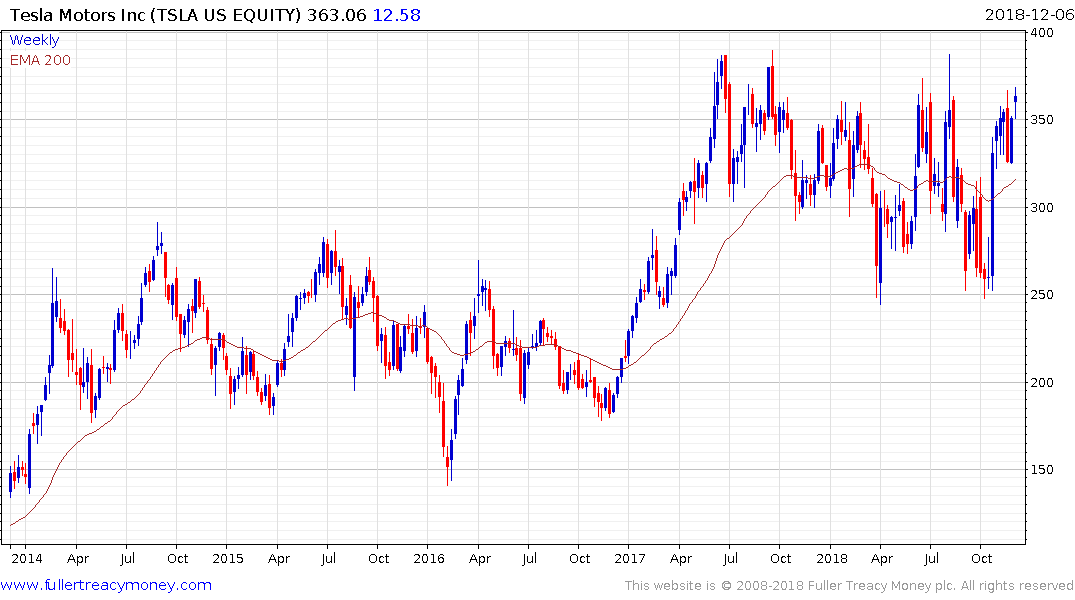 Tesla is testing the upper side of its range.
Back to top