Musings From the Oil Patch November 18th 2014
Thanks to a subscriber for this edition of Allen Brooks' ever interesting report for PPHB. Here is a section on LNG:
Temasek, Singapore's state investment company, has joined with RRJ, a private equity firm founded by Richard Ong, a Malaysian dealmaker, to purchase $1 billion in convertible bonds to be issued by Cheniere Energy (LNG-NYSE) for financing the construction of its liquefied natural gas (LNG) export terminal. The bonds have a 6 ½ year maturity and carry an annual interest rate of 4.87% and will be convertible into Cheniere's common stock in a year's time. RRJ already had an equity investment in Cheniere. This move comes at the same time Asian buyers appear less interested in buying U.S. LNG. We don't know why they are turning down what is supposed to be cheaper LNG, but we wonder whether they have less confidence that U.S. LNG supplies will be available in the volumes projected, and especially at the current low price that is projected to remain so for many years. It is also possible that Asian gas demand will not grow as much as projected due to slow growing economies, increased conservation and efficiency that trim demand growth, and other alternative gas supplies being available with long-term, fixed price terms that prove cheaper than U.S. gas volumes. We continue wondering whether the U.S. LNG export terminals will become white elephants just as the LNG import terminals did.
Here is a link to the full report.

Natural gas prices are characterised by volatility not least because the demand component of the market is so heavily influenced by weather. This is more important now than in the decade prior to 2012 because in many respects the market has returned to a balance between new gas coming on line, displacement of coal in the power sector and a focus on profitability among drillers. This season's injection pace is now being put to the test as winter weather arrives early and demand for heating rises.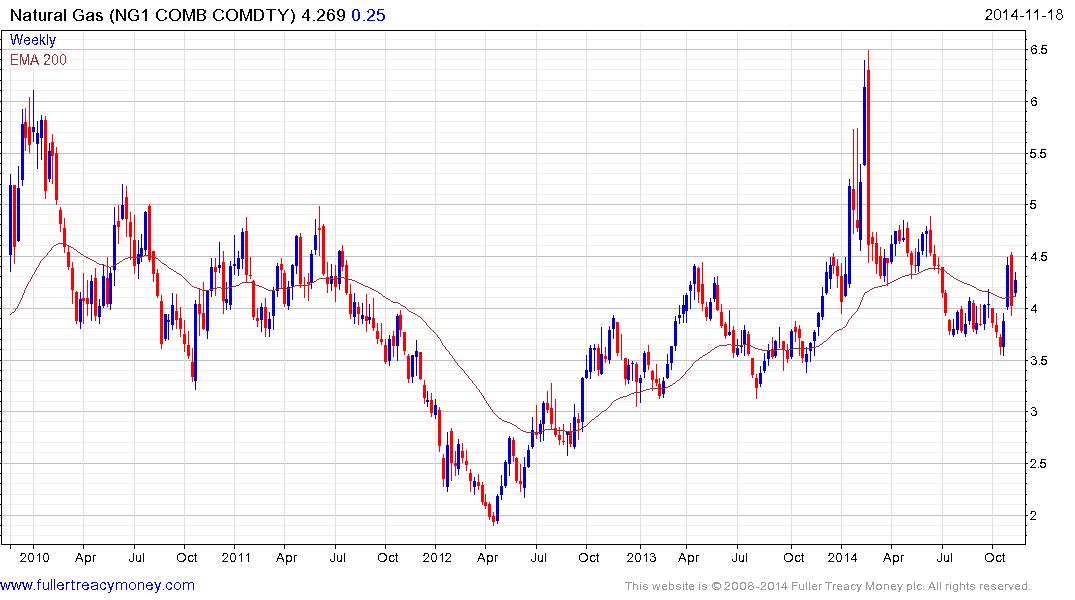 Natural gas prices do not represent a consistent trend and the low near $3.50 will have to hold if potential for additional higher to lateral ranging is to be given the benefit of the doubt.

Considering the effect the polar vortex had earlier this year on natural gas prices the ability of the market to respond to new sources of additional demand is questionable at current levels. The advent of exports through LNG facilities, currently under construction, suggests that higher prices will be required to encourage additional supply growth. If that does turn out to be the case, greater focus will fall on the arbitrage between US and Asian/European prices.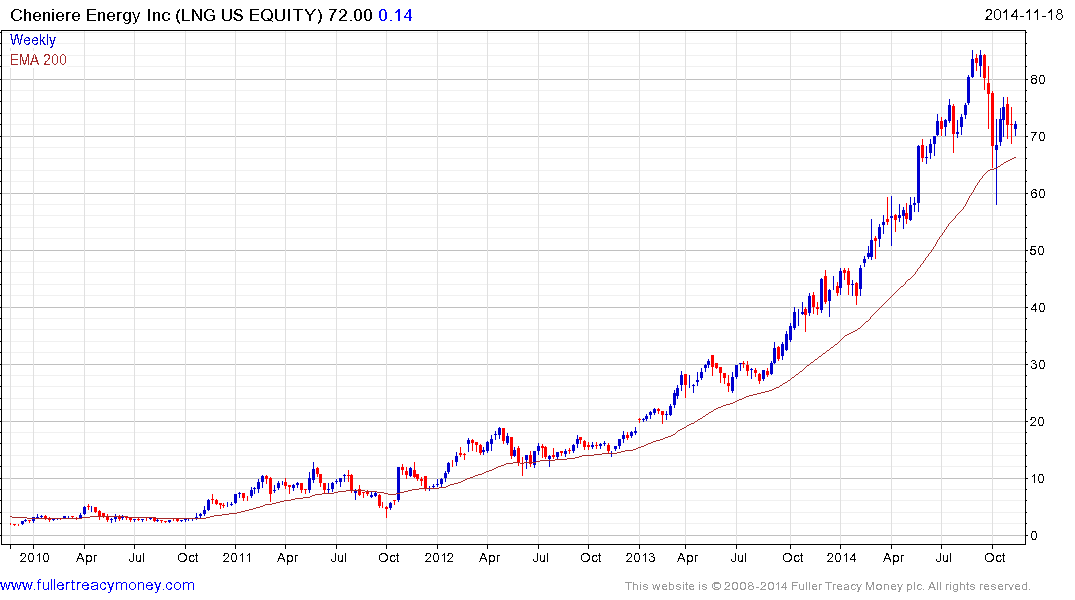 Cheniere Energy trended consistently higher between 2010 and its September peak; before quickly unwinding its overbought condition relative to the 200-day MA. It has since bounced but the earlier consistency has deteriorated. The most bullish scenario at present would be for an additional period of support building as the prior impressive advance is digested but the recent lows will need to hold if this scenario is to be credible.
Back to top