Musings From the Oil Patch February 10th 2016
Thanks to a subscriber for this report by Allen Brooks for PPHB which may be of interest. Here is a section:
One aspect of the presentation we found interesting as a sign of Saudi Arabia's thinking about the long-term outlook for the oil business was a discussion of research efforts underway at the company's newest research center located in Detroit. That facility was opened last November. Its focus is fuel technology and improved engines, but also strategic transport analysis. The latter effort involves scenario analysis of future transportation markets including ultimately issuing white papers on the topic.

With respect to their core technology focus, they are targeting passenger and commercial fuels and engine technologies. From descriptions of some of their research efforts, it seems they are focused on autonomous vehicle development, although that term was never used. Mr. Al-Tahini said that the over-arching research goal is to produce the most fuel-efficient vehicle with the lowest emissions.

Our take-away from that part of the presentation was that at some point in the past, Saudi Arabian officials began considering the forces at work reshaping the transportation business, a market dominated by crude oil. One broad trend impacting that market is demographics, but there is little Saudi Arabia can do to change the impact. Understanding these trends and their impact on the market is critical for long-term planning.

In recent years, the environmental movement has aggressively targeted the fossil fuel industry, which has resulted in a tightening of fuel-efficiency and carbon emission standards, the elimination of fuel subsidies in a growing number of countries around the world, and a strong push to urbanize the population and increase transportation alternatives. All of these forces will impact the growth of the transportation fuels market.
Given those forces, we have concluded that Saudi Arabia believes that oil demand may be closer to a peak than previously thought. This does not mean that the oil industry is going out of business anytime soon, but rather that its growth will slow in the future. Market share growth for Saudi Arabia will need to come from someone else's share, which means increased price competition. It also means trying to slow the development of alternative energy sources. Knocking out future oil sands and deepwater oil output as well as marginally shrinking shale oil opportunities will all benefit Saudi Arabia's long-term market potential. Any negative impact on the oil output of other significant producers such as Russia, Iran and Iraq, coupled with boosting demand would all help Saudi Arabia. Lastly, technological developments that enable Saudi Arabia to reduce the cost and extend the life of its oil fields would also help the kingdom's future. While none of this is new to our thinking, Mr. Al-Tahini's presentation provided confirmation of what we think is motivating Saudi Arabia's actions.
Here is a link to the full report.

How Saudi Arabia views the market for its products matters. If they truly believe that the peak in demand growth has been reached that would help to explain the beggar thy neighbour approach that has been adopted over the last year. Major oil companies have responded by shelving expansion plans, Alberta put off its desire for more royalties from its producers and we can expect to hear a lot more about refracking in the unconventional supply sector.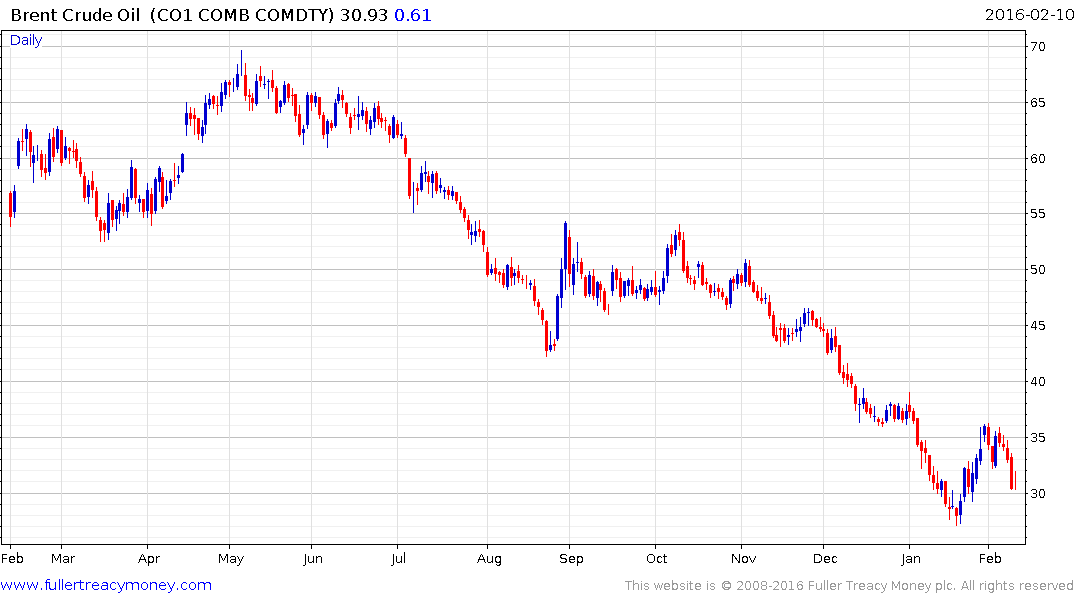 Low prices represent a catalyst for marginal supply to be taken out of the market and for demand to increase so equilibrium will be found when these forces balance out. Brent crude hit an accelerated low near $27 three weeks ago, before staging a short covering rally. Yesterday's pullback broke the short-term progression of higher reaction lows and the late January nadir needs to hold to demonstrate support building is underway.

A point I have made previously is that the eventual low for oil prices is less important than how much they can rally subsequently. Supply is getting taken out of the market at present but much of the unconventional supply can be increased again once prices rally so the potential for prolonged ranging remains our base case.
Back to top