Germany to Sell Record Debt of Up to $576 Billion in 2021
This article from Bloomberg may be of interest to subscribers. Here is a section:
The final decision on next year's budget will be taken by the government that takes charge of Europe's biggest economy after Chancellor Angela Merkel steps aside following the election.

Merkel's conservative CDU/CSU bloc is on track to lead the next administration and favors a return to frugality once the coronavirus recedes, while Scholz's struggling SPD and the surging Greens have pledged to invest billions in technology and tackling climate change.

As things stand, Merkel's bloc could form a coalition with the Greens, though the outcome is far from certain with discontent increasing among citizens weary of virus restrictions and unhappy with the slow pace of Germany's Covid-19 vaccine rollout.

With the contagion rate on the rise again, Merkel is holding talks with cabinet ministers and regional leaders later on Monday to decide the next steps in the government's pandemic strategy.
Generally speaking, the junior member of a coalition government comes out worse off after entering government. That's because voters had faith in them to deliver on their promises, but the sacrifices they have to make to enter power mean their primary goals are unrealisable. At the same time the senior partner takes credit for any successes.
The Labour party in Ireland virtually disappeared, to the benefit of Sinn Fein, after failing to realise their goals. The Liberal Democrats in the UK were eviscerated during the last election because they failed to deliver while in power. Those should be cautionary tales for the SPD in Germany. They entered a national coalition with the CDU and therefore have none of the revolutionary zeal of an opposition party during one of the tumultuous years ever.
That suggests the Greens are in a strong position to oust the SPD as the second most significant political party in Germany. If they cannot govern alone, they will demand significant progress on their policy objectives and that has potential to shape all Europe's policy. Further extending the fiscal discipline holiday may be part of that negotiation.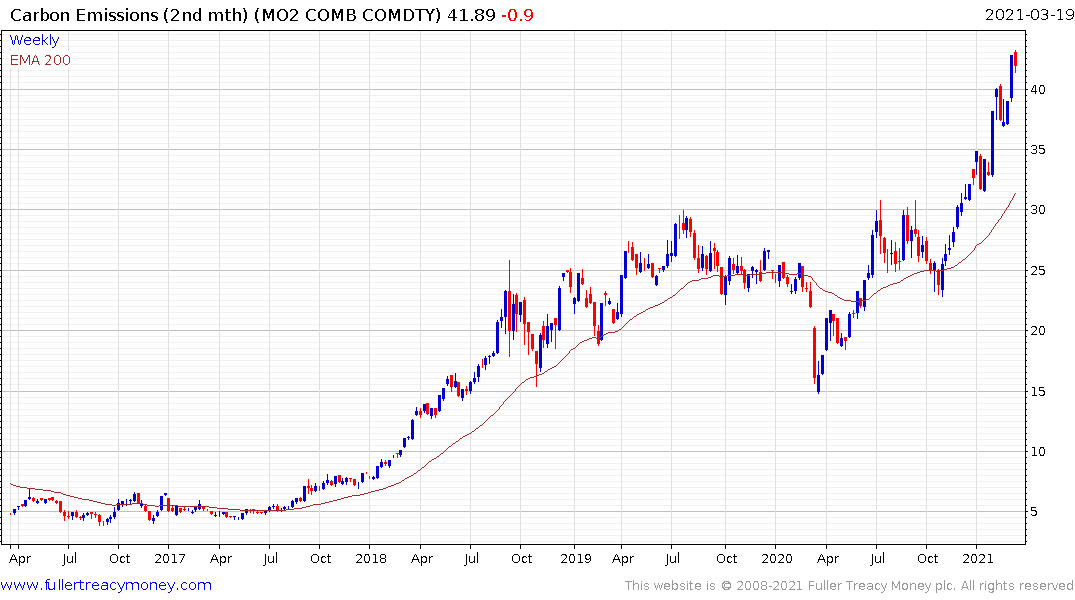 Carbon emissions futures continue to trend higher in a consistent manner, directly in line with appetite to force polluters to pay for Europe's renewables transition.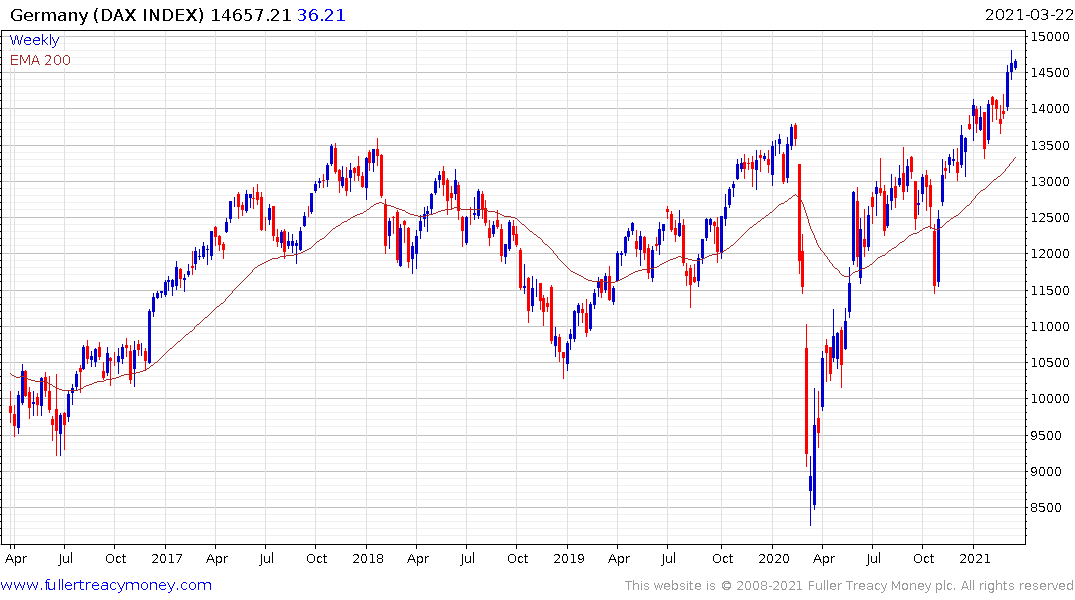 The DAX Index continues to hold its breakout to new highs.
Back to top