EU parliament backs labelling gas and nuclear investments as green
This article from Reuters may be of interest to subscribers. Here is a section:
The new rules will add gas and nuclear power plants to the EU "taxonomy" rulebook from 2023, enabling investors to label and market investments in them as green.

Out of 639 lawmakers present, 328 opposed a motion that sought to block the EU gas and nuclear proposals.

The European Commission welcomed the result. It proposed the rules in February after more than a year of delay and intense lobbying from governments and industries.
I wonder if we are seeing the end of an era of idealism and the return of harsh Cold War realism. This is particularly relevant for Germany's Green Party. The decision by the European Parliament gives cover to the Greens to embrace nuclear as a suitable alternative to coal. That's not to ignore the fact that it would be a monumental step. However, since Annalena Baerbock is both the leader of the Green Party and is also the German foreign minister, she has firsthand experience of the lengths Russia will go to achieve its geopolitical aims. If the Greens are to embrace nuclear, now would be the ideal time.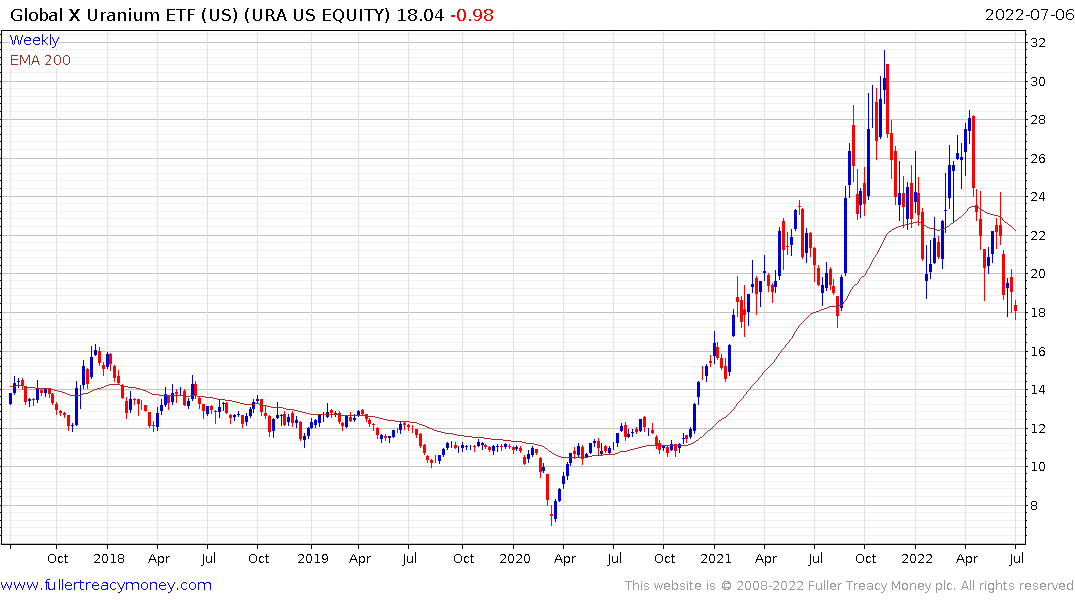 For now, at least, the uranium sector is taking its cue from the oil sector. The Global X Uranium ETF broke below the 1000-day MA today and a clear upward dynamic will be required to check momentum.
Back to top