Email of the day on a name change:
New Energy Technologies Inc (WNDW US Equity) 2.0240 has recently changed their name to SOLAR WINDOW TECHNOLOGIES.(WNDW US Equity) 2.0240 They are closer to production than Ubiquitous Energy
Thank you for pointing out this name change which has a more marketable ring to it than New Energy Technologies. I've been watching the company for a number of years. If I recall correctly T.Boone Pickens was an early investor and I learned of the company following an interview he gave on CNBC

I've been watching the share since in the hope they would come through with a marketable product. According to this press release on March 10th they are approaching the release of a commercially viable product. Here is a section:

According to latest power and financial modeling, SolarWindow systems boast the industry's fastest known financial return, and could achieve payback within one year. To produce the equivalent amount of power with conventional solar systems would require at least 5-11 years for payback and at least 10-12 acres of valuable urban land.

Our SolarWindow products are being developed to performance standards which give real estate developers, engineers, architects, building designers, and future customers plenty of financial incentive." Of course, we also want to instil the confidence that comes with industry-duration warranties," explained Mr. John A. Conklin, President and CEO of SolarWindow Technologies, Inc.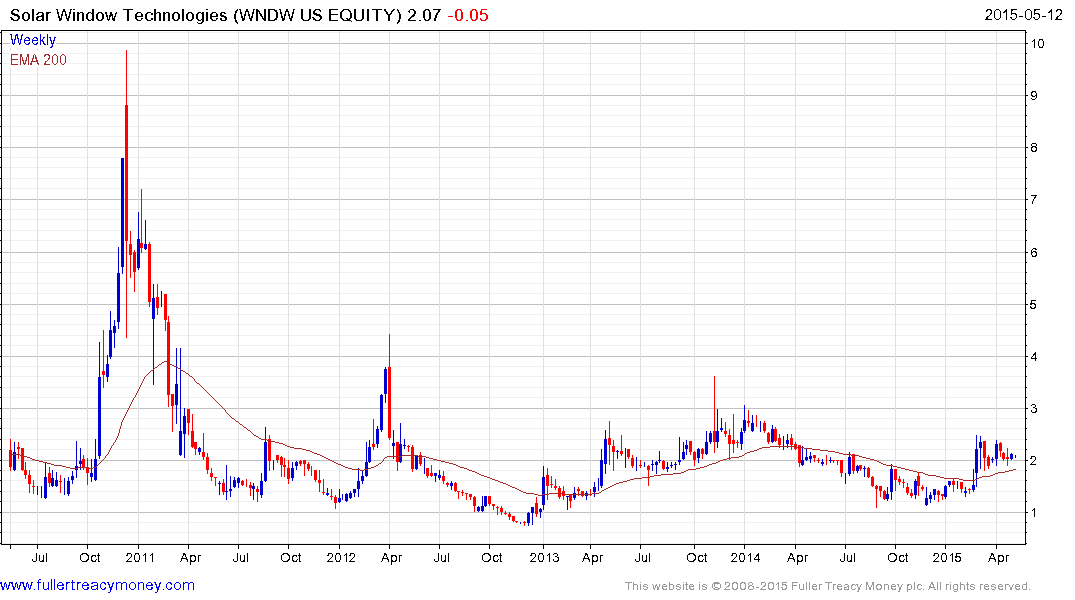 The share has been ranging above $1 since early 2009 and will need to continue to trade above the 200-day MA, currently near $1.80, if potential for continued higher to lateral ranging is to be given the benefit of the doubt.

Ubiquitous Energy is still privately held.
Back to top