Elon Musk Challengers Jostle to Solve Riddle of Energy Storage
This article by Will Wade for Bloomberg may be of interest to subscribers. Here is a section:
If the storage breakthrough is coming, it seems obvious it would happen in California, which has long led the U.S. in supporting alternative energy. The state has the most demanding fuel-efficiency standards for cars, as well as incentives that have made it the biggest market for solar power in the U.S.

California "is often a lab" for the rest of the country, said Brian Warshay, an analyst at Bloomberg New Energy Finance. It will "continue to be so on the storage front."

?Older methods of trying to store power have existed for decades, including pumped hydropower facilities in which water is sent to higher elevation reservoirs and released through lower turbines to produce electricity when demand is high.
Here is a link to Tesla's website where they highlight some of the key features of the Powerwall battery. Perhaps the most important consideration today is that almost no one has a battery in their home and that in a decade it could be commonplace. I reviewed the residential battery sector on April 23rd.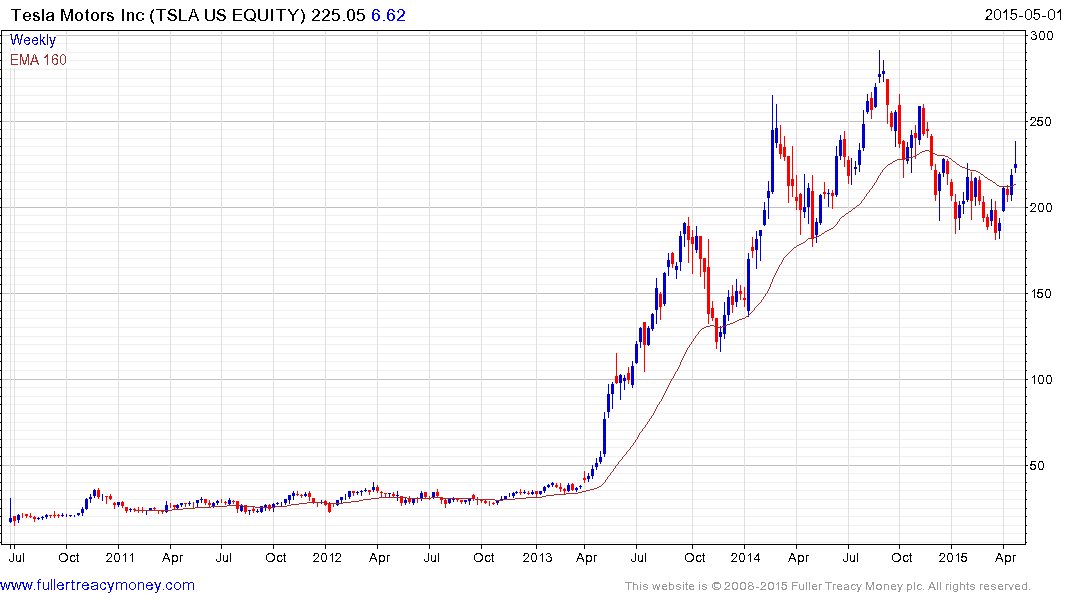 As much as smoothing out supply and demand curves for electricity use in the home are interesting, the industrial and utility sectors are just as exciting.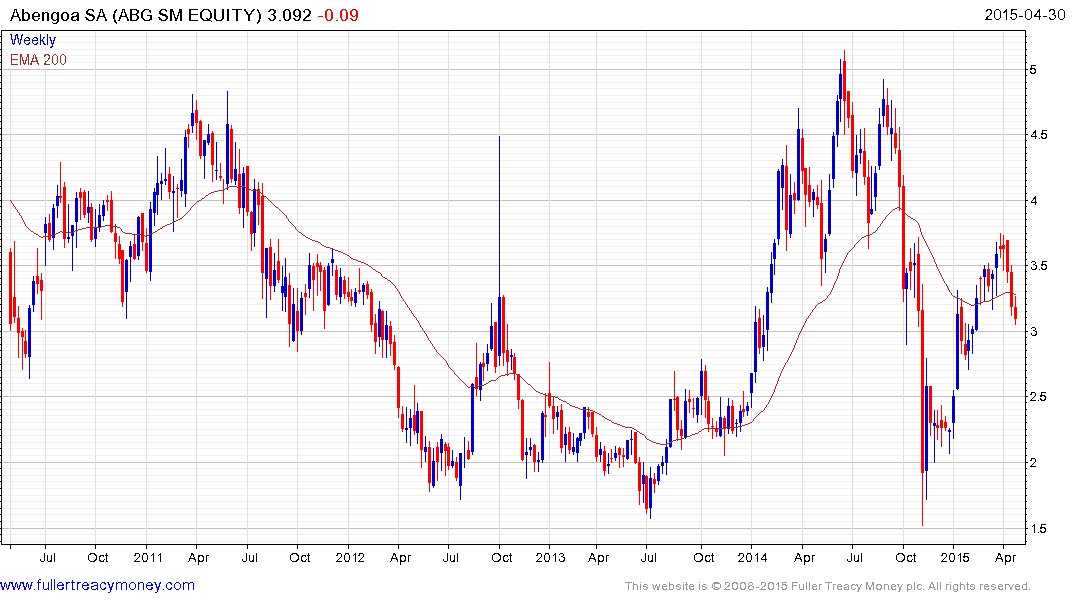 Abengoa's molten salt concentrated solar plants in California, Colarado and Arizona represent utility scale solar power storage functionality and are likely to represent an increasingly large segment of the utility sector in future. The share (Est P/E 14.38, DY 3.65%) rebounded impressively from its November low near €1.50 and some consolidation of that gain is now underway. It will need to hold at least half the advance if we are to conclude demand has returned to dominance beyond the short term.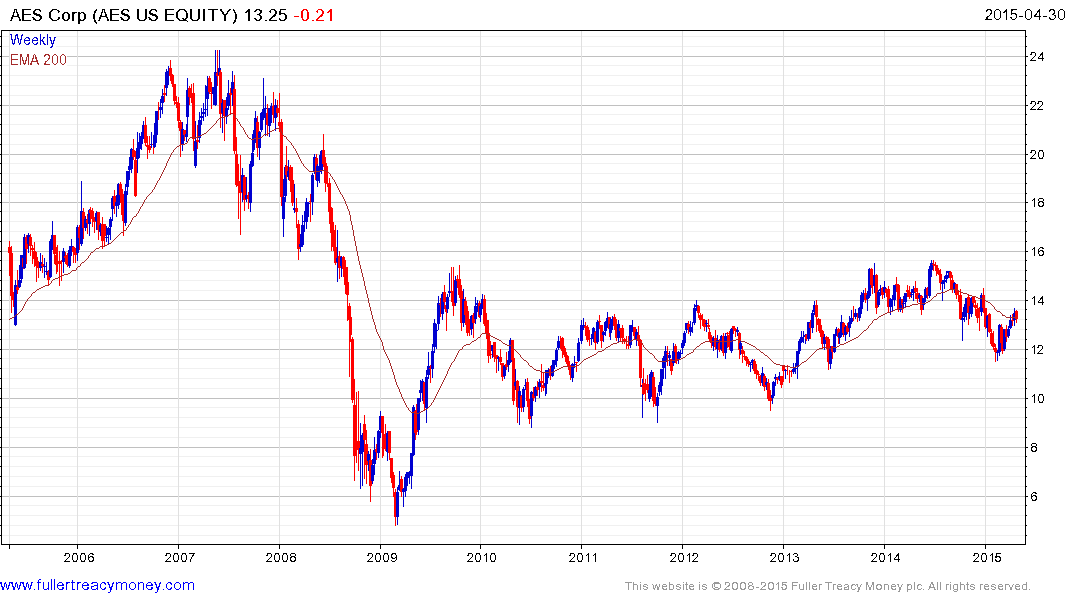 AES Corp's utility scale battery arrays and its "more power, less plant" maxim are an additional representation of the efforts underway to remove volatility from the supply and demand timing of electricity. The share (Est P/E 10.47, DY 3.02%) has been ranging since 2009 and will need to sustain a move above $14 to demonstrate a return to demand dominance beyond the short term.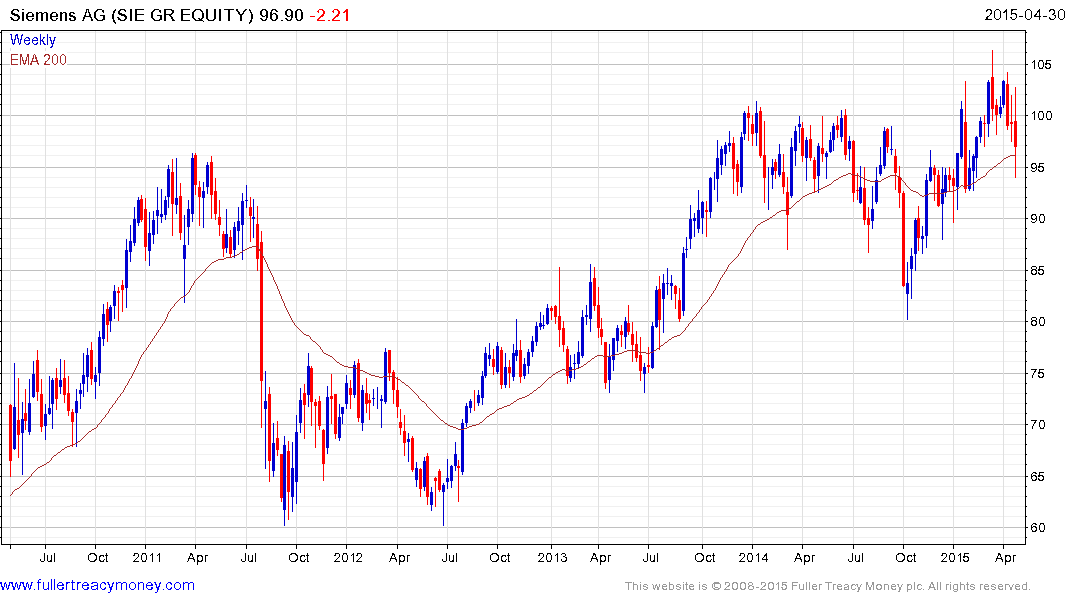 Dresser Rand's compressed air system is an additional variation on the theme.   Siemens is currently in the process of acquiring the company. Siemens (Est P/E 15.13, DY 3.40%) has been ranging below the psychological €100 area for more than a year and will need to sustain a move above it to reassert medium-term demand dominance.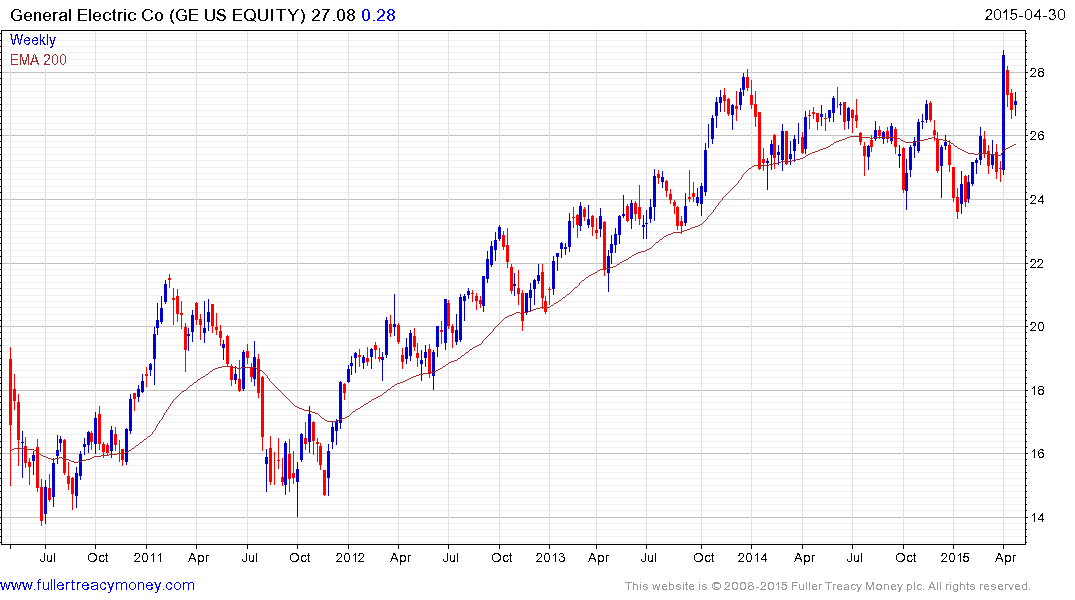 General Electric is also active in the storage solutions sector. The impending spinoff of GE Capital means that the residual share will have greater leverage to the company's industrial roots. It is currently consolidating following the news of the spinoff, but a sustained move below $25 would be required to question medium-term scope for additional upside.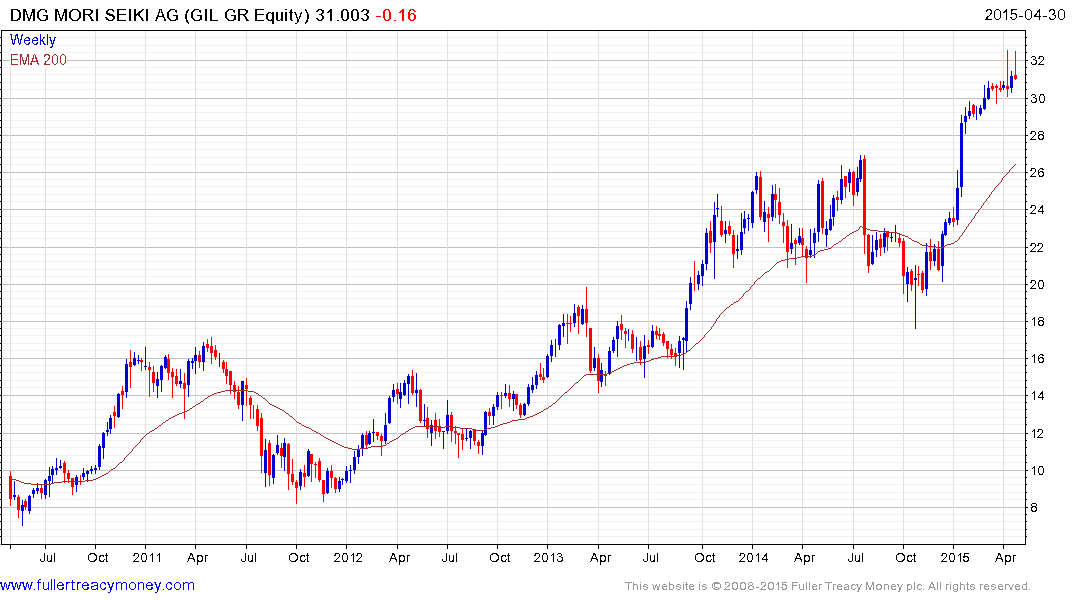 Gildemeister represents part of DMG Mori Seiki's Services sector. The company concentrates on machined components but Gildemeister builds solar plants as well as battery storage solutions. The share (Est P/E 20.82, DY 1.77%) is somewhat overextended in the short term, but a sustained move below the 200-day MA would be required to question medium-term scope for additional upside.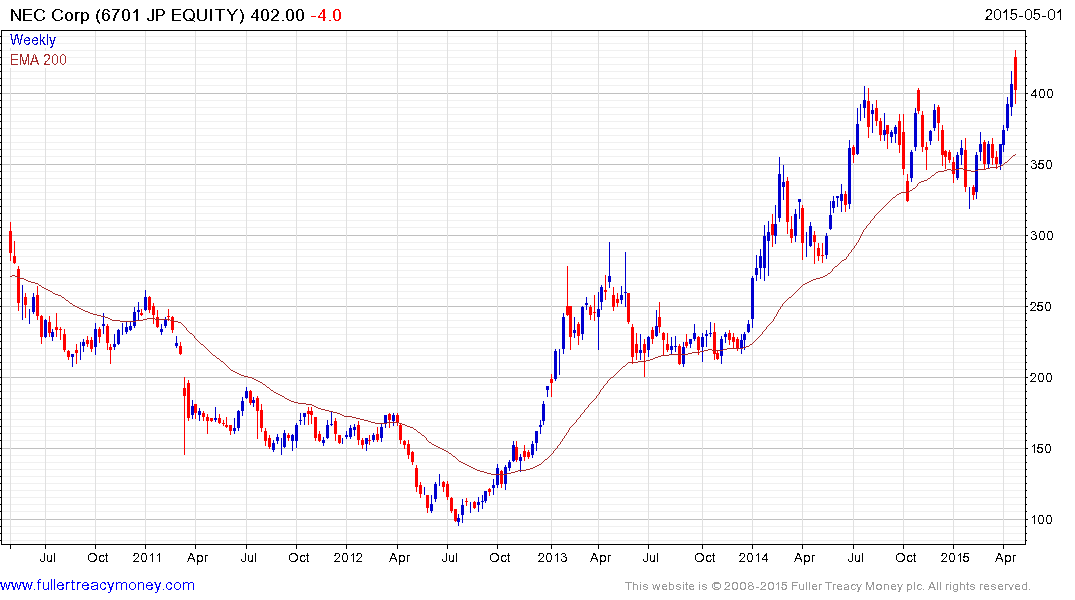 NEC has both grid storage and battery solutions.  The share (Est P/E 15.62, DY 1.49%) has been trending higher since mid-2012 and a sustained move below ¥350 would be required to question medium-term scope for continued upside. 


Toshiba also has industrial sized battery solutions. The share (Est P/E 15.76, DY0.83%) has been ranging for more than two years and will need to sustain a move above ¥500 to reaffirm medium-term demand dominance.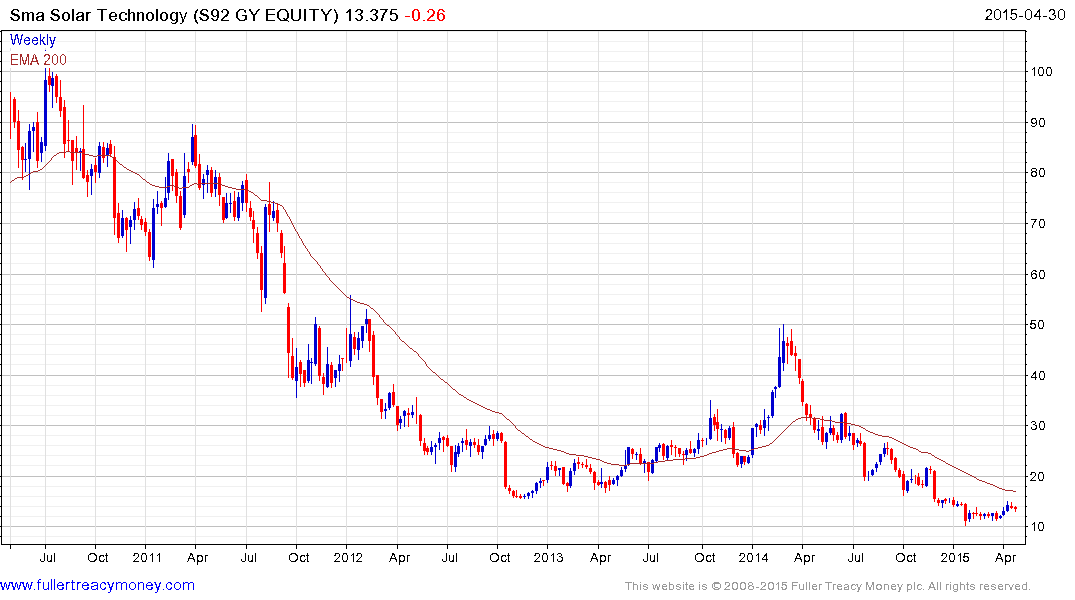 SMA Solar Technology is a leader in solar inverters but also has a residential battery solution and released the latest iteration on April 25th.   Nevertheless, the share has posted a moribund performance and now appears to be encountering resistance in the region of the 200-day MA.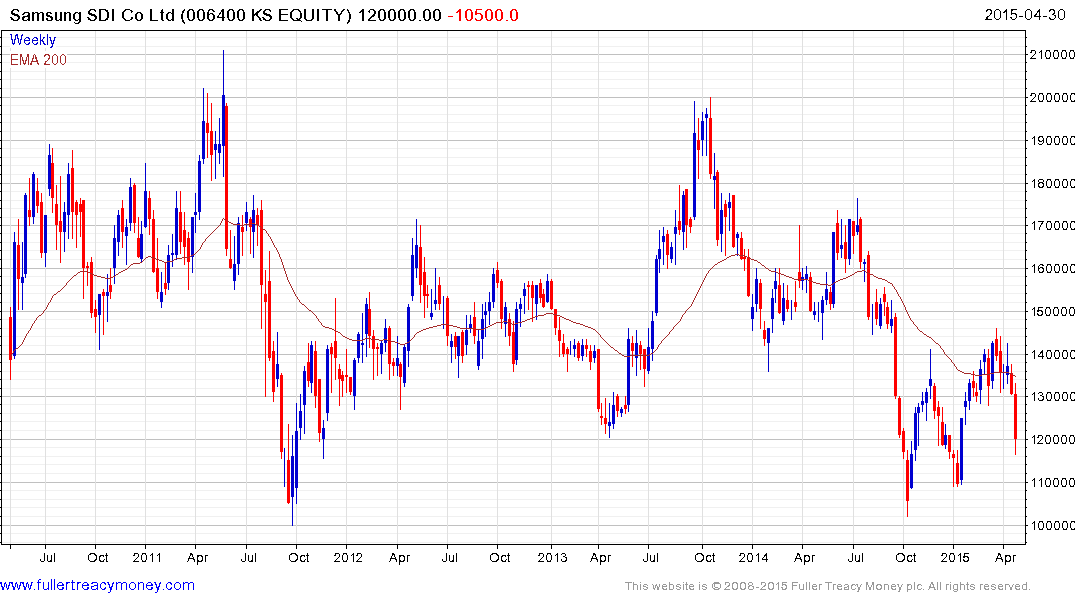 Samsung SDI represents its parent's battery manufacturing arm. The share (Est P/E 23.34, DY0.83%) pulled back sharply this week and will need to find support within the next KRW5,000 if the six-month progression of higher reaction lows is to remain intact.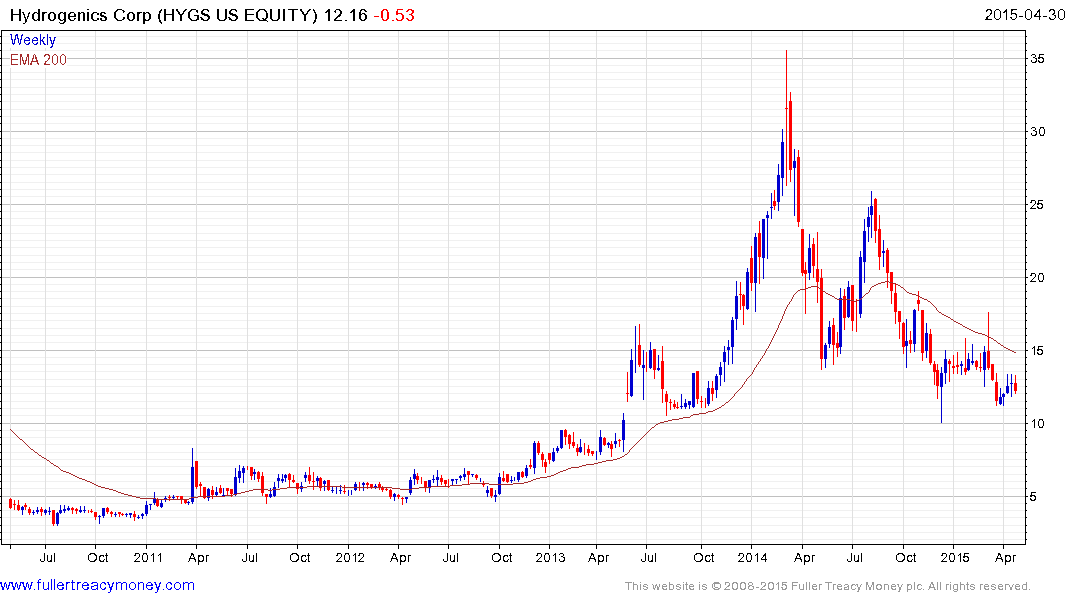 Hydrogenics is involved in the hydrogen fuel cell sector. Following an accelerated advance in early 2014 it has returned to test the region of the upper side of the base. It will need to continue to hold above $10 if support building is to be given the benefit of the doubt. 

In conclusion, today's news that scientists have been able to initiate artificial photosynthesis means the chemical, energy, solar and petrochemical industries are in for some radical redevelopment over the next decades and suggests that the Energy Storage sector is going to be exciting. However when we address the fact that the above charts do not share commonality and that there is only a small number of consistent trends, we can conclude that this theme is still in its developmental stage and that a clear leader has yet to emerge. 
Back to top