Tesla Wants to Power Wal-Mart
This article by Dana Hull for Bloomberg may be of interest to subscribers. Here is a section: 
Jackson Family Wines, based in Santa Rosa, has a new partnership with Tesla involving battery storage and several vehicle charging stations, according to the February issue of Wine Business Monthly. The winery declined to comment.

Mack Wycoff, Wal-Mart's senior manager for renewable energy and emissions, said the company is intrigued by energy storage. "Instead of pulling electricity from the grid, you discharge it from the battery," he said. "Ideally you know when your period of peak demand is, and you discharge it then."

Mike Martin, Cargill's director of communications, declined to provide details about how the company plans to use Tesla Batteries at the Fresno plant. The 200,000-square-foot facility, one of the largest of its type in California, produces nearly 400 million pounds of beef each year.

Janet Dixon is director of facilities at the Temecula Valley Unified School District in southern California, which plans to install solar panels at 20 of its 28 schools this summer. Dixon said that SolarCity is the solar provider, and five of the facilities will have Tesla Batteries.

"We spend roughly $3 million a year on electricity, and most of that is lighting and air conditioning," said Dixon. "We are going solar to reduce our overall costs and the battery storage should help us manage our peak demand."
Tesla trades on aggressive multiples. Since its car sales are a fraction of even the smallest auto manufacturer, it will be quite some time before the company will compete on that front even if one assumes that large numbers of people will be driving electric vehicles 10 years from now. Batteries are a much bigger story for Tesla which is why they are investing so much capital in building a "gigafactory" which they anticipate will deliver the economies of scale necessary to drive down the cost of their products.
At the present moment almost no one has a battery in their home. As solar technology improves and the prospect of containing volatility on energy spending becomes a realistic possibility demand is likely to increase. At the present moment the solar cells companies like SolarCity are installing in homes are not particularly efficient. However, as the efficiency rates of laboratory tested products reach commercialisation the energy generation capacity of one's home will rapidly improve. Therefore the efficiency of solar and the potential demand landscape for home Batteries are linked.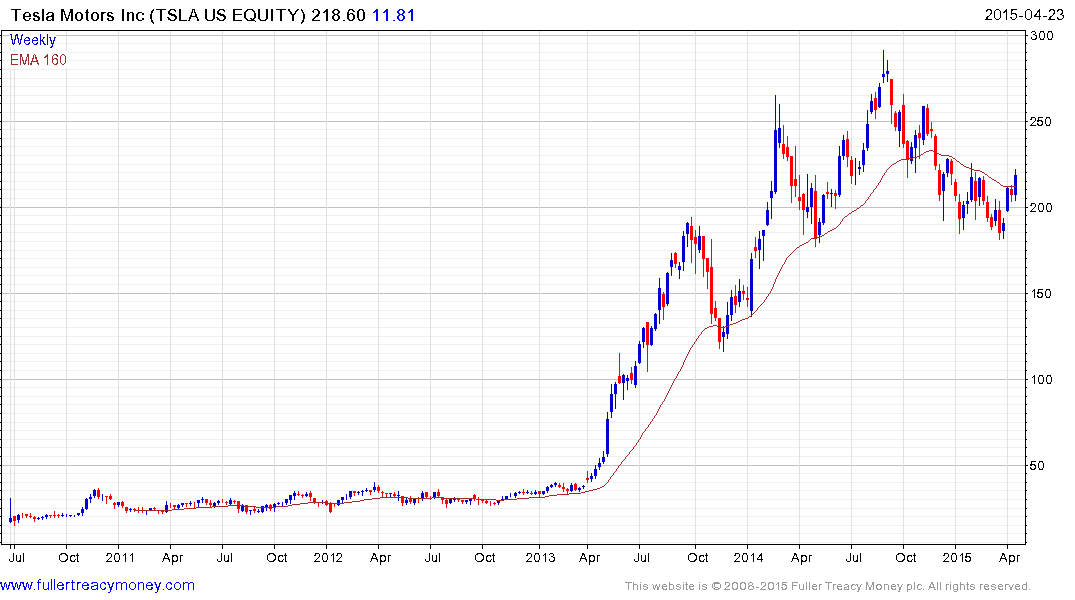 Tesla firmed today to break a seven-month progression of lower rally highs. A sustained move below $200 would now be required to question potential for additional higher to lateral ranging.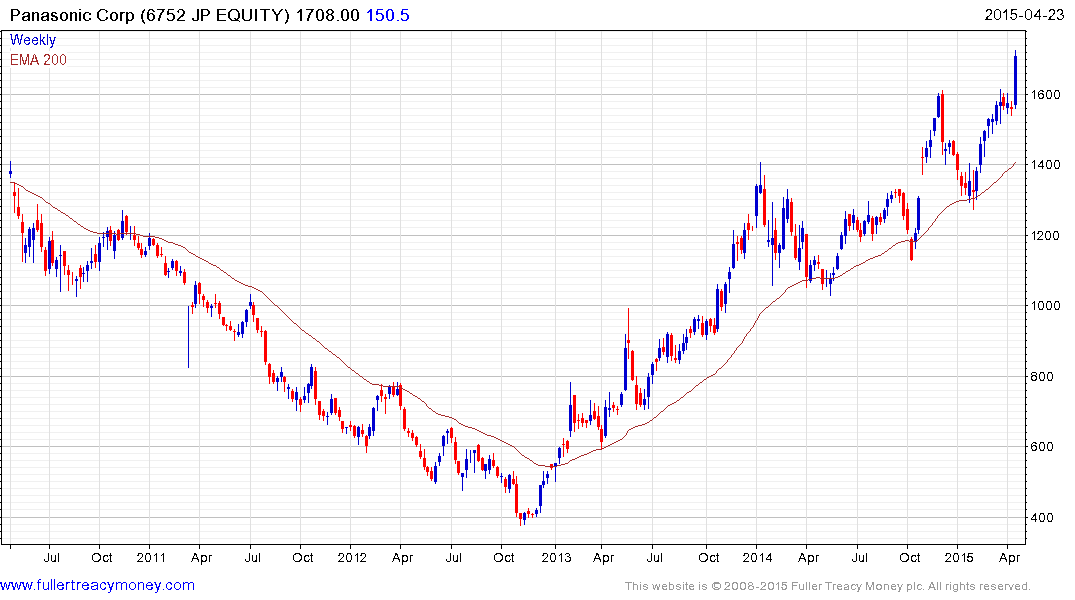 Panasonic, Tesla's partner in building the gigafactory, continues its advance and surged to new highs today. One might consider the share a high beta play on Tesla's success in selling Batteries.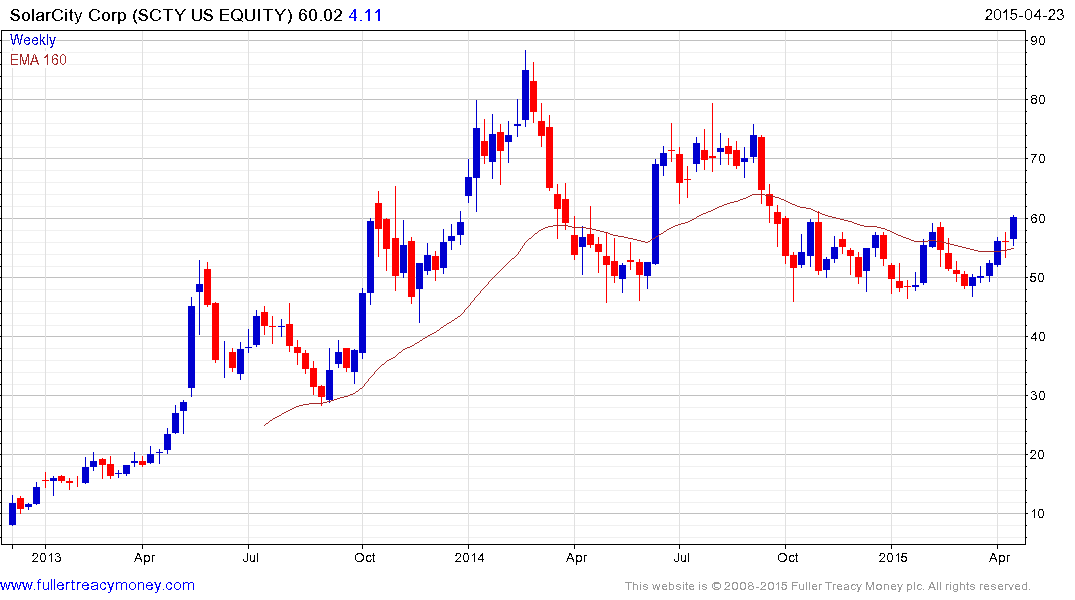 SolarCity which is supported by Google and run by Elon Musk's relatives, will be selling Tesla's home Batteries. The share has been ranging for much of the last six months but may now be in the process of breaking out.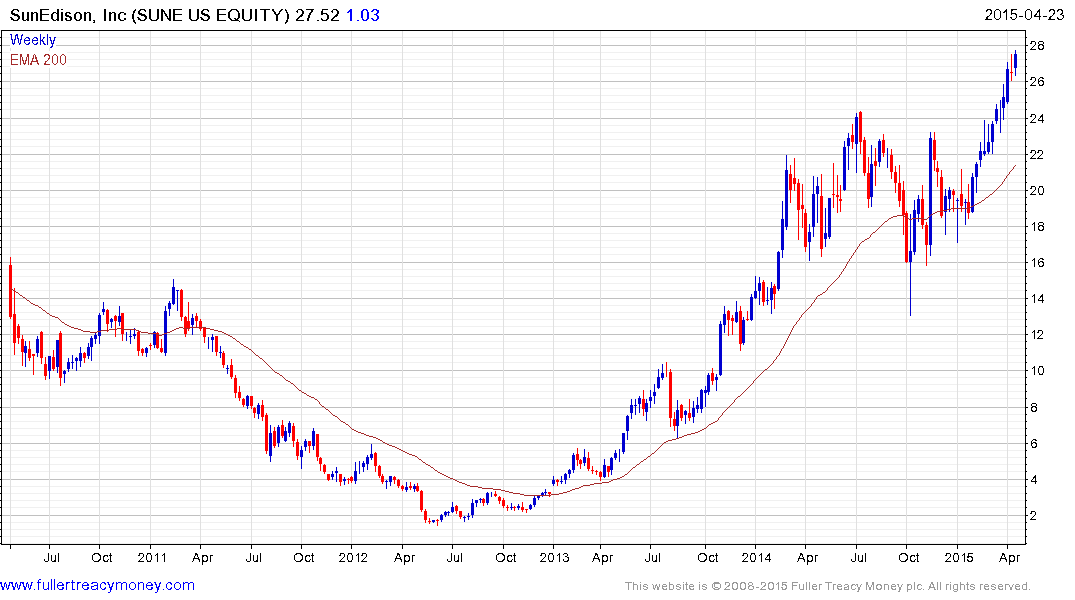 SunEdison experienced volatile ranging for much of 2014 but broke out at the beginning of the month and continues to extend its advance.

A sign that companies view this as a growth sector can be evidenced by Samsung SDI, which is still one of the largest manufacturers of lithium ion Batteries, and ABB's joint venture announced last month. They plan to build their own solution for the "mini power grid" market.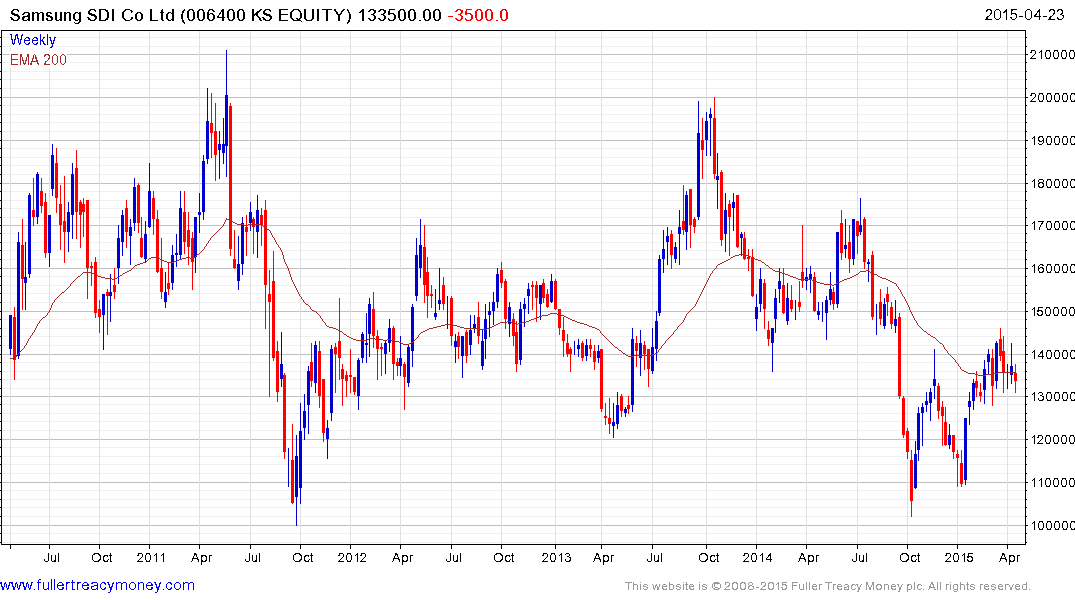 Samsung SDI will need to continue to demonstrate support in the current area if recovery potential is to be given the benefit of the doubt.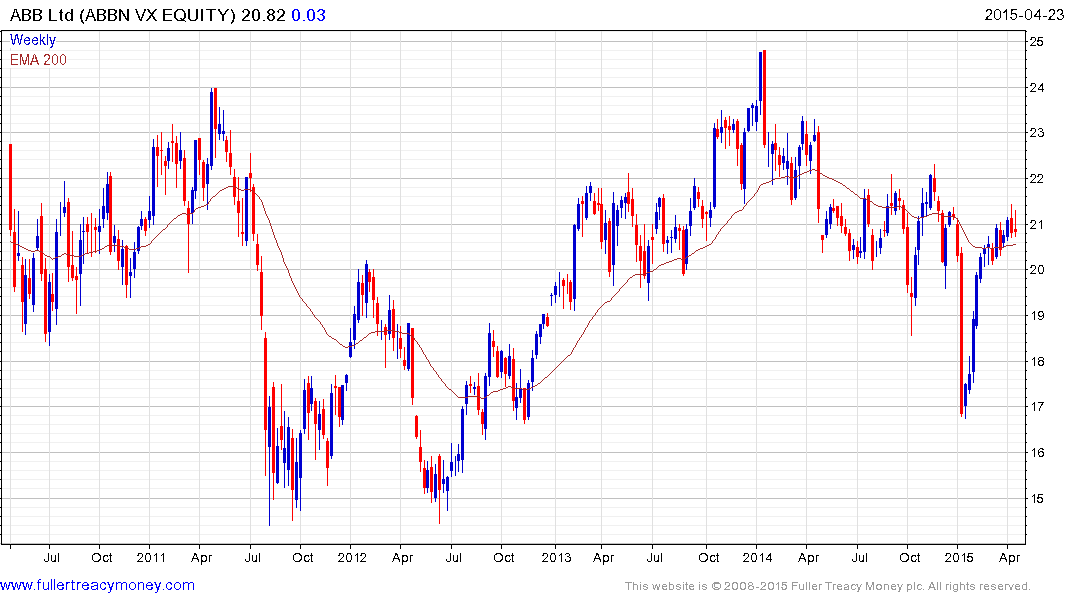 ABB has recovered from the Franc revaluation but will now need to sustain a move above CHF22 to demonstrate a return to demand dominance beyond the short term.
An additional consideration is that the evolution of this technology should be net positive for homebuilders over the medium-term as demand for technology equipped homes increases. Companies with large offices or stores also represent ideal locations to generate electricity not least because they are close to population centres. By the same token while utilities are unlikely to be affected by this trend in the short term, the medium-term outlook represents a lower call on their resources. 
Back to top