China successfully mines flammable ice from the South Sea
This article by Cecilia Jamasmie for mining.com may be of interest to subscribers. Here is a section:
During the mining trial done at a depth of 4,153 feet, engineers extracted each day around 16,000 cubic metres of gas, with methane content of up to 99.5%, Minister of Land and Resources Jiang Daming said.

The new energy source, while revolutionary, is not exempt of risks. The release of methane into the atmosphere as permafrost melts is regarded for those who believe in climate change as one of the worst potential accelerator mechanisms for it. Methane hydrate is also hard to extract, which makes the cost of producing it high.

Test drillings have also taken place in the US, Canada and Japan, with the latter announcing earlier this month that it was successful at producing the natural gas on the pacific coast and will continue mining it for around three to four weeks.

Sources of methane hydrate are so large that the US Department of Energy has estimated the world's total amount could exceed the combined energy content of all other fossil fuels.
Methane hydrate is uneconomical using today's methods of extraction and current prices However, its existence highlights the important fact that any argument referring to peak oil must be prefaced with details of costs of production and timeframes. There is no shortage of natural gas or fossil fuels for that matter. Their supply is limited only by a combination of technological innovation and price. Technology is improving all the time so it is inevitable that major important countries like China and japan will continue to work on how to bring down the cost of methane hydrate.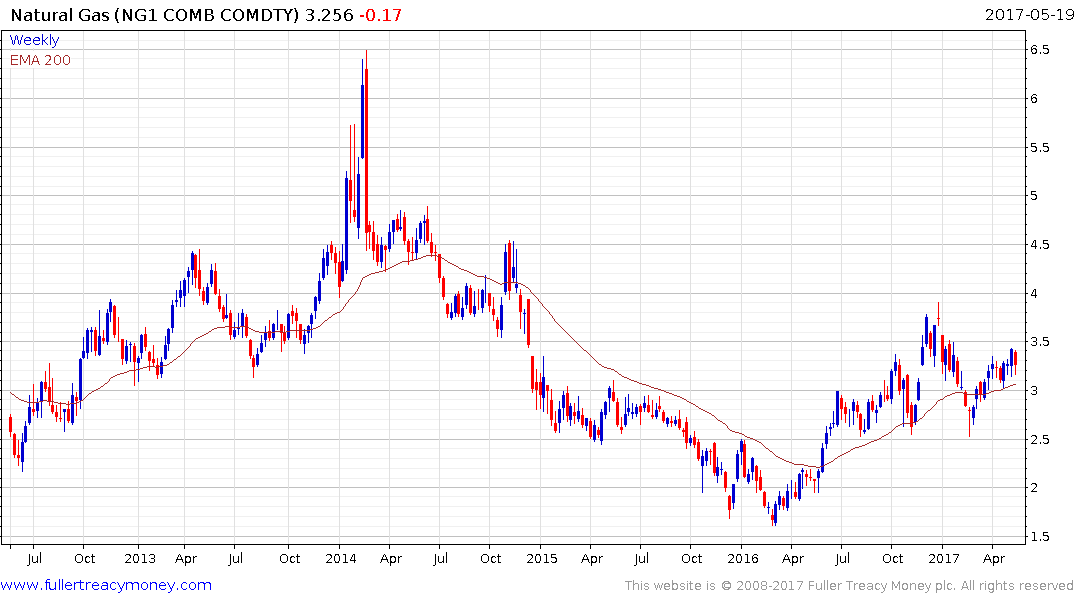 Natural gas has been ranging in a volatile manner, mostly above $2 since 2009 while rallies have been capped mostly below $6 because so much additional supply becomes economic above $4.50. The price has held a progression of higher reaction lows over the last few months and sustained move below $3 would be required to question potential for additional higher to lateral ranging.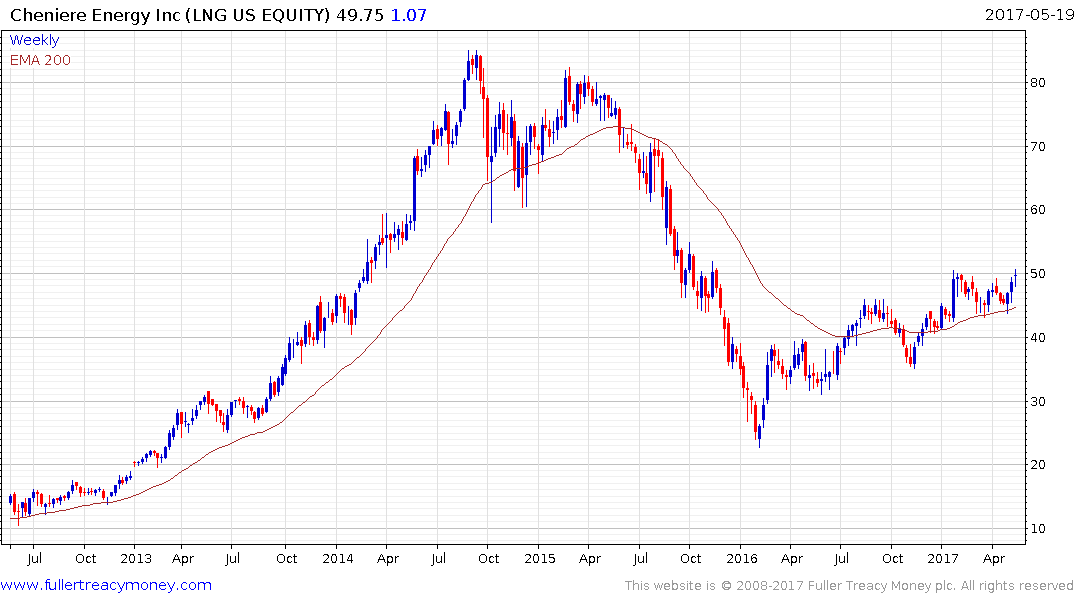 Cheniere Energy which operates the USA's only natural gas export terminal, hit a medium-term low at the beginning of 2016 and has held a progression of higher reaction lows since; bouncing most recently from the region of the trend mean.
Back to top