Apple Supplier Foxconn in Talks to Build $9 Billion Factory in Saudi Arabia
This article from the Wall Street journal may be of interest to subscribers. Here is a section:
The Saudis are conducting due diligence and benchmarking the offer against others that Foxconn has made for similar projects globally, one of the people said.

Besides Saudi Arabia, Foxconn is also talking with the United Arab Emirates about potentially siting the project there, one of the people said.

The Taiwan-based company has looked to diversify its manufacturing sites amid rising tensions between China and the U.S. that put it in a potentially vulnerable spot.

Riyadh wants the company to guarantee that it would direct at least two-thirds of the foundry's production into Foxconn's existing supply chain, one of the people said, to ensure there are buyers for its products and the project is ultimately profitable.

Foxconn is seeking large incentives including financing, tax holidays and subsidies for power and water in exchange for helping set up a high-tech manufacturing sector in the kingdom, the people said, as Saudi Arabia seeks to diversify its economy away from oil.

The Saudis could offer direct equity co-investment, industrial development loans, low-interest debt from local banks and export credits to compete with other jurisdictions that Foxconn might consider, said another person familiar with the talks.

Saudi authorities and Foxconn didn't respond to requests for comment.
Pandemic exiles leaving Hong Kong brought COVID-19 with them to Shenzhen. The city and its environs have been locked down which is impacting the ability of component suppliers to perform at peak capacity.
Chinese factories sustained production in 2020 because they kept their workforces' captive inside their compounds. That allowed manufacturing to persist despite the lockdowns. A similar strategy will need to be followed now, but it will be more difficult because the global supply chain is already pressured and the omicron variant is much more transmissible.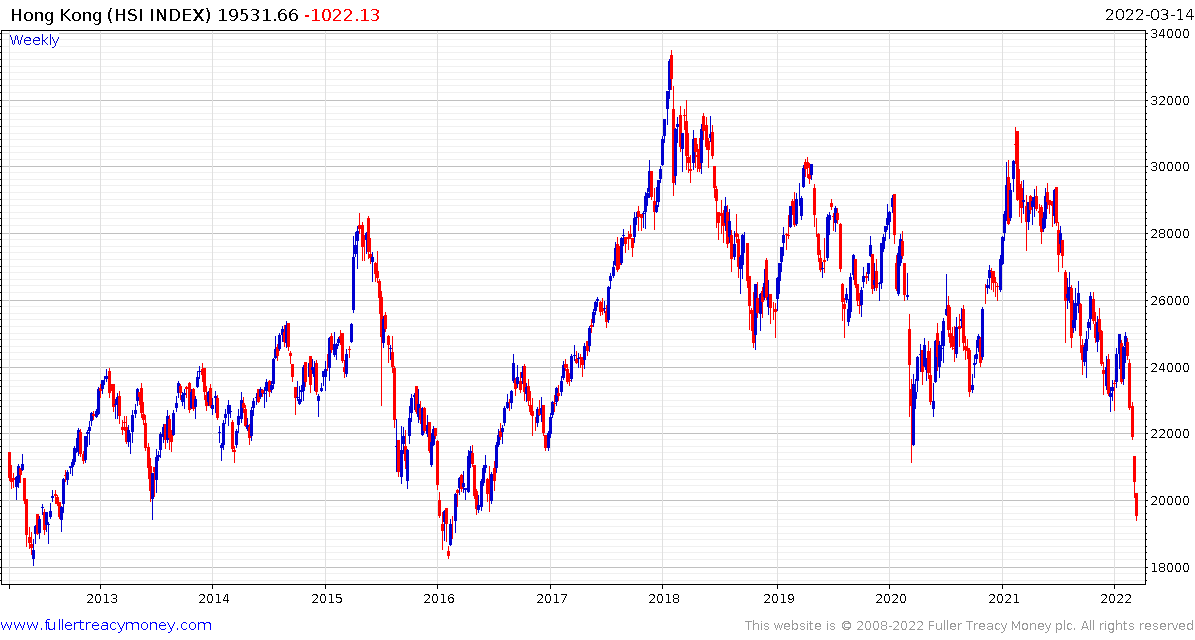 The Hang Seng dropped below the psychological 20,000 level today. Downward pressure on property developers continues to intensify and there were rumours a record fine for money laundering will be levied on Tencent. A clear upward dynamic will be required to check momentum and pressure shorts.
Against the background of increasing uncertainty about the stability of the Chinese manufacturing/export business model, it makes sense for Hon Hai Precision to entertain suitors from other countries. Saudi Arabia has the stated and funded aim of becoming a regional business/financial/energy/mining/manufacturing hub. Building chips and components in the country would be a major win for that strategy.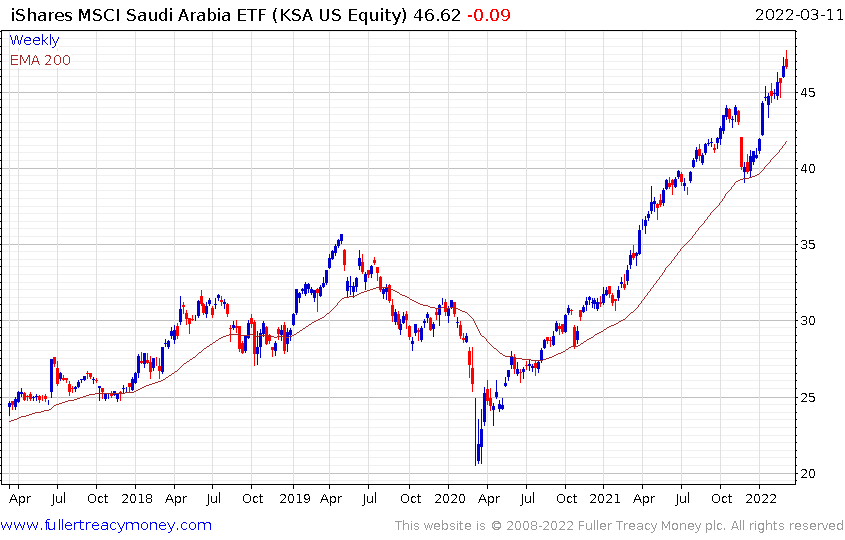 The iShares Saudi Arabia ETF is short-term overbought and is likely to consolidate in line with the oil price.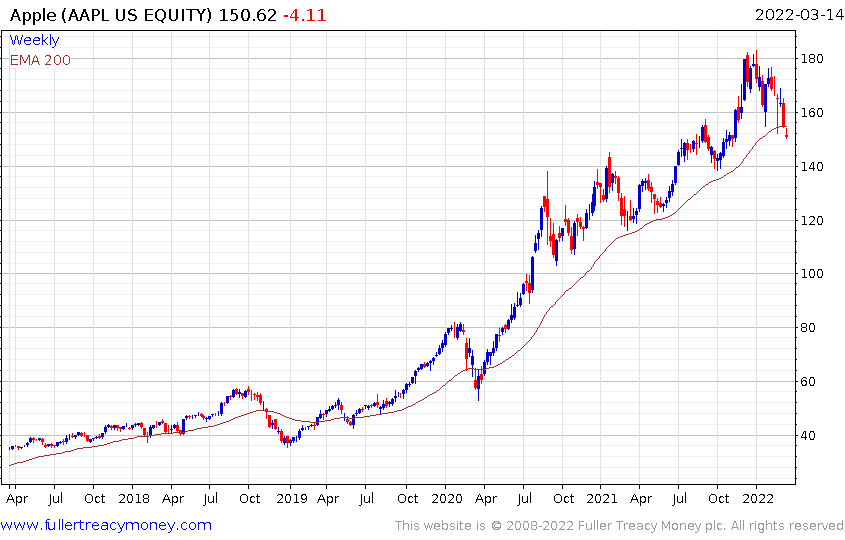 Meanwhile Apple dropped below the trend mean today to move to a new reaction low. As the largest weighting in the Nasdaq by a substantial margin, it will weigh on the index.
Back to top