Vietnam Communist Party Chief Trong to Meet Obama in U.S
This article by John Boudreau and Nguyen Dieu Tu Uyen for Bloomberg may be of interest to subscribers. Here is a section:
"They have to reach out to the U.S.," Vuving said by phone, speaking of Vietnam. "They need to do something to strengthen Vietnam's capability to stand up to China. It has reached a tipping point."
Trong said Vietnam "appreciates" statements from the U.S. supporting a peaceful approach to settling disputes between claimant states to the South China Sea, through which some of the world's busiest shipping lanes run.

"We are all aware of the strategic location of the East Sea," he said, using Vietnam's term for the South China Sea.

"I hope that the U.S. will continue to have appropriate voice and actions to contribute to peaceful settlement of disputes in the East Sea in accordance with international law."

Trong is viewed as friendlier toward China than the U.S., and thus his visit to the U.S. is even more significant, Le Dang Doanh, an economist and former government adviser in Hanoi, said by phone. While Vietnamese leaders have increased their meetings with U.S. officials, they also often visit China.
Vietnam has a long coast line and an interest in what goes on in the South China Sea not least because of the resources to be found underneath it. Sitting between major power blocks such as China, India and Japan, Vietnam has an incentive in developing as many friends, with an interest in seeing the country flourish as an independent nation, as possible. The decision to expand the ability of foreign investors to hold positions in corporations can be viewed in this context in addition to the stated aim of MSCI Emerging market membership.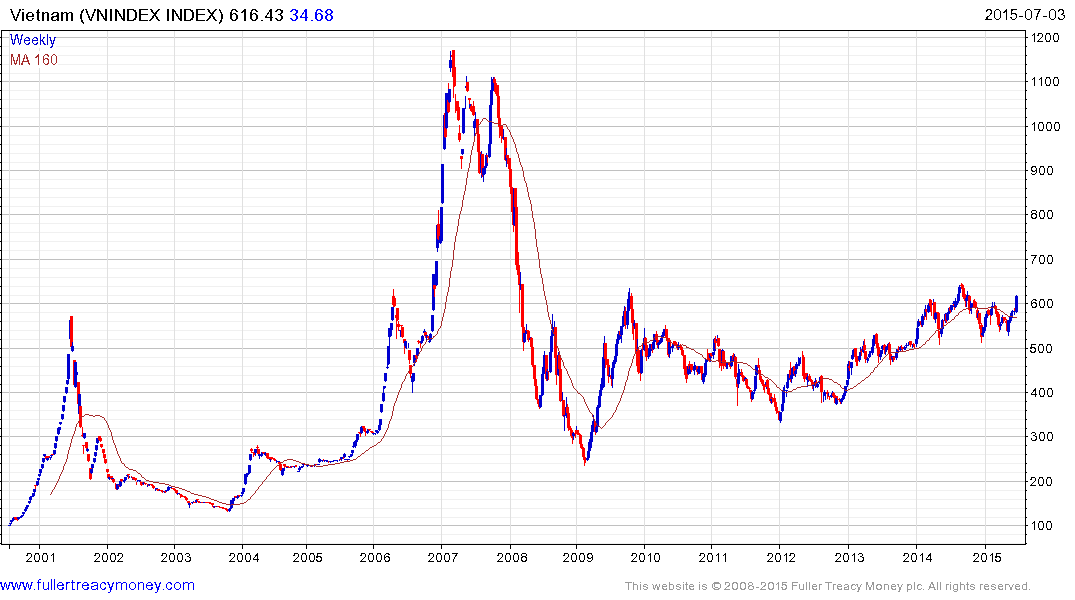 The Vietnam Index has been ranging mostly below 600 since 2008 and pushed through that level again this week. A clear downward dynamic would be required to check potential for additional recovery potential.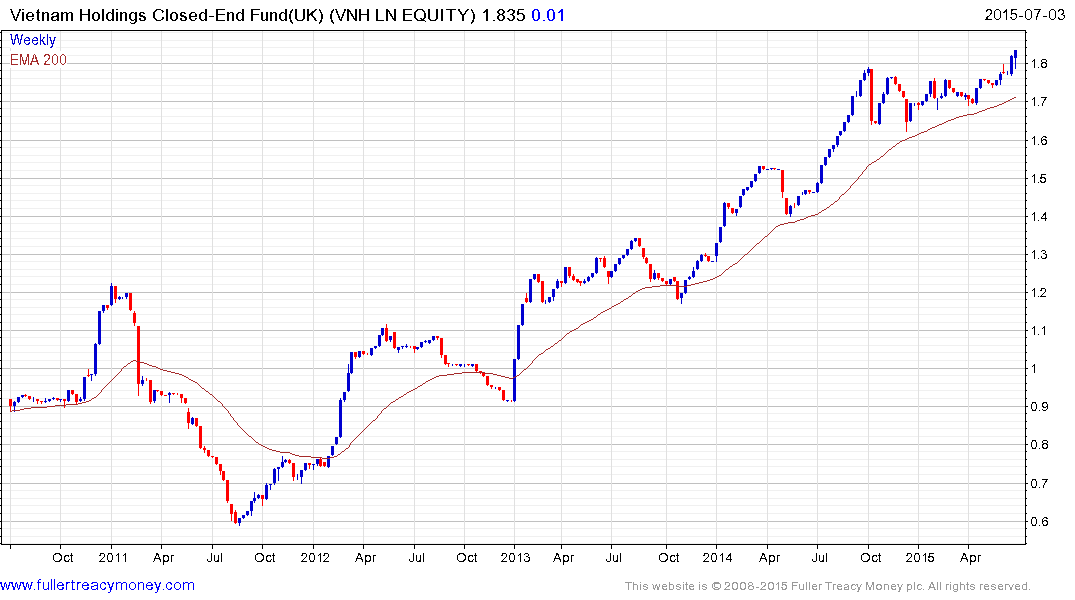 The UK listed but US Dollar denominated Vietnam Holding Ltd closed-end fund is trading at a discount of 11.6%. It remains in a consistent medium-term uptrend and broke out of a 9-month range this week.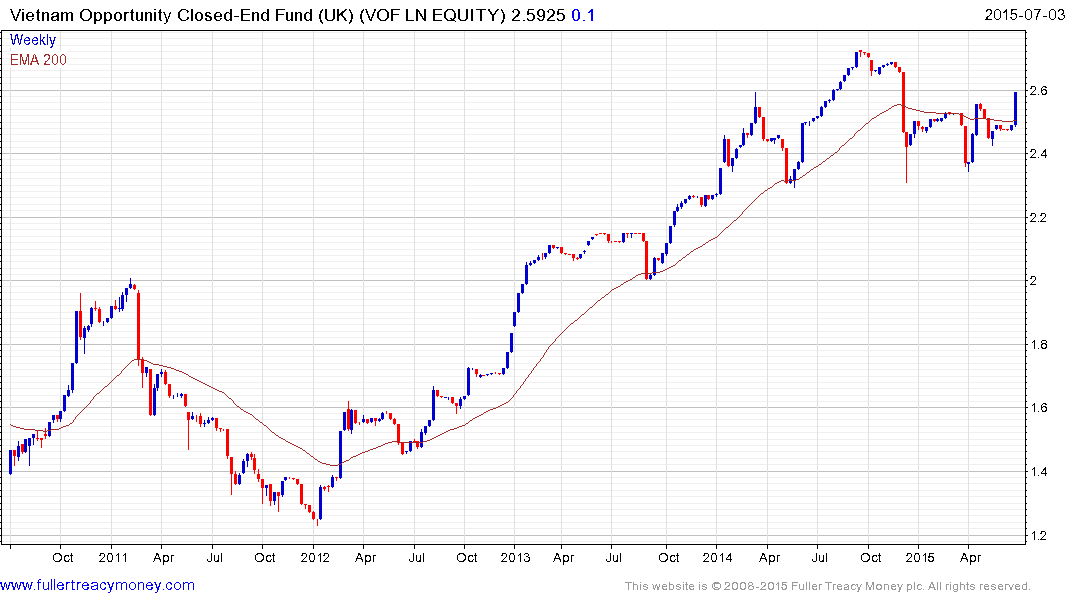 The UK listed but US Dollar denominated Vietnam Opportunity Fund is trading at a discount to NAV of over 18%. It has outperformed the local market over the last few years and is currently firming from the S2.50 area.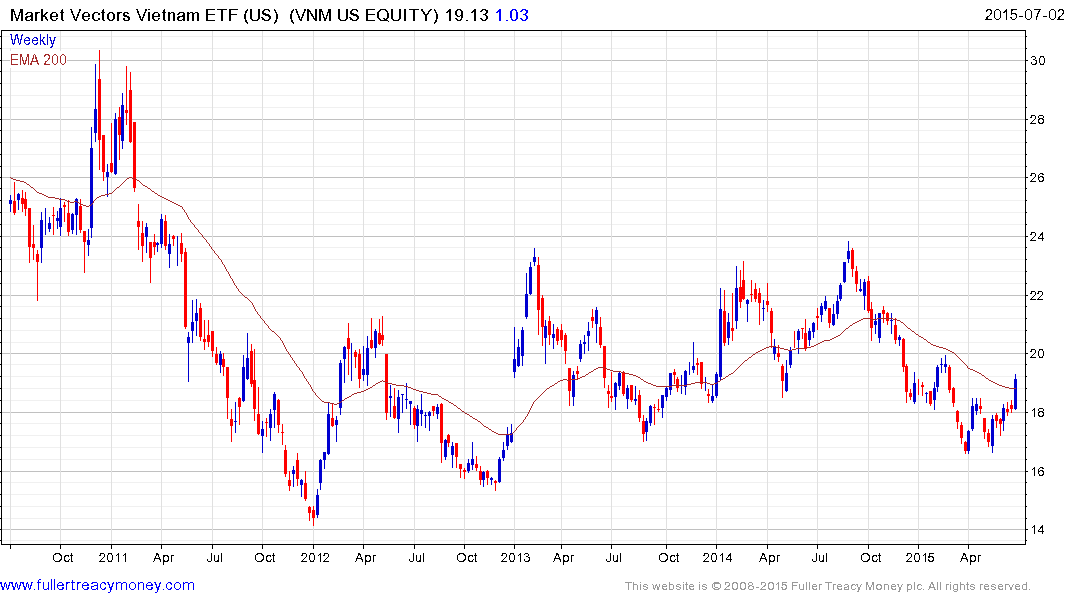 The US listed Market Vectors Vietnam ETF is currently rallying from the lower side of a three-year range.

Some interesting Vietnam shares include: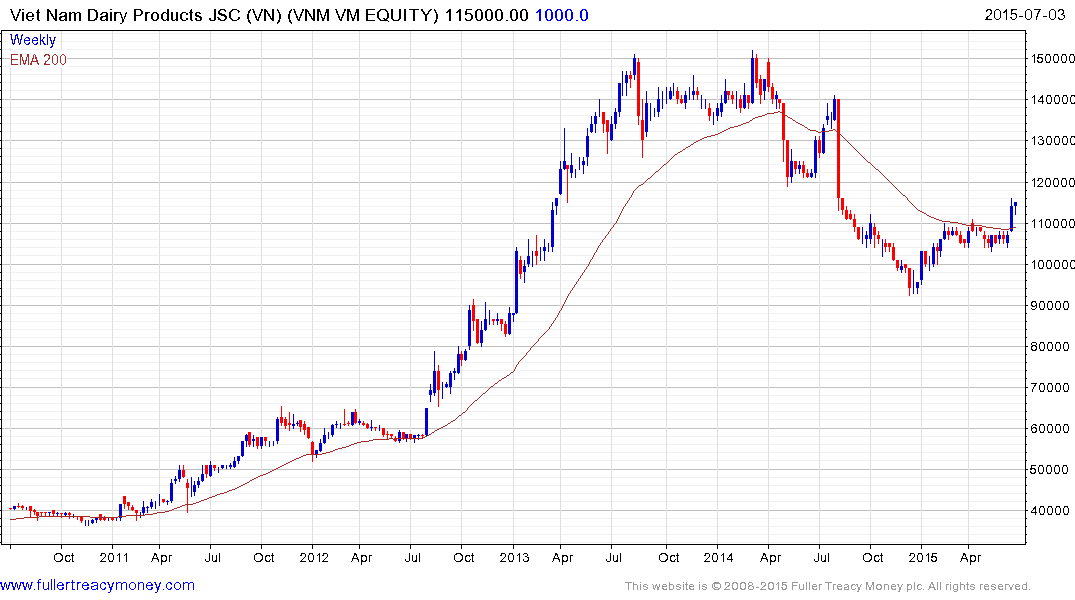 Vietnam Dairies popped up out of a six-month range last week.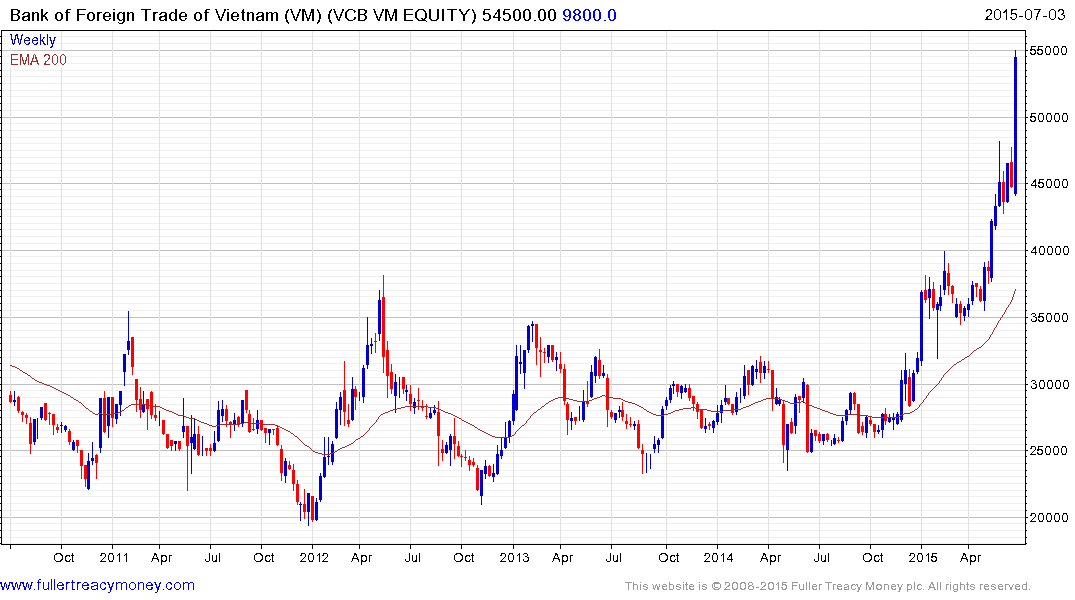 Bank for Foreign Trade is the largest share on the Index and completed a five-year base in January. It accelerated higher this week on news of additional foreign flows and the first clear downward dynamic is likely to signal a peak of at least near-term significance.
Back to top