Vaccine makers tap into virus-driven rally to raise money
This article from MarketWatch may be of interest to subscribers. Here is a section:
"We don't expect Novavax will run human trials without non-dilutive government funding," Ladenburg Thalmann's Michael Higgens wrote in a note. "The timing for such support in our view depends on how severe and uncontrolled the 2019-nCoV becomes."

Moderna Inc. MRNA, -0.95% said it is working with the National Institutes of Health on a potential vaccine response, saying its "vaccine technology could serve as a rapid and flexible platform that may be useful in responding to newly emerging viral threats." Moderna's stock was up 10%.

NanoViricides Inc. NNVC, +75.32% said it has raised $7.5 million in an offering of 2.5 million shares at a price of $3 per share. Its stock was down 55% in morning trading, after gaining 153% on Monday.

The company had also worked on treatments for MERS and the Ebola virus. NanoViricides president Anil Diwan said in an email that the company believes that the drugs "we had previously developed are worth testing against the Wuhan virus and are likely to work against it."
There isn't a lot of money in cures because you don't get repeat customers. The whole point of the business is to ensure you run out of customers. That's not a great business model which is why conventional pharmaceutical companies generally eschew developed vaccines. The small companies that do concentrate on this field generally rely on fear of a global pandemic to generate the investment capital to continue working on their research. That was certainly the case with Ebola and this week saw a significant uptick in share issuance.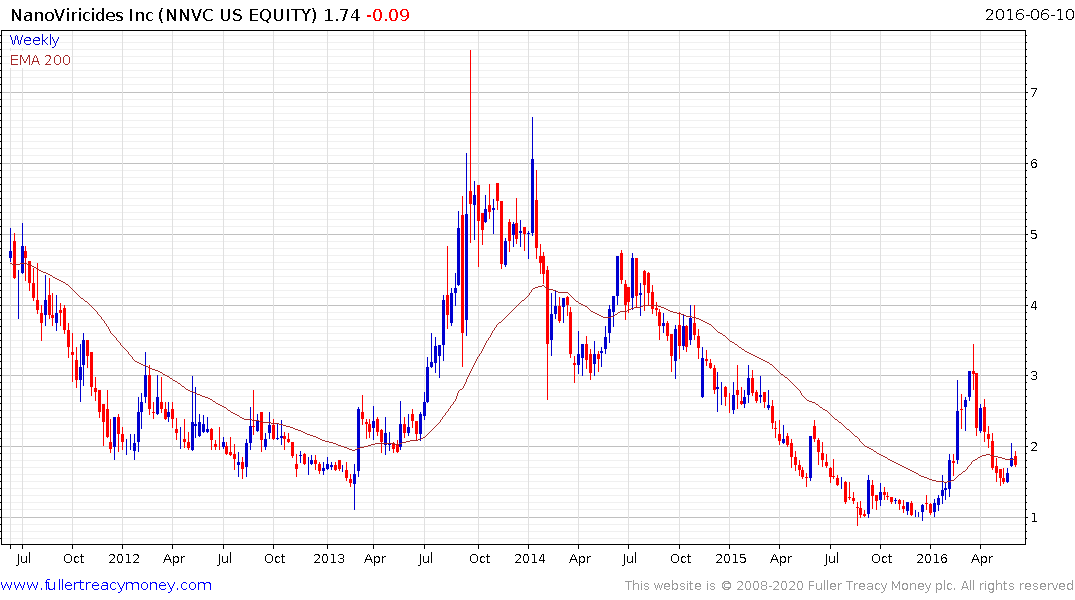 NanoViricides popped on the upside today following the dilution of existing shareholders yesterday. As long as the news on the coronavirus continues to make headlines there is likely to be demand for the shares of potential solution providers. Once the story drops out of the headlines the share is equally likely to give up all of its gains.
Back to top