U.K. Starts Human Trials of Coronavirus Vaccine on Thursday
Thanks to a subscriber for this report from Bloomberg which may be of interest. Here is a section:
The U.K. will begin human trials of a coronavirus vaccine Thursday, Health Secretary Matt Hancock said, as he argued that the government's strategy for fighting the disease had succeeded.

"In the long run, the best way to defeat coronavirus is through a vaccine," Hancock told the government's daily news conference. "The U.K. is at the front of the global effort. We have put more money than any other country into a global search for a vaccine and, for all the efforts around the world, two of the leading vaccine developments are taking place here at home."

The trials will be of a drug developed at Oxford University. Hancock said the government would give 20 million pounds ($25 million) to support the research. "In normal times, reaching this stage would take years," he said. Another 20.5 million pounds will go to a separate project at London's Imperial College.
There are 70 different teams working on vaccines around the world which highlights how urgent the need for a barrier of safety from COVID-19 is. Not only do competition, money and a willingness to break-down barriers to entry increase the scope for a breakthrough but this kind of news is positive for consumer sentiment amid lockdowns.
The majority of people develop antibodies but there are cases of people who have failed to clear the infection for more than two months and feel no ill effects. These super spreaders are hard to identify and greatly increase the scope for further breakouts when lockdowns end.
Meanwhile a new study from China highlights 33 mutations of the virus. It is inevitable that with more hosts, the number of mutations will increase. Therefore, any vaccine candidate will ideally target all of them. The drive to intentionally infect volunteers with the virus, to test vaccine candidates, continues to receive additional political approval.
The Oxford effort appears to be within the private sector and is entering Phase I trials. Moderna's is entering Phase II trials.
I continue to think that we are going to see a lot more economies start to open up again by mid-May because the view is gaining ground that the death toll can be brought under control. The rationale will be the seasonal flu kills thousands every year and does not force lockdowns. This is undoubtedly worse than the seasonal flue and, having damaged consumer sentiment, the recovery will have to be slow and painstaking. This hygiene policy document from a building in China is comprehensive in the precautions they are willing to take to get back to some semblance of normality but it will be inordinately expensive to enforce.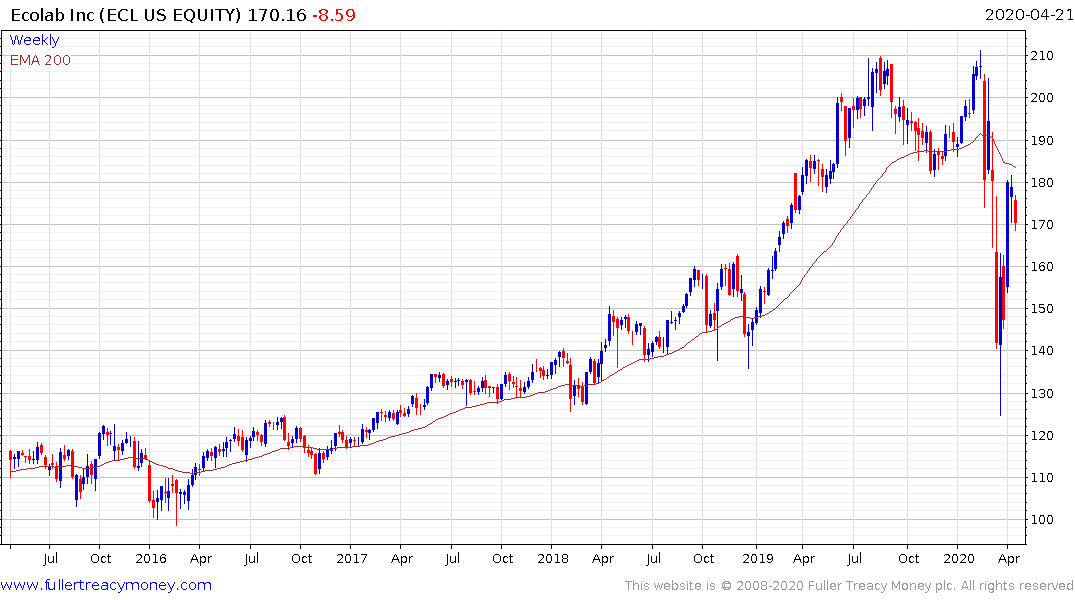 Ecolab is a dividend aristocrat and would appear to be a medium-term beneficiary from increasing demand for increasing hygiene and medical waste disposal. The share has rebounded impressively from its March lows but will need to sustain a move above the 200-day MA to confirm a return to medium-term demand dominance.
Back to top