The Coronavirus Hunter Is Racing for Answers in a Locked Lab
This article by Robert Langreth for Bloomberg may be of interest to subscribers. Here is a section:
Over the last five years, Baric, working closely with Vanderbilt University infectious-disease specialist Mark Denison, tested almost 200,000 drugs against SARS, MERS and other bat coronavirus strains. He found at least two dozen that appeared to hinder the virus.

Among the most promising was Gilead's remdesivir, a drug that fared poorly when used against a recent Ebola outbreak in Africa. In the lab, it worked against numerous coronavirus strains, including SARS and other bat coronaviruses that are similar to the new strain. Every coronavirus it was tested on, "it had high potency and efficacy," Denison says.

That work was fortuitous. In early January, Baric got an urgent call from an infectious-disease colleague to send his unpublished data on remdesivir to colleagues in China who were dealing with a then-mysterious outbreak. Baric says he "was shocked" to see how fast the coronavirus was spreading.

Since then, work at his lab has been virtually nonstop. Each scientist puts in from one to six hours inside two different clean rooms equipped to handle the virus. The lab's workday begins at 6 a.m. and often goes until 11 p.m. Individual sessions are short for safety and practical reasons — researchers aren't permitted to eat, drink or visit the bathroom once inside the lab. Everyone has to pass an FBI background check and undergo months of safety training.
The WHO has stated remdesivir is their best bet for a suitable treatment for coronaviruses. It's another question whether Gilead will make money form that evolution since it will be under extreme pressure to provide an affordable range of treatments ahead of a vaccine being developed over the next year.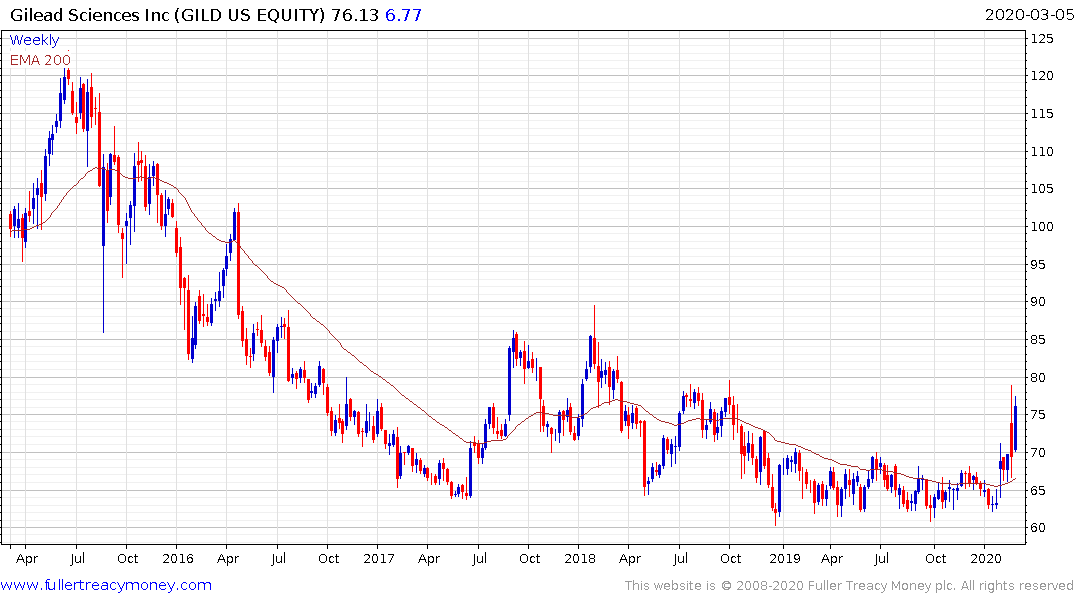 The share continues to hold the breakout from its yearlong range and a sustained move back below the 200-day MA would be required to question medium-term scope for continued upside.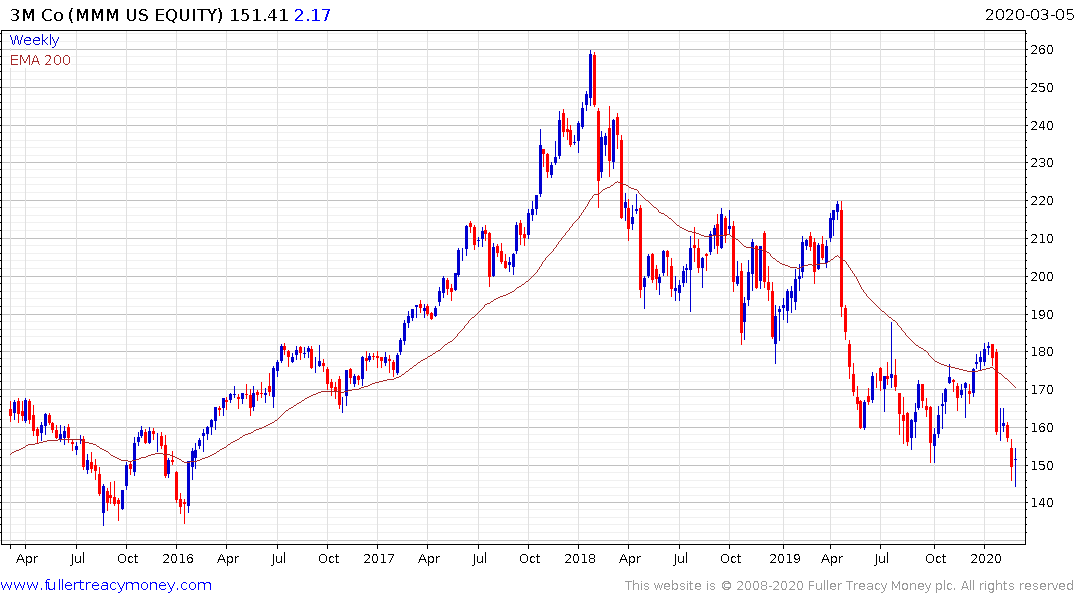 3M, a dividend aristocrat yielding 3.84% and primary producer of N95 masks, has been trending lower for two years and is currently steadying in the region of $150. It will need to sustain a move above the trend mean in order to confirm a return to demand dominance beyond short-term steadying.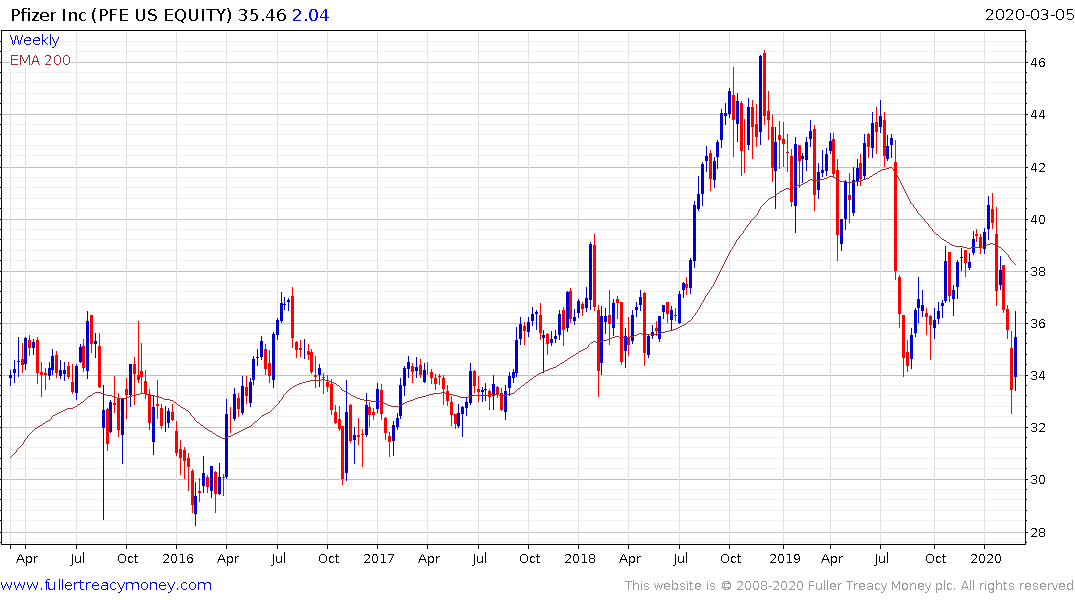 Pfizer, yields 4.26% but does not have the same long history of dividend increases of a dividend aristocrat. The share trended lower over the last year and may now be in the process of posting a failed downside break below the 2019 low. A sustained move above the trend mean would confirm a return to medium-term demand dominance.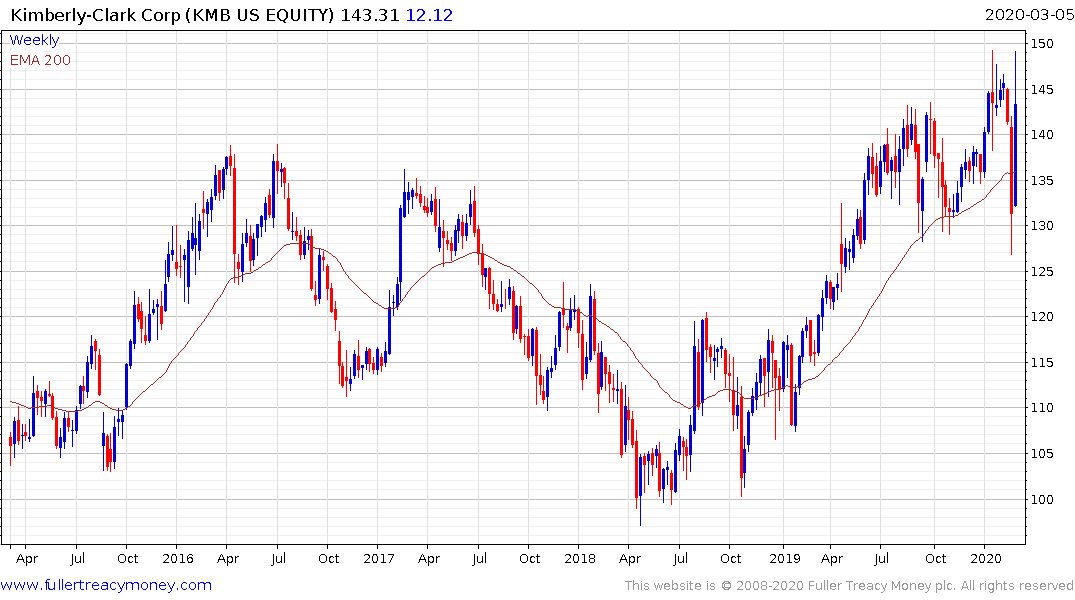 Kimberly Clark (surgical gowns and hygiene consumables) is a dividend aristocrat yielding 2.87%. The share hit a closing high yesterday. A short-term overbought condition has replaced the short-term oversold condition and some consolidation looks likely.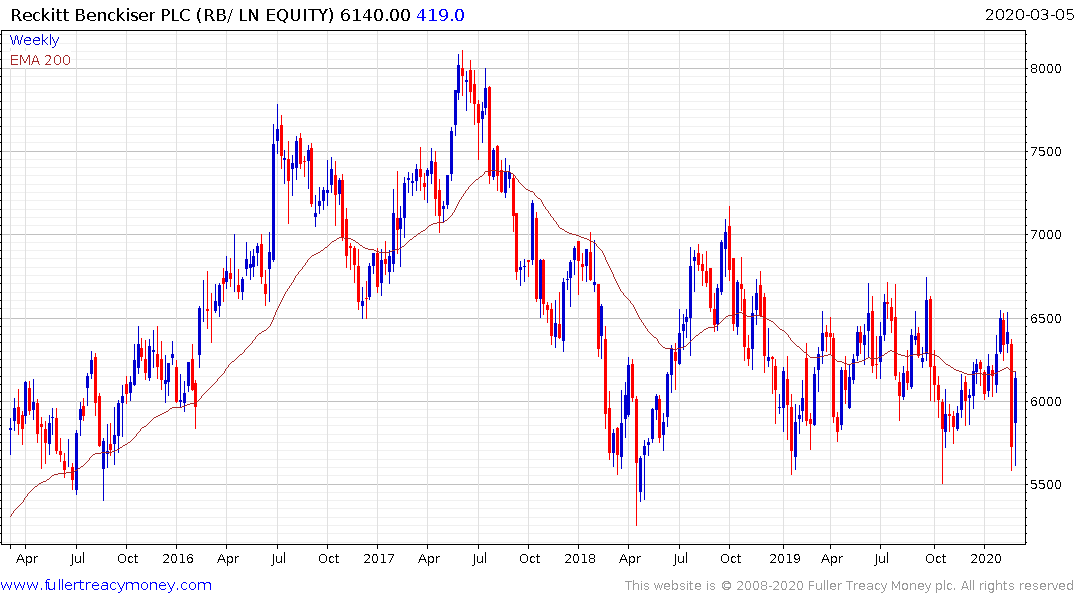 Reckitt Benckiser (disinfectant wipes) has bounced from the lower side of its range over the last week and will need to hold the low near 5600p if support building is to continue to be given the benefit of the doubt.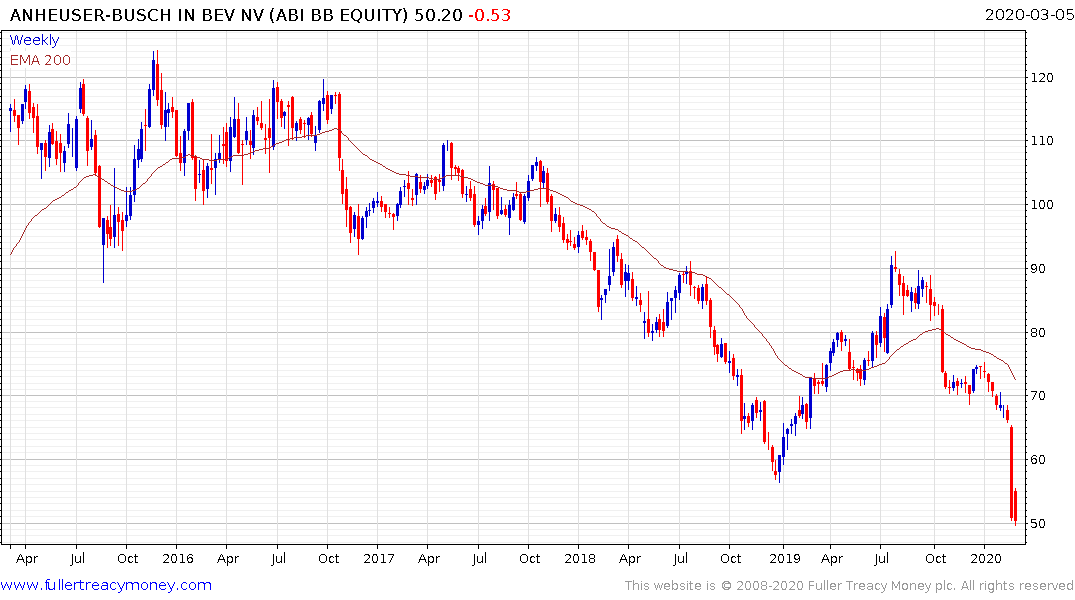 Anheuser-Busch is suffering from the unfortunate coincidence of owning the Corona beer brand and declining enthusiasm for drinking in public places. The share is accelerating lower following last week's break downwards. It yields 3.59% at present but the company has been reducing the dividend persistently for more than a year.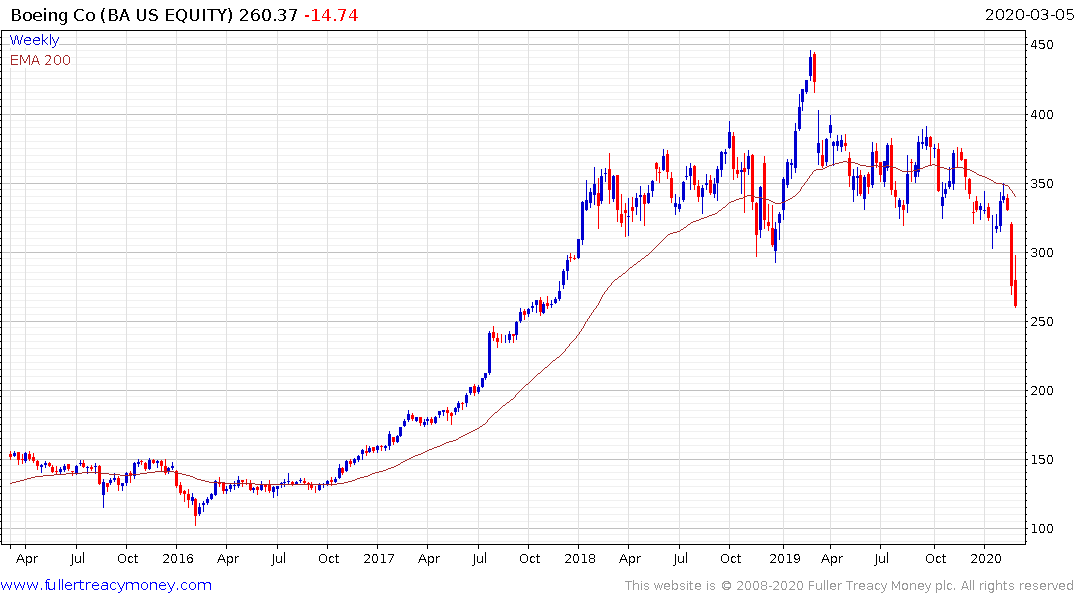 Boeing has completing type-3 top formation characteristics, not least because the company already has trouble ahead of the viral outbreak the current conductions are exacerbating it.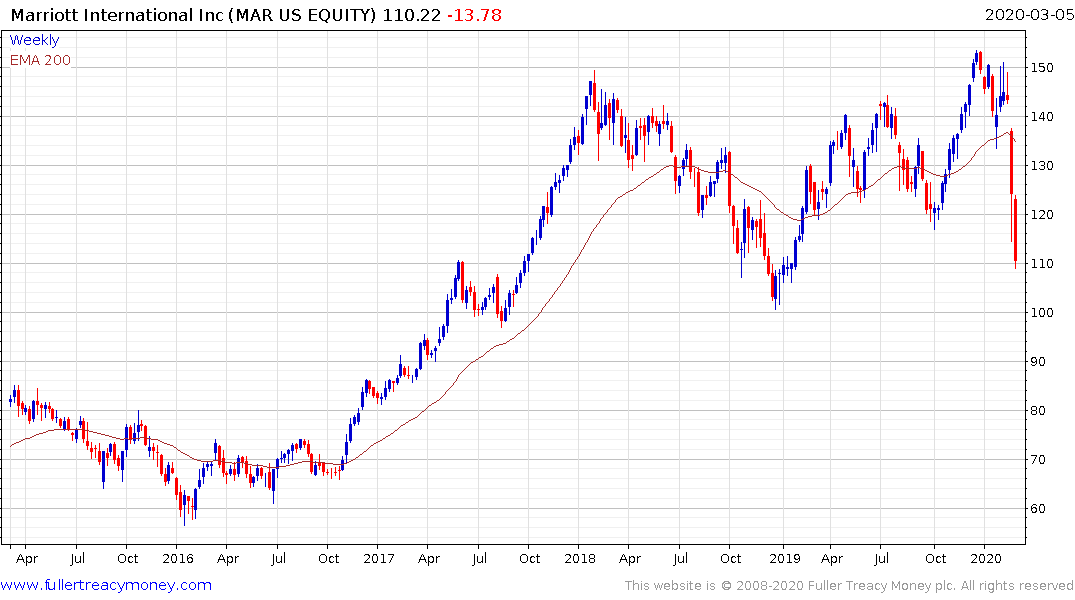 Marriott International is also breaking downwards as investors flee the tourist sector.
These charts suggest we are increasingly seeing evidence of investors differentiating between the clear winners and losers from the virus induced economic slowdown.
Back to top