SoftBank Drops 10% After OneWeb Files For Bankruptcy Protection
This article by Pavel Alpeyev for Bloomberg may be of interest to subscribers. Here is a section:
It is the latest blow to SoftBank founder Masayoshi Son, who last week unveiled a plan to raise $41 billion to buy back shares and slash debt. The announcement sent the shares soaring more than 50% in just a few days. The rally was interrupted when Moody's Corp. cut its debt rating by two notches, saying the Japanese investment firm's plan to sell off assets during a market downturn threatened its total value. SoftBank's shares traded 6.7% lower on Monday morning in Tokyo.

Son had often pointed to OneWeb as one of the cornerstones of an investment portfolio that ranges from ride sharing, co-working and robotics to agriculture, cancer detection and autonomous driving. The startup was working on providing affordable high-speed access anywhere in the world and targeting 1 billion subscribers by 2025. Son has painted a picture of a future where satellite networks cover every inch of the Earth and a trillion devices connected to the internet disgorge data into the cloud where it is analyzed by artificial intelligence.

OneWeb listed liabilities and assets of more than $1 billion each in its Chapter 11 petition in U.S. Bankruptcy Court in White Plains, New York. The company had been in advanced discussions earlier in the year for a fresh investment, it said in a statement. But the discussions fell apart after the coronavirus pandemic sent markets into a tailspin, it said.
The unlisted unicorn sector is difficult to monitor because they have no obligation to report earnings and depend almost entirely on the private markets for funding. It is reasonable to expect many loss-making companies are going to experience significant challenges from the economic shut down, while others will likely have benefitted from the abrupt move to cloud and delivery utilisation.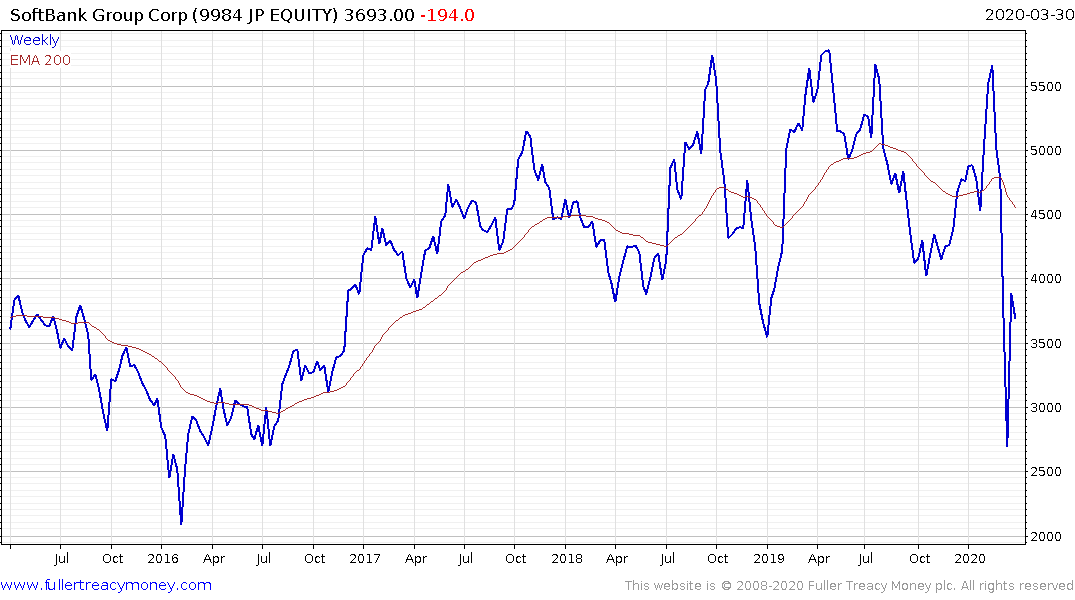 Softbank, through the Vision Fund, has invested heavily in all manner of unicorns so the share's performance might be considered a barometer of how investors perceive the venture / private equity sector.
In line with the many heavily indebted companies, the share quickly halved and has since rebounded to unwind about half the decline. However, it should also be considered that Softbank has been ranging for three years and is now pausing below the lower side of that range. The minimum requirement to question Type-3 top formation completion characteristics will be a sustained move back above 4500.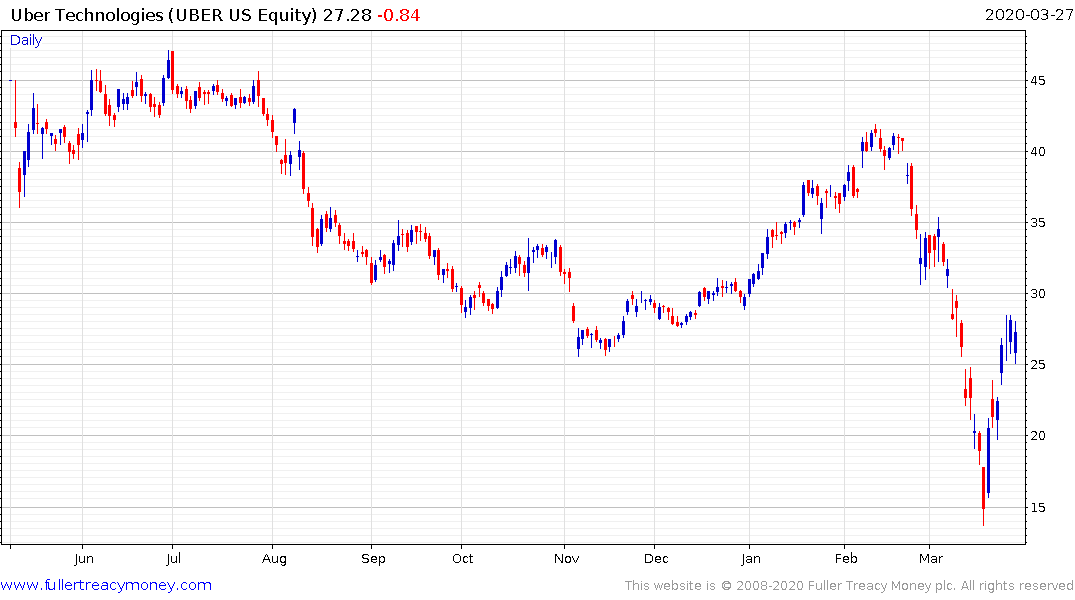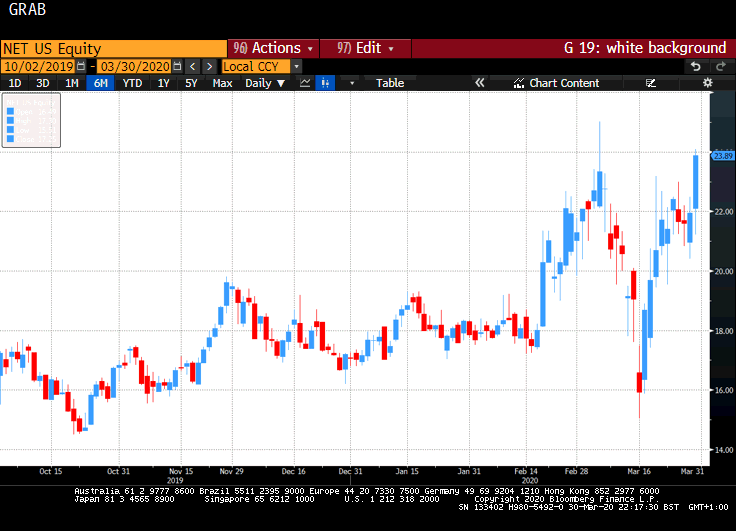 Among relatively recent IPOs. Uber has recouped about half its decline but is still in a medium-term downtrend while Cloudflare has rebounded to retrace all of its decline.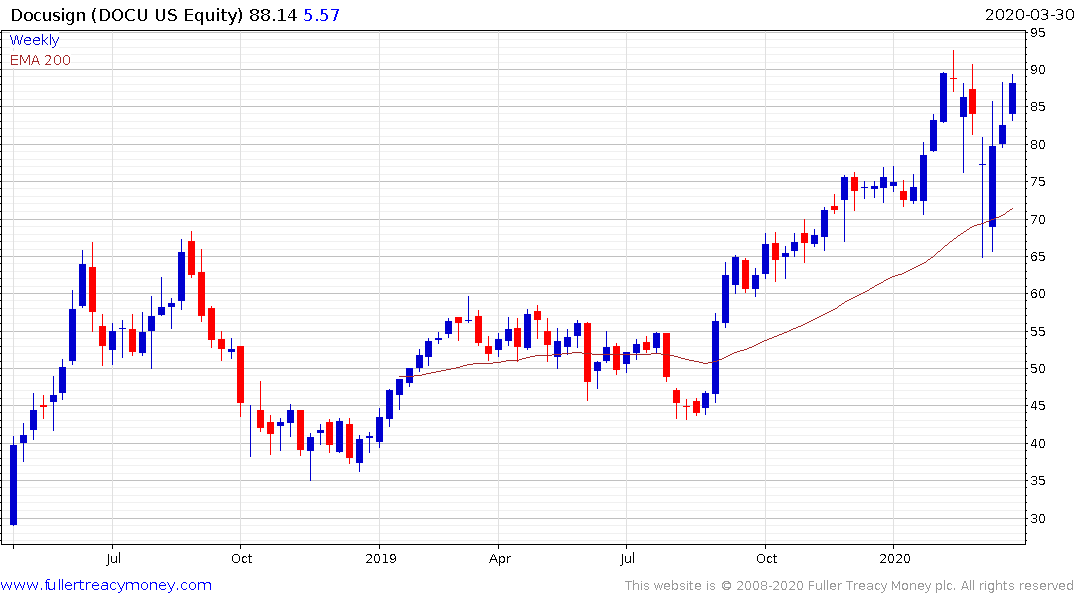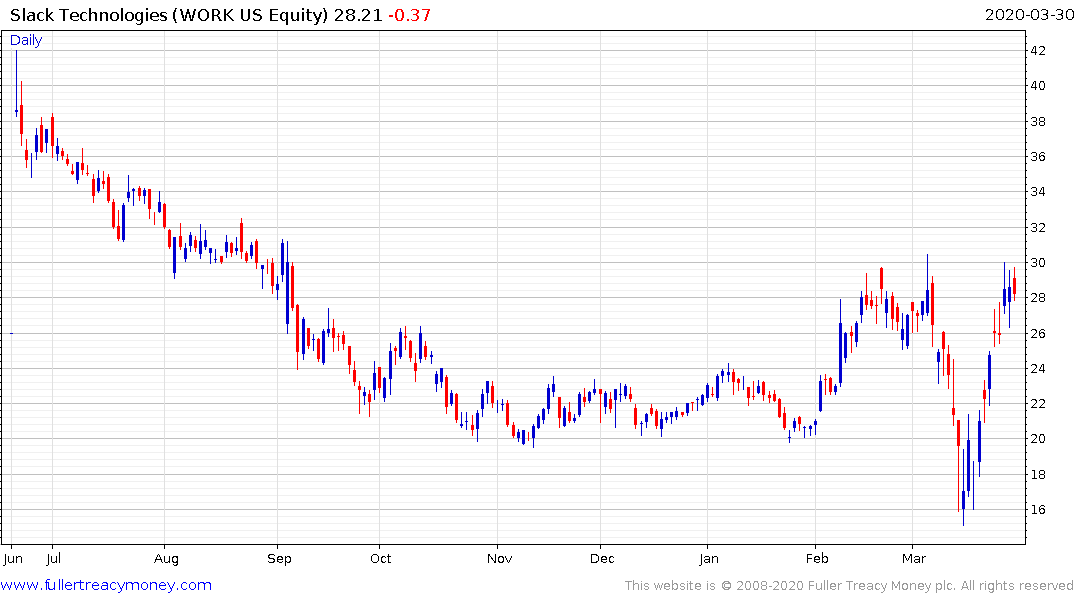 DocuSign and Slack Technologies have both also regained their peaks.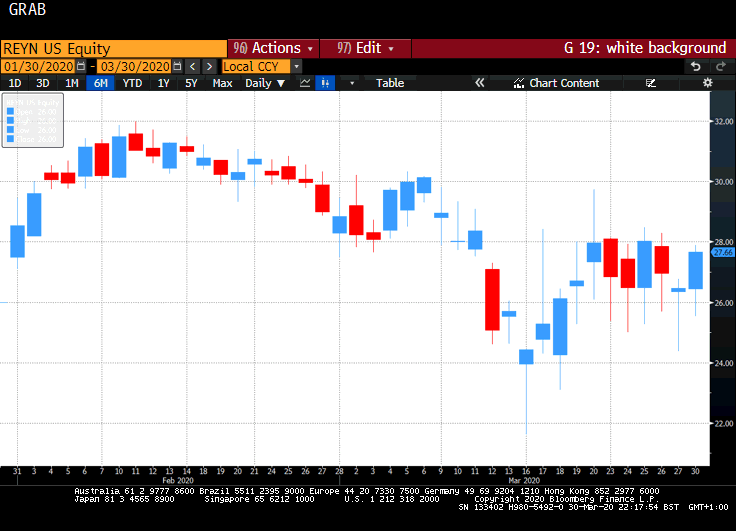 Reynolds Consumer Products IPOed in February and rebounded back above the OPI price last week.
Back to top