RBC Electric Vehicle Forecast Through 2050 & Primer
Thanks to a subscriber for this report from RBC which may be of interest. Here is a section:
Here is a link to the full report and here is a section:

Forecast global BEV sales penetration of ~7.5% by 2025 We estimate that globally, battery electric vehicles (BEVs) represented ~0.8% of 2017 global demand, while hybrid-electric vehicles (HEVs) and plug-in hybrid-electric vehicles (PHEVs) represented ~2.9%. But we see robust growth off these low figures. The growth will be driven in two phases. The first phase, through 2025, is primarily regulatory driven. By then, we see ~7.5% BEV global penetration of new demand representing a ~34% CAGR from 2017's levels and ~12% HEV/PHEV penetration representing a ~21% CAGR. By 2025, we see BEV penetration in China at ~15%, Western Europe at ~8% and the US at 5%. Our ~7.5% global BEV penetration rate compares to IHS at ~5%.
Forecast global BEV sales penetration of ~66% by 2050 In the second phase, we see change factors aligning to impart more significant revolution. Battery costs decline, infrastructure is built out, and the regulatory-driven push gives way to a consumer-led one. BEVs become more cost efficient than ICE vehicles and take share from HEV/PHEV. By 2050, we see ~66% BEV global new vehicle penetration, representing a ~9% CAGR over a 25-year period from 2025. We see regions like China and Western Europe reaching 85% penetration. We forecast the US at 60% penetration.
BEVs will represent ~35% of global VIO by 2050 Our modeling shows that for global vehicles in operation (VIO) by 2025, ~91% will be ICE, ~3% 48V, ~4% HEV/PHEV (so ~98% still have some sort of ICE), and ~2% BEV. By 2050, we model the global VIO to be ~49% ICE, ~8% 48V, ~8% HEV/PHEV (so vehicles having some sort of ICE down to ~65%), and ~35% BEV
The outlook for electric car adoption is a central theme in the outlook for lithium miners and other suppliers of the growing battery market. Going from 0.8% in 2017 to 7.5% in 2025 is not far of a 10X growth rate and while ambitious is realizable. There are massive construction projects underway, particularly in Asia to build out production capacity of batteries.

This report estimates battery production capacity will jump from 143GW in 2017 to 346GW by 2025. China is well positioned to be the primary manufacturer of batteries since it is aggressively securing access to key commodities while simultaneously investing in large manufacturing projects. Since it is now the largest market for automobiles, this represents a clear signal that China wishes to avoid a total dependence on oil as a transportation fuel in future.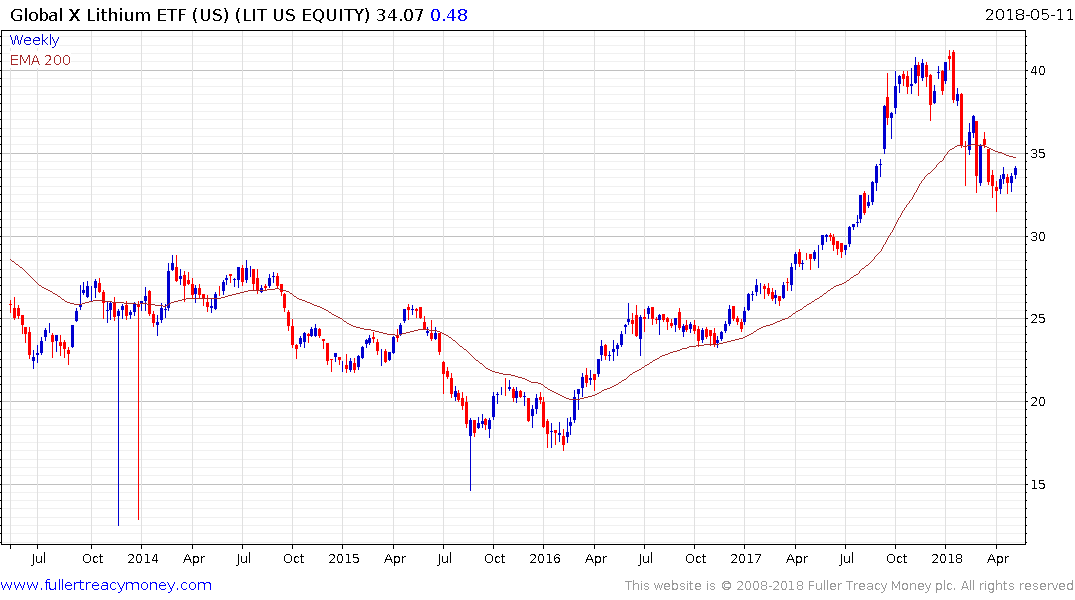 Lithium miners have been pulling back over the last couple of months on overproduction fears. However, if electric car growth comes in as expected overproduction of lithium is unlikely to be more than a temporary obstacle for the sector. The Global X Lithium & Battery ETF has steadied over the last few weeks and is now testing the region of the trend mean. It needs to sustain a move above $35 to confirm a return to demand dominance in this area.
Back to top