Why Tesla could become world''s first 10 trillion dollar company
This article from The Driven may be of interest. Since it was released yesterday the title has been edited to "Why Tesla could soon become world's most valuable company"; reflecting a quick moderation of sentiment. Here is a section:
"There's a lot of growth opportunities from that plant going forward," Baron said on CNBC. "[Tesla] could be one of the largest companies in the whole world."

A day earlier, Ark Invest suggested the stock could be worth $US7,000 a share within five years. That equates to a market value of around $US1.5 trillion – making it more valuable than the current top stocks, Apple and Saudi Aramco. (And there's a lot of Apple in the way Tesla proposes to managed its EV and batteries).

Ark Invest's reasons for this are worth repeating.

"Based on our updated expectations for electric vehicle (EV) cost declines and demand, as well as our estimates for the potential profitability of robotaxis, our 2024 expected value per share for TSLA is $7,000," it wrote in a note to investors over the weekend.

This, essentially, is a massive bet on the success of Tesla's Full Self Driving, and Musk's dream of potentially turning every Tesla with the appropriate software into a robotaxi, and his own dreams of building a huge fleet of robo-taxis that will revolutionize the way we do road travel.

Stanford University's Tony Seba has been talking about the arrival of self-driving for a few years now.
Analyst estimates for Tesla's future potential upside have been significantly upgraded over the last couple of weeks. This might be tongue-in-cheek but some analyst expectations are now even above where the price is currently trading. In June there was a consensus the company was going broke and today there are some floating the idea it will be worth more than ten times what Amazon is currently trading at. I think it is safe to say the truth is somewhere in between.

Whenever we see analysts competing for the title of biggest bull that tells us sentiment is quickly diverging from fundamentals. When the price is so far above recommended targets, analysts come under incredible pressure to raise them which helps to feed bullish sentiment. New buyers have to believe they are still early which is what a $7000 target tells them.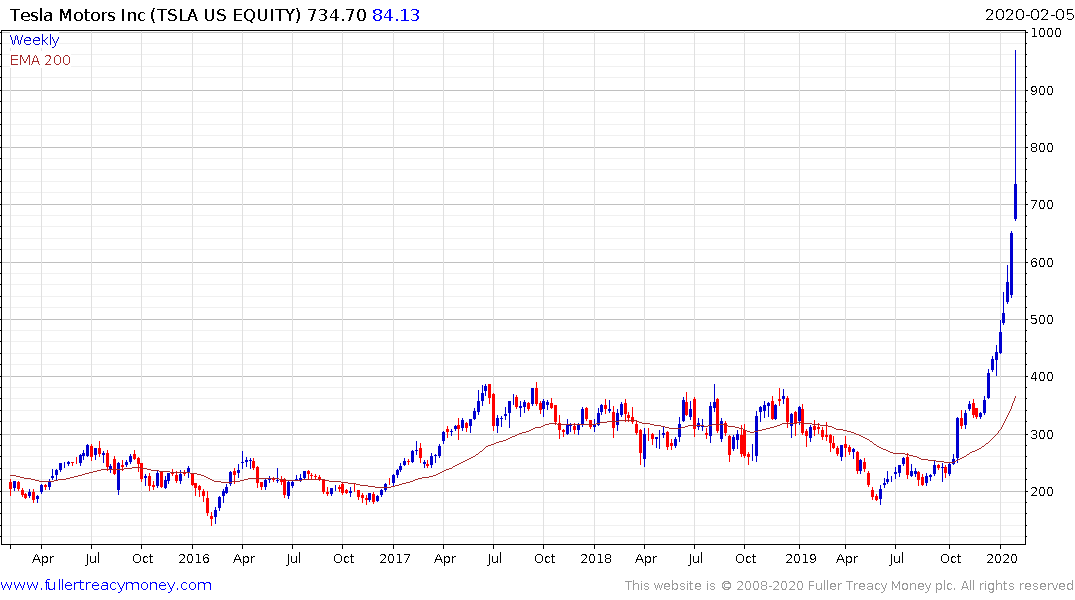 Tesla has first mover advantage and it is the only automotive company with its own dedicated battery supply. That's important and t fact it is making cars people aspire to own is an additional support. However, if it is to achieve the scale of a major manufacturer it needs to commit to additional capital investment and that will put pressure on profitability. No one really knows how far away autonomous driving is but we do know that once it starts it will be one of the most disruptive forces the world has ever seen. Nevertheless, Tesla is at least due some consolidation.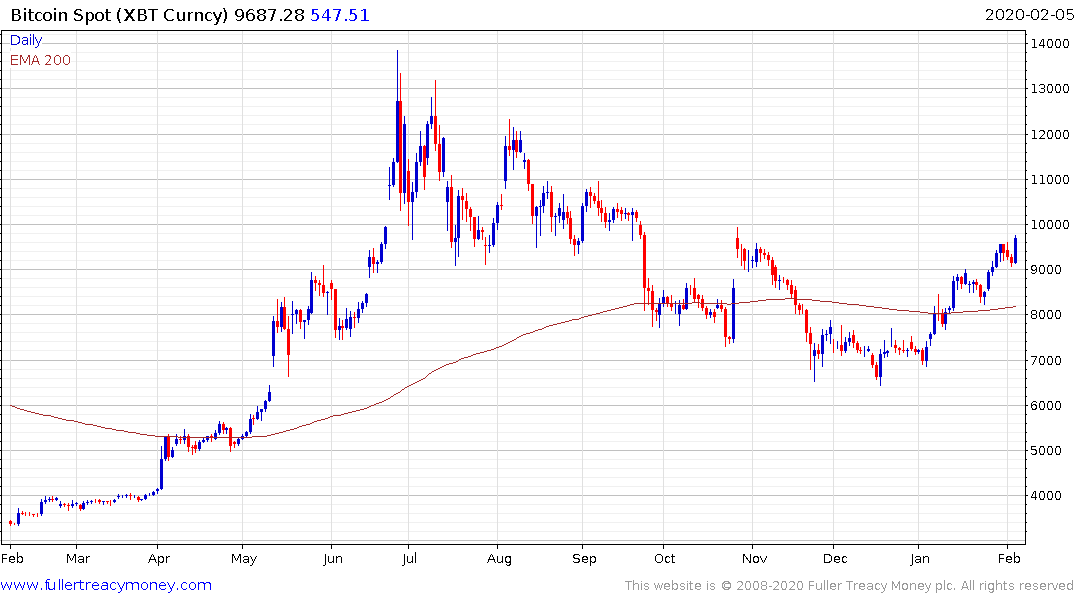 Meanwhile the comparisons with bitcoin are a little wide of the mark in my view other than both accelerations represent manias. What is perhaps more interesting is bitcoin is firming from the region of its trend mean at just the time Tesla is encountering resistance following an accelerated advance.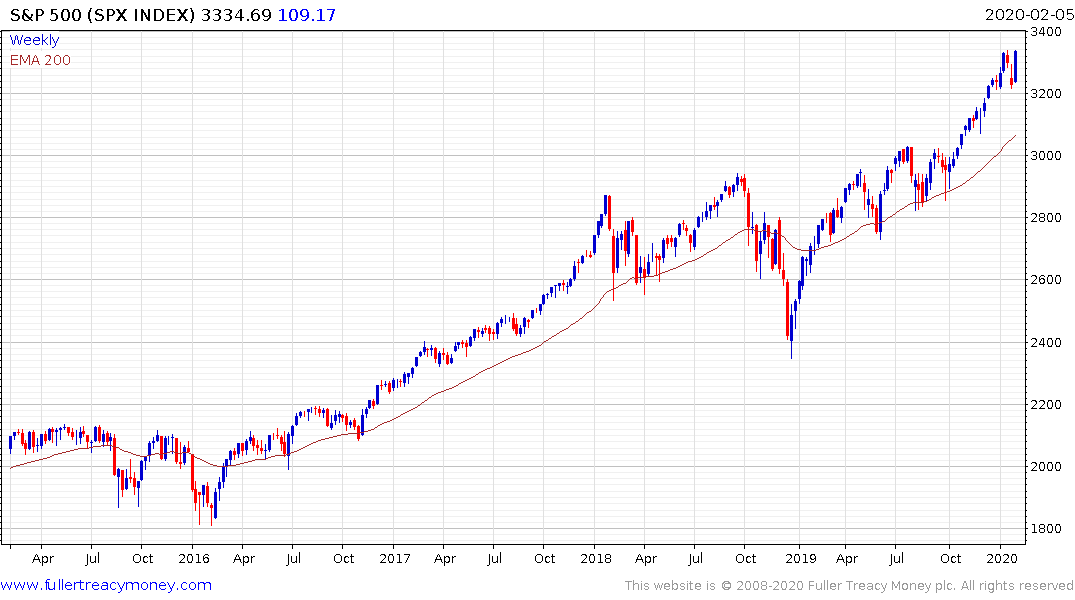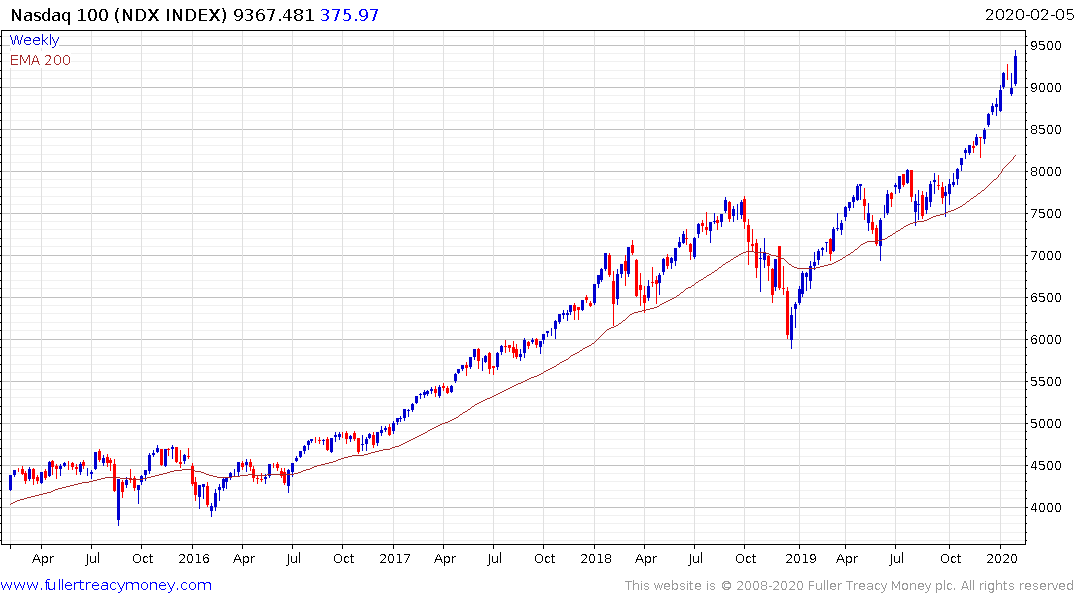 Tesla is not a constituent of the S&P500 but it is a member of the Nasdaq-100 which accounts for the latter's underperformance today.
Back to top