On Target May 2020
Thanks to Martin Spring for this edition of his ever-interesting letter. He quotes me in this one but don't hold that against him. Here is a section on the lockdowns:
Rather than destroy $4 trillion of economic activity via lockdowns it would have made much more sense to spend much less – say $25 billion to start with – on Medicare/Medicaid and state public health agencies "to zero-in on protecting, isolating and treating nursing home residents." Rather than trying to force all Americans into a one-size-fits-all regime of state control, policy ought to have been divided into three categories according to age:

The Kids Nation of those younger than 15, where to April 28 there were only five deaths where Covid-19 was involved. By comparison, children suffered 44,000 deaths from all causes last year. "In no sane world would it be a reason for shutting down the schools."

The Parents/Workers Nation of those aged 15 to 64. They account for the overwhelming share of commerce, jobs and economic activity. They experienced just 8,267 Covid-linked deaths. Their normal mortality rate – annual deaths from all causes – is 335 per 100,000. The Covid rate to date has been just 3.6. "So, we are talking about shutting down the entire economy owing to a death rate to date which amounts to 1.1 per cent of normal mortality."

The Grandparents/Great Grandparents Nation of 52 million. They accounted for 32,000 or nearly 80 per cent of all Covid-associated deaths, with 15,000 of them being among those 85 years and older. Their Covid mortality rate has been 61 per 100,000 to date. It has not taken "a catastrophic experiment with Lockdown Nation" to figure out that their risk of death from Covid-19 has been 7,600 times greater for them than for children; 29,000 times greater for the several million great-grandparents afflicted with severe comorbidity, and probably in the care of a nursing home. These realities were already known from China and the history of other coronaviruses. Although Stockman's analysis is limited to America, it is clear that much of it applies to other countries. Policies could have been focused almost exclusively on the shielding and treating the elderly.
Here is a link to the full report.

The lack of knowledge about the coronavirus has been the biggest impediment to common sense approaches to quarantine and lockdown. Any new pathogen has the potential to create mass hysteria but the coronavirus has succeeded in creating a level of fear unlike anything in a century.
The reality is the mortality rate is high relative to other respiratory diseases but it is also concentrated in the over 50s. Therefore, the rational solution would be to pour resources into protecting the most vulnerable and let everyone else get on with their lives.
Millions of people are avoiding going to the doctor for routine appointments and particularly for intervention surgery for heart disease and cancer. That alone is likely to result in a spike in mortality and questions the excess death method of counting coronavirus cases.
The hope is that a more sensible plan will be arrived at so economies can open back up. It's going to be at least another six to nine months before vaccines are commonly available and, in that time, economies need to get back up and running.

I received this email from a subscriber which is highly relevant to the market for vaccines.
I do not want to shed any negative light on Moderna having no ability whatsoever to assess whether these first positive results will be confirmed or not.

I just want to highlight that the announcement was made the day of pricing at $76 their 17.6 million shares offering (+2.64 million green shoe); such a coincidence always raises a flag in my mind.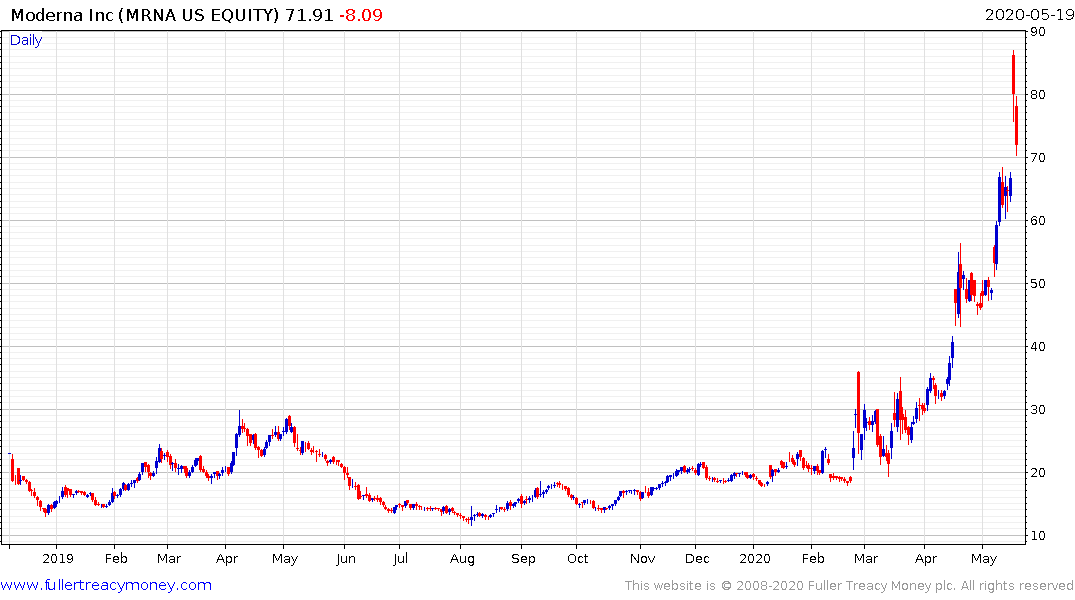 I agree that is a red flag and is likely to represent a catalyst for profit taking following a steep advance.
Back to top