Nickel's Spike Isn't Over Yet for Citi as LME Stockpiles Dwindle
This article from Bloomberg may be of interest to subscribers. Here is a section:
Nickel has a history of attracting speculative interest on expectations of supply shortfalls, only to see rallies quashed once it became clear there wasn't a shortage. The metal attracted a lot of interest in late 2017 from investors betting on its future role as a vital ingredient in high-performance batteries for electric vehicles, but that remains a small part of demand for now.

For Nugent, reduced LME inventory is spurring the latest bout of tightness and encouraging the spike in price. For example, it's pushed LME September futures to a $20 premium over October, after being at an $18 discount on July 2. It's a backwardation that contrasts with nickel's more usual contango structure, he said.

"What I think you're seeing now is that a lot of stock has moved from on-exchange to off-exchange," he said. "It's that kind of tightness that will be discouraging people from entering short positions against a rally. It's something that is happening more often when you're losing that on-exchange stock."

That view is bolstered, he said, by the fact that the LME appears to be leading the Shanghai Futures Exchange, rather than the other way around. While open interest and speculative long positions have also risen on the SHFE, the gap between London and Shanghai prices has widened in the past month.
Batteries for electric vehicles are the primary demand growth driver for high purity nickel. While declining global automotive demand has been a drag on automakers the share of electric vehicles in the market continues to increase. That's positive for the price. Additionally, the run-up in iron-ore prices may be having an effect on nickel because its role in stainless steel production.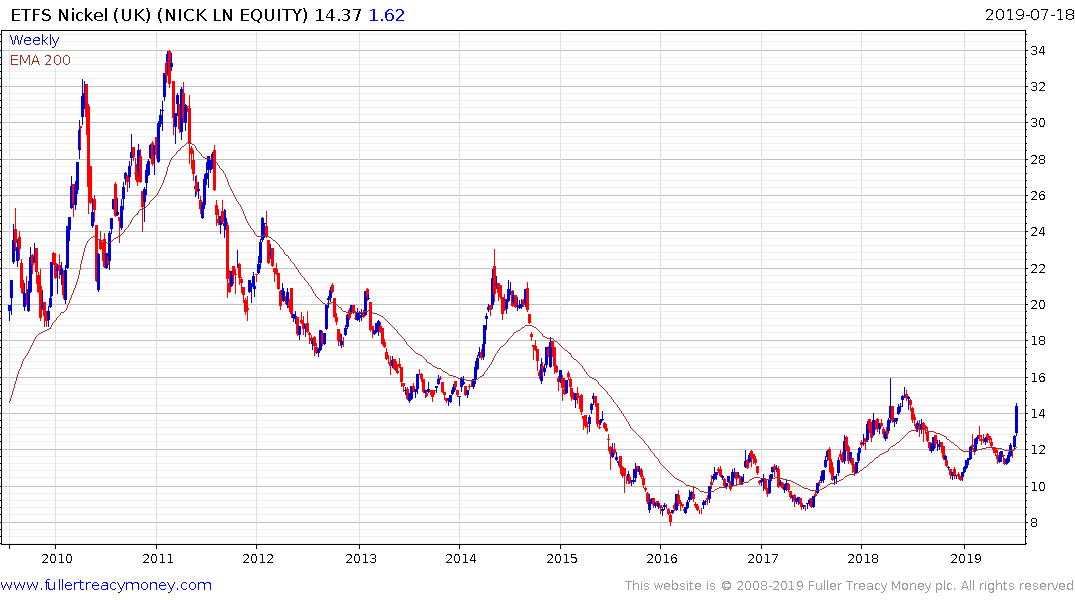 The price has held a sequence of higher major reaction lows since early 2016 and the benefit of the doubt can continue to be given to the upside provided that remains the case.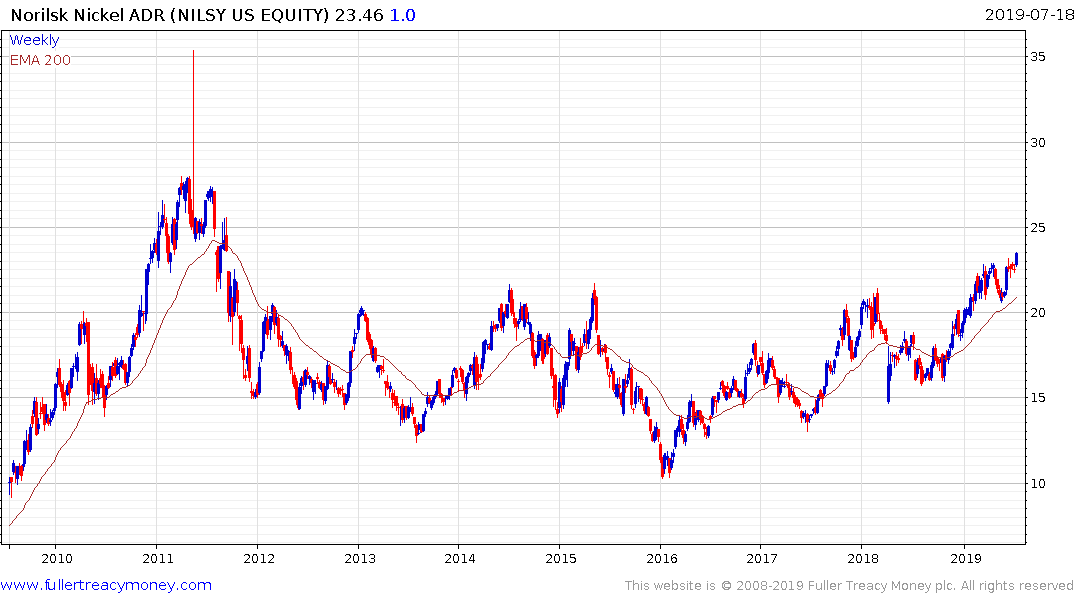 Norilsk Nickel appears to be in the process of completing a more than 6-year base formation.
Back to top