Most of the World's Companies Are Duds
This article by Vildana Hajric for Bloomberg may be of interest to subscribes. Here is a section:
Investors have heard this refrain before, that just a scant few pull the pack. And it's easy to see their outsize influence: Microsoft, Apple, Amazon.com and Facebook Inc. account for more than 20% of the S&P 500's returns this year. That number is even starker for the tech-heavy Nasdaq 100, for instance, where those four companies account for about 50% of gains.

But Bessembinder and his team, including two co-authors from Hong Kong Polytechnic University and Goeun Choi of Arizona State, are among the first to look at the phenomenon long-term. The best-performing 306 firms accounted for about three-quarters of global net wealth creation during the 28-year period of the study, they found. Just 811 companies could be framed as accounting for all of it.

Their findings echo Bessembinder's previous work. In looking at nearly nine decades of U.S. stock and bond performance, he found that out of 26,000 stocks, about 58% underperform Treasury bills in their lifespan.
There are two lessons from this data. The first is it has been hard to outperform bonds during one of the greatest bull markets in history. With forty years of history that is a lot of empirical data to base conclusions on. However, it also assumes the status quo remains intact indefinitely.
Every major secular bull market ends not because demand dries up, but because supply increases so much that it overwhelms the bull case. That has been the refrain of bond bears for years but it is no less true today with trillions in negative yielding bonds and plans to run massive deficits baked into forecasts.
The second is we know capitalism trends towards consolidation. The biggest most successful companies attain those positions because they have a competitive advantage which they leverage through innovation, diversification, regulation and lobbying. When that does not work mergers and acquisitions takes over. That allows the big to become bigger.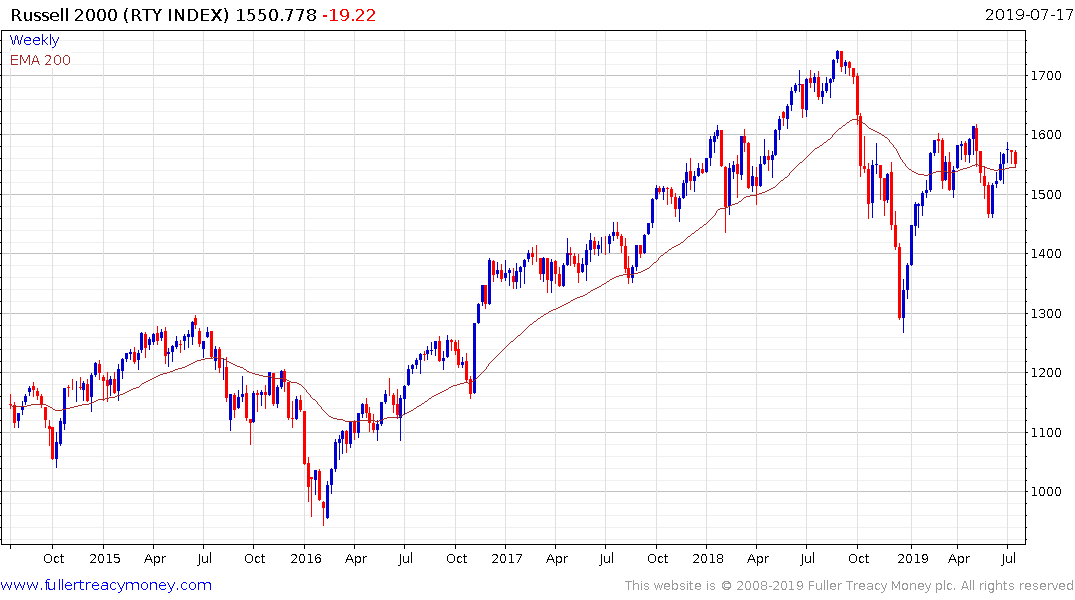 Against that argument, it becomes progressively more difficult to outperform the larger a company gets, which allows room for mid-caps to do better simply because of the base effect. Smaller companies tend to growth faster. Right now, the underperformance of the mid cap sector in the USA is a warning that we are in the latter stages of this advance which is generally characterised by a narrowing of breadth.
There are times when most stocks outperform Treasuries but it is generally at the beginning of a new cycle rather than when valuations have increased.
Back to top