Leave no dark corner
Thanks to a subscriber for this article by Matthew Carney for Australia's ABC news. Here is a section:
The Party is using the system to win back some of the control it lost when China opened up to the world in the 1980s and rapid development followed.

It's a way to silence dissent and ensure the Party's absolute dominance.

Already, about 10 million people have been punished in the trial areas of social credit.

Liu Hu is just one of them.

Hu lost his social credit when he was charged with a speech crime and now finds himself locked out of society due to his low score.

In 2015, Hu lost a defamation case after he accused an official of extortion.

He was made to publish an apology and pay a fine but when the court demanded an additional fee, he refused.

Last year, the 43-year-old found himself blacklisted as "dishonest" under a pilot social credit scheme.

"There are a lot of people who are on the blacklist wrongly, but they can't get off it," says Hu.

It's destroyed his career and isolated him, and he now fears for his family's future.

The social credit system has closed down his travel options and kept him under effective house arrest in his hometown of Chongqing.

In an apartment above the streets of Chongqing city, Hu tries to use a phone app to book train tickets to Xi'an. The attempt is rejected.

"[The app] says it fails to make a booking and my access to high-speed rail is legally restricted," he explains.

Hu's social media accounts, where he published much of his investigative journalism, have also been shut down.

Hu claims his combined Wechat and Weibo accounts had two million followers at their peak but are now censored.
Safety and stability are bywords for control. Personal prestige as a means of improving one's living standards is the tool used to ensure compliance. The confluence of social media primping is hardly a coincidence. That is not something China has a monopoly on. The difference, however, is democracy and rule of law ensures a check on the overarching ambitions of governments to exert control over their citizens.
"Render unto Caesar the things that are Caesar's, and unto God the things that are God's" is a fair statement if the majority of rewards are left over for individuals to decide what to do with the fruits of their labours. The origin on Western civilisation is based on fair division of rewards and Magna Carta was one of the first attempts to codify the system.
The reason the Communist Party has adapted its message to co-opt Confucianism is because of its instruction to never question authority and to accept one's place in the world. Striving for a better standard of living is only permissible within strict boundaries and with unquestioning loyalty to a system with no checks and balances.
The social credit score is the real-world application of George Orwell's 1984. That's not an exaggeration with cameras now being installed inside people's homes. The challenge for China will be in sustaining the program against a background of higher living standards; affording people the opportunity to question how things are. That's a particularly relevant consideration as the economy starts back up after the lockdowns, because consumer spending remains very subdued.
One thing I have noticed over the last few weeks is the number of mainland Chinese YouTubers gaining followers overseas. For example, the chefs from Beijing's state banquet hall now offer a YouTube cooking show with English subtitles. Quite aside from the fact that the recipes are mouth-watering, and we have had a great time replicating them, it is worth reminding ourselves YouTube is not available in mainland China.
That suggests the Communist Party is becoming increasingly sophisticated in its propaganda measures. The fact most Chinese overseas diplomats are active on Twitter and are organs for the propaganda machine is well reported, but the diffusion of Chinese culture through YouTube is an attempt at building soft power.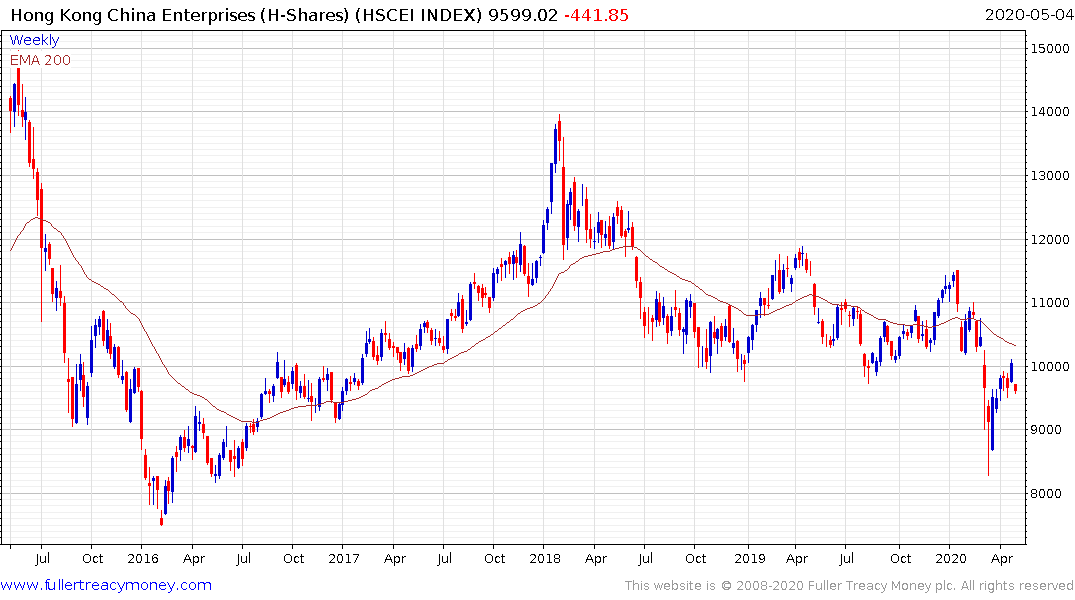 The Hang Seng China Enterprises Index gapped lower today and is now testing its six-week sequence of higher reaction lows.
Back to top