Latest Satoshi Nakamoto Candidate Buying Bitcoin No Matter What
This article by Olga Kharif for Bloomberg may be of interest to subscribes. Here is a section:
One reason is, Back believes Bitcoin will go to $300,000 from the current approximate price of $10,000 within five years -- without any additional adoption by institutional investors. Retail investors, who've carried the torch for the last 10-plus years, since Bitcoin's debut, will continue to show support as institutions remain cautious, he said.

"It might not require additional institutional adoption because the current environment is causing more individuals to think about hedging," Back said. "And retaining value when there's a lot of money printing in the world."

With more people working from home amid the Covid-19 epidemic, real-estate investments are more risky, he said. Bonds may be overvalued. And so some investors may be turning to Bitcoin, even though it too could see some headwinds as more people lose jobs, he said.

"It is causing people to think about the value of money and looking for ways to preserve money," Back said. "It's a difficult environment to get any yield."

One reassuring sign of demand is that Grayscale Investments alone has bought more Bitcoin in the past few weeks than the amount of new coins that has been mined, Back said.
The rationale for owning bitcoin is it is a resource with limited supply. Much of that supply is held outside the market and the mining of new supply has just become twice as difficult. The price has increased substantially following previous having of the mining reward but on this occasion that has yet to happen.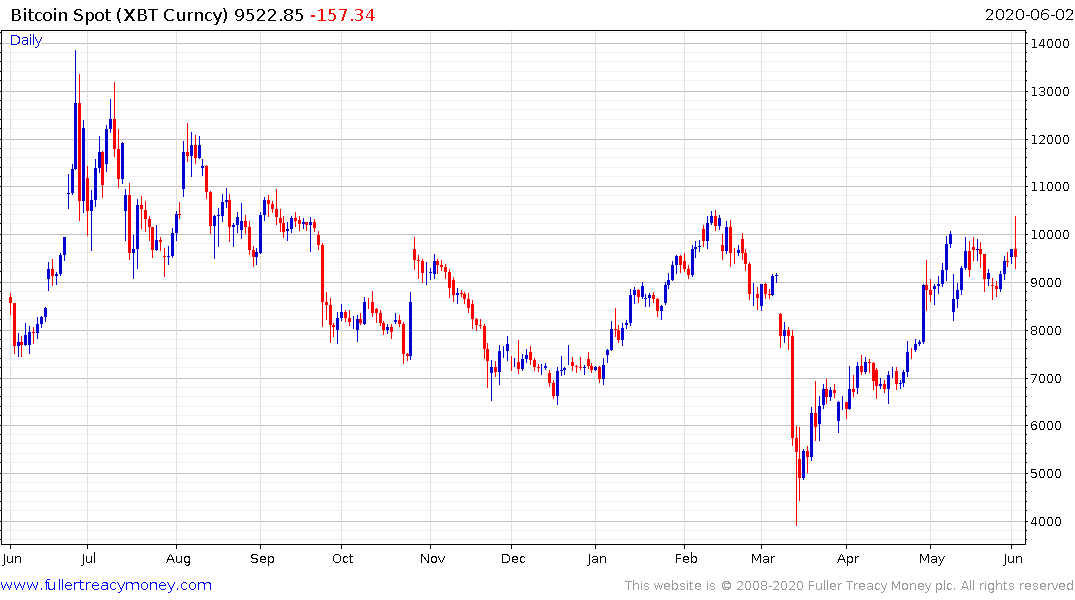 The $10,000 level is an important area of lateral resistance. The price has been holding below that level for the last six months. It briefly popped above it yesterday but finished in negative territory. Bitcoin is characteristically volatile but the range over the last while continues to look like the next break will be on the upside.
Back to top