Gold Extends Gains With Huge ETF Inflows Reflecting Growth Fears
This article by Ranjeetha Pakiam, Haidi Lun and Justina Vasquez for Bloomberg may be of interest to subscribers. Here is a section:
"With the fiscal programs that all the governments are appropriately injecting into their economies and printing money, the one currency you cannot print is gold," Jake Klein, executive chairman at Australia's Evolution Mining Ltd. Told Bloomberg TV. "That's why it's got investors' interest."

Next week, policy makers from the Federal Reserve, European Central Bank and Bank of Japan all meet to assess their stances, raising the possibility of further assistance. Gold futures for June delivery rose 1.1% to $1,756.90 an ounce at 10:43 a.m. on the Comex in New York after surging 3% on Wednesday. Global holdings in ETFs rose for a 23rd session on Wednesday and are at a record. Silver futures advanced on the Comex, while platinum and palladium climbed on the New York Mercantile Exchange.

ETF Holdings of gold have come from nowhere at the turn of the century to become the third largest in the world. The total held by ETFs eclipsed those of the IMF in March. Germany and the USA are now the only two larger official holders of the metal. No one really knows how much gold China has accumulated and the vast quantities warehoused in India's temples are not counted in official totals because they are unlikely to ever move.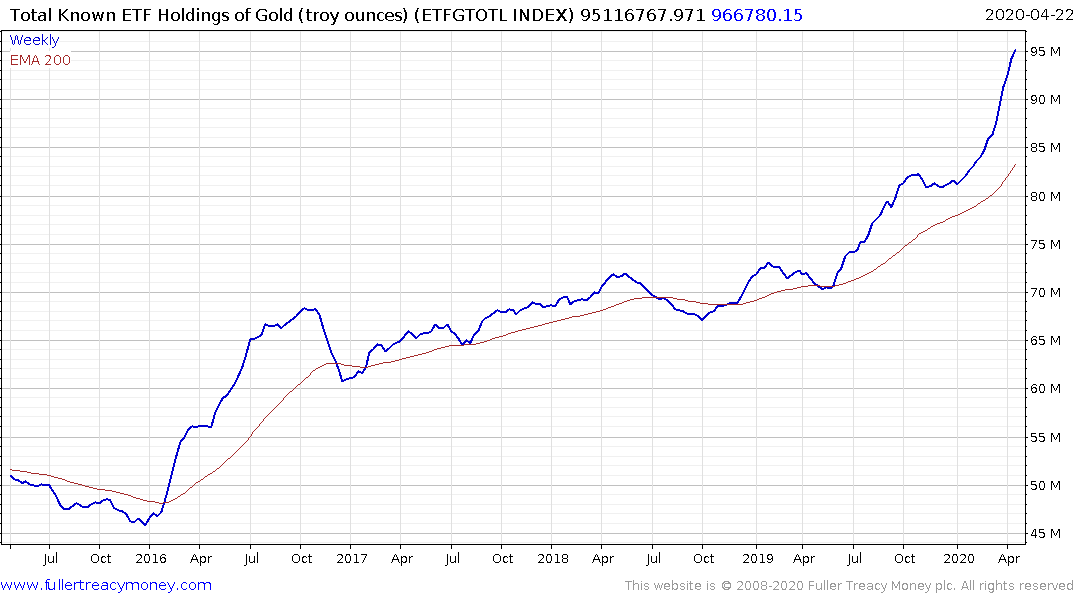 The continued trend higher in ETF holdings which supports the view investors are looking to gold as a source of alpha but also for its diversification qualities. It is reasonable to assume ETFs will continue to be the primary vehicle investors employ to access the gold market and therefore by the time the bull market ends it is not unreasonable to think ETFs will be the largest holders of gold anywhere.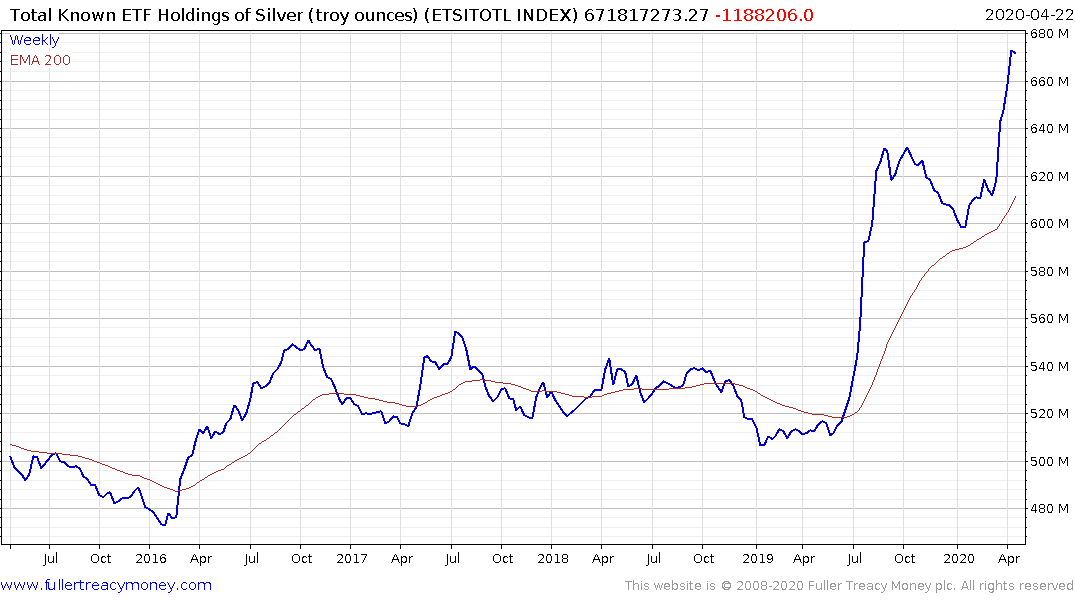 ETF holdings of silver have also surged over the last year and have been much less volatile that the metal price.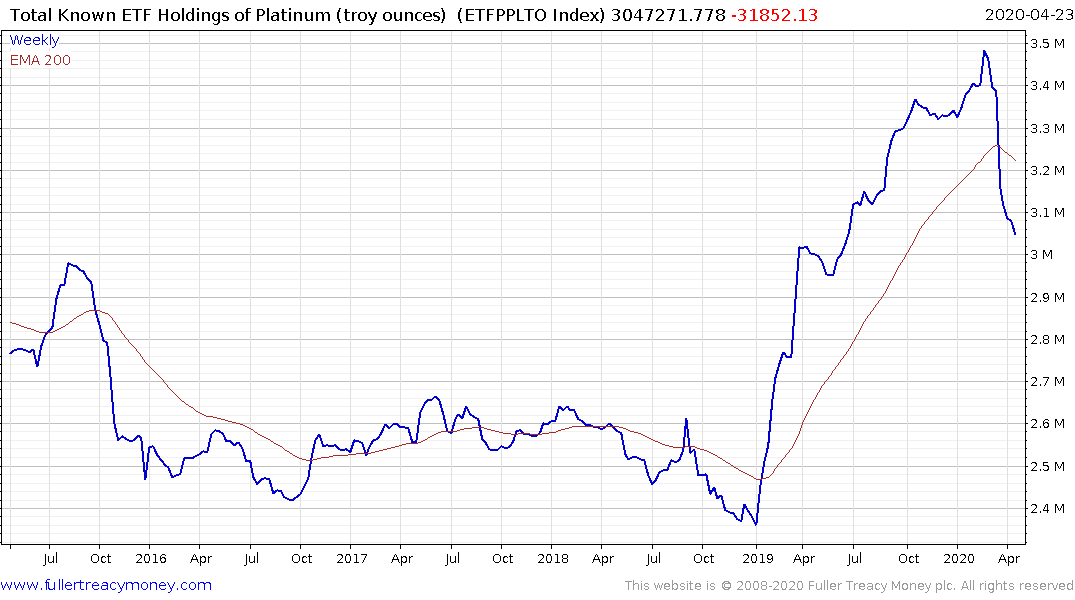 ETF holdings of platinum on the other hand declined over the last few weeks suggesting investors are still uncertain about the impact of falling auto sales on demand for the metal.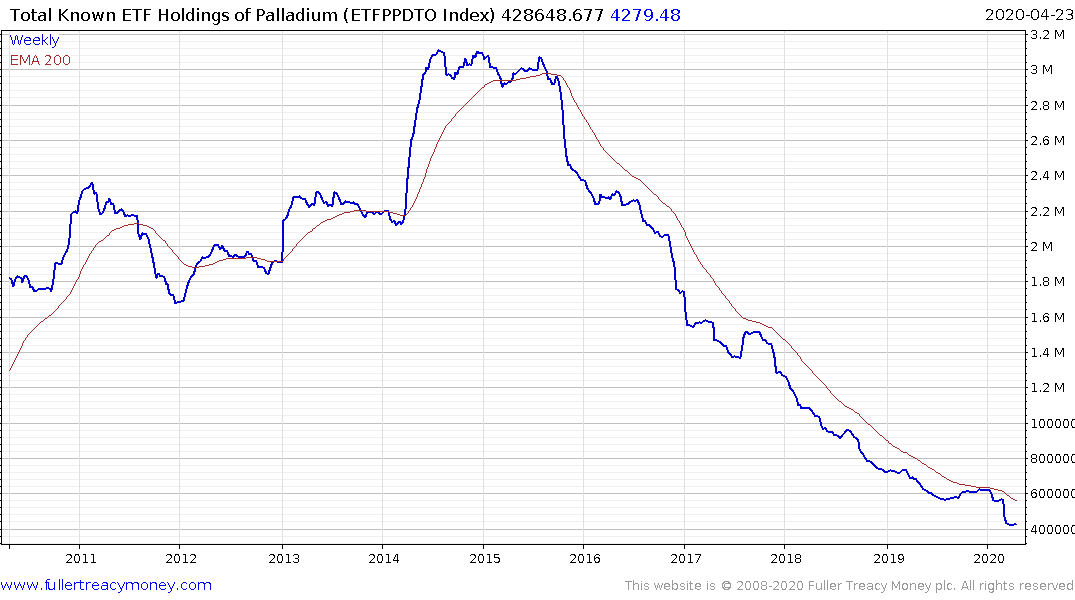 The downtrend in ETF holdings of palladium runs contrary to the massive advance in prices until quite recently. That is perhaps the most graphic representation of how acute the supply deficit has been that supplies were encouraged out of ETFs and into the physical market.
Norilsk nickel, the world's largest producer of palladium, now believes the deficit will turn to a surplus this year. That's likely to result in palladium reversing its outperformance relative to the other precious metals.
Back to top