Gaming Boom Hides Struggle to Create New Hits in Isolation
This article by Takashi Mochizuki, Zheping Huang, Olga Kharif and Vlad Savov for Bloomberg may be of interest to subscribers. Here is a section:
At a time when Valve Corp.'s Steam online gaming service is breaking records and global gaming publishers are registering increased demand due to millions of people stuck at home, the systems designed to build those companies' future success are faltering.

One game project that Upfall Studios was doing work for has been put on hold because its developers weren't able to demo it at GDC and haven't yet managed to pitch it remotely. Two other developers Amador has collaborated with are also struggling to secure remote calls with publishers.

Before the coronavirus grew into a global pandemic, it was already interrupting the supply chain for game art and assets, as many big publishers rely on outsourcing to art studios in China, which was first to suffer the effects.

Super Smash Bros. creator Masahiro Sakurai wrote in industry magazine "Famitsu" last week that the release of additional content for his blockbuster series would be delayed due to the coronavirus. Private Division, a unit of Take-Two Interactive Software Inc., said last month that its Outer Worlds action role-playing game would also be late arriving on Nintendo Co.'s Switch due to the pandemic.
We bought an Oculus Quest (untethered virtual reality headset) as a surprise for my daughter's birthday last week. We did not realise at the time how limited supply was. It was sold out for months up till early March and sold out again within two weeks.
I will say, however, it is the most innovative piece of gaming technology I have seen since the Nintendo Wii came out 14 years ago. The immersive environment and visceral experience of reality lend a degree of fun and playability I was not prepared for. I boxed competitively at university and the Apollo Creed game is the closest thing anyone is likely to come to being in the ring in real life.
The release of Valve's Halflife-Alyx on Tuesday could well be the title that brings virtual reality into the mainstream of gaming. 2-D videos just don't do VR justice. I expect to be able to conduct The Chart Seminar virtually eventually but supply chain issues will need to be solved first.
Computer game companies are facing some of the same challenges as movie studios in getting new products to market. However, the big difference is the computer game sector is ideally suited to deliver its product in the current environment, whereas movie studios are struggling with both production and demand. In fact, VR headsets come with movie theatre applications so the future of cinema may be very personal.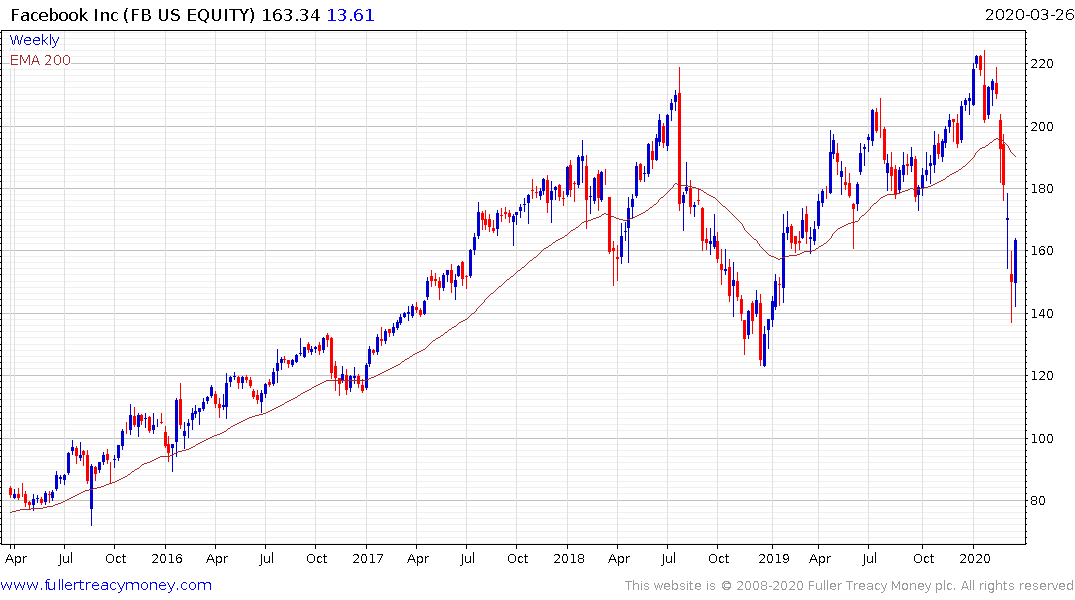 Facebook generates all its revenue from advertising but it has the capacity to turn Oculus into a multibillion Dollar franchise in the same way that Microsoft has done with the Xbox.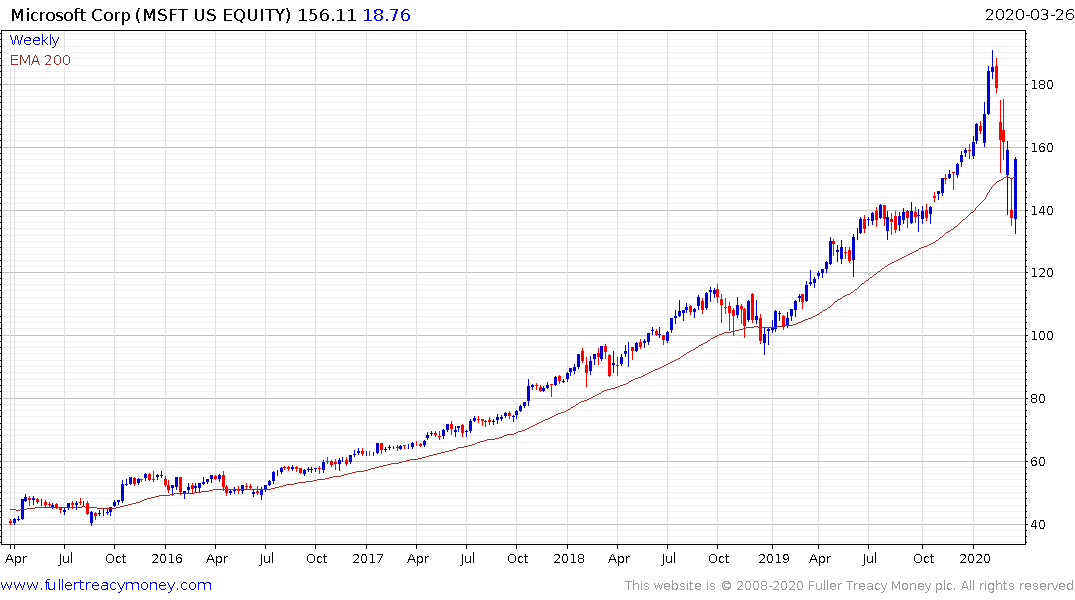 The share is currently bouncing from the region of the 2018 low whereas Microsoft is posting an upside weekly key reversal from the region of its trend mean.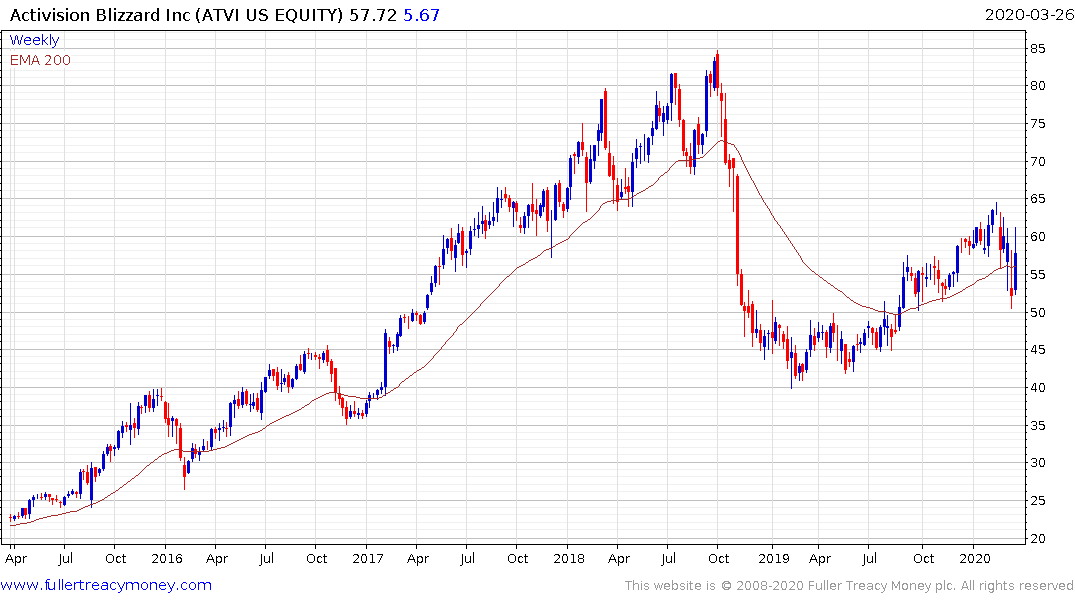 Activision Blizzard, whose games dominate the e-sports sector, is firming from the region of its trend mean too.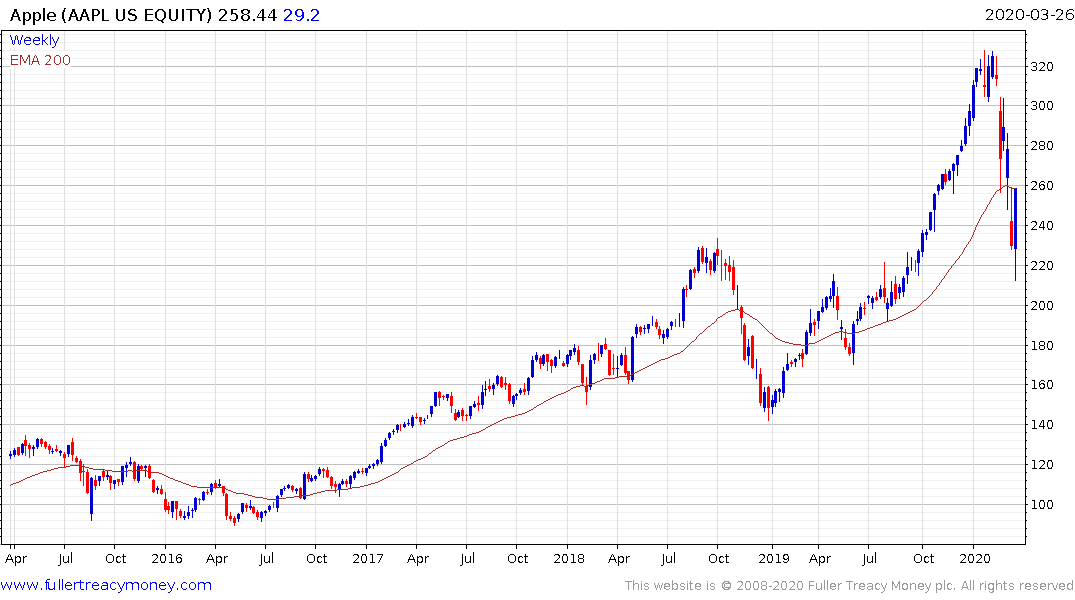 Apple is also bouncing from exactly where it needs to in order for its trend consistency to remain intact.
Back to top