For More Than Just Gold Bugs BitGold Platform Makes Debut
Thanks to a subscriber for this interesting report from Dundee Capital Markets. Here is a section:
Deposit/Redeeming Funds: Users have the option to deposit funds to six different global vaults administered by BRINKS – Toronto, London, Zurich, Dubai, Hong Kong and Singapore. After choosing the vault location users have five deposits/redemption methods available through 106 global reference currencies: 1) Direct Bank Deposit – INTERAC, SEPA,; 2) Bank Transfer – SWIFT, Wire; 3) Credit/Debit Cards – VISA, MasterCard, China UnionPay; 4) Virtual Currencies – Bitcoin (Ripple coming soon); 5) Cash via BitGold ATM Machine. Once funds are deposited, gold is acquired within 1% of the official spot rate and "allocated" to that particular customer through the company's patent pending AURUM system. We believe most customers are likely to wire cash direct to a bank account. Using debit or credit cards to deposit cash becomes an acquisition cost for the company as merchant fees would be greater than the 1% deposit fee charged.

BitGold is not a deposit taking institution – BitGold does not take deposits or hold user funds in any way – the company simply offers a platform to acquire, store and transact with gold. Therefore it has no liability or indebtedness to a customer.

Storing Gold: Gold is fully insured (by Lloyds of London) and stored for free at any six global vaults (costs BitGold 0.12% pa). The gold is vaulted under the customer's names and allocated storage within a separate within a separate legal entity. There is little counterparty risk as AURUM only buys/sells gold through the London Bullion Market (LBMA) and/or COMEX meaning each gold bar has verifiable chain of custody, beginning with the refiner and assayer. There is no maximum amount of gold that can be purchased and the minimum amount is 0.001g or about $0.05.
Here is a link to the full report.

Making retail transactions with gold has long been an ambition of hard money advocates but it has been unrealisable until now. AuEx Ventures rebranded itself with the catchy moniker BitGold earlier this year and there is no denying that the premise of the company will appeal to a certain demographic. However while BitGold is willing to accept Bitcoin in return for gold, that would appear to be the only link between the two. More broadly it highlights how technology is enhancing the methods with which we can transact and how various items can represent value.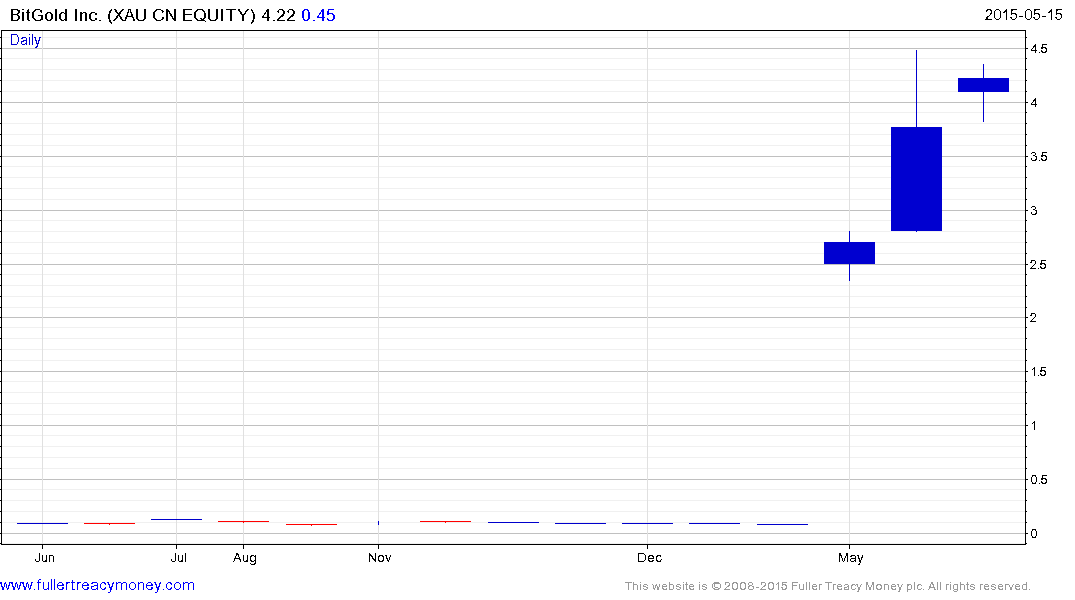 While there are risks to the company's model in delivering promised technology and its ability to market to a wide audience perhaps the greatest risk is if interest rates rise. Holding gold for transaction purposes rather than simply as a store of value becomes challenging as interest rates rise and bank deposits become more appealing. How the company performs in such circumstances remains to be seen. In the meantime the IPO has been greeted with enthusiasm by investors.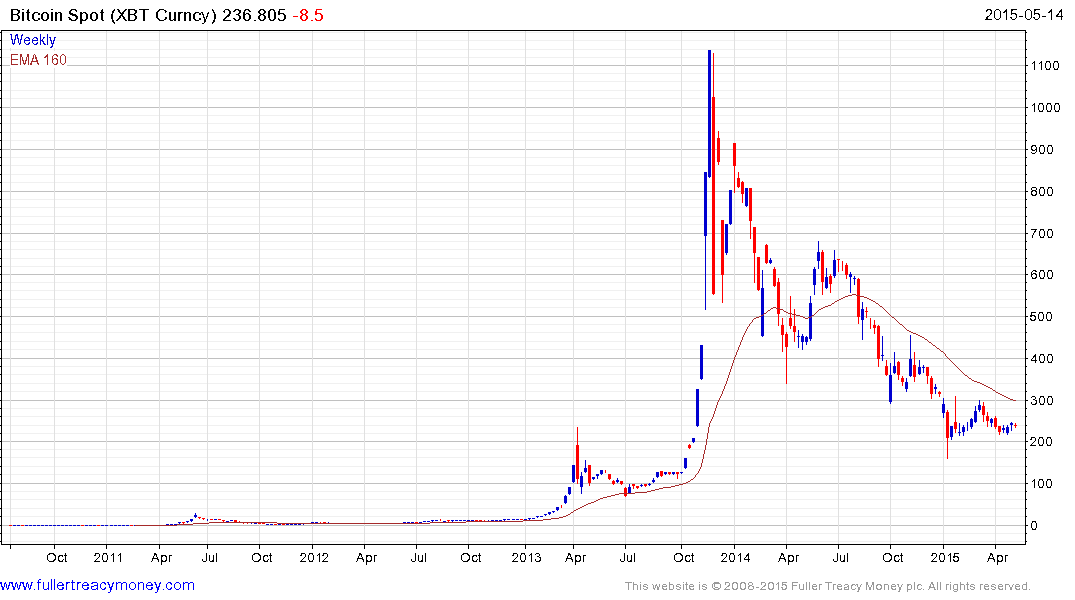 Bitcoin continues to range above 200 but will need to sustain a move above the 200-day MA to suggest a return to demand dominance beyond the short-term.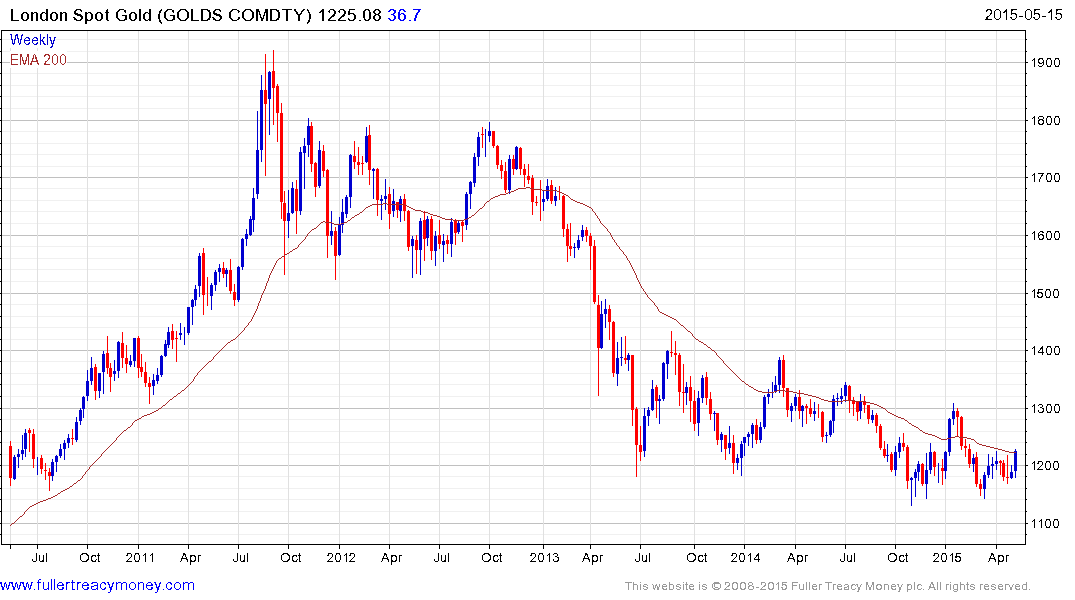 Gold continues to firm within its range as it tests the region of the 200-day MA.
Back to top