Europe Bonds Soar as Lagarde Pledges No Limits to ECB Action
This article by Jana Randow and John Ainger for Bloomberg may be of interest to subscribers. Here is a section:
The Bank of England followed Thursday with its second emergency cut in borrowing costs this month, taking the benchmark rate to a record-low 0.1%. The BOE also announced a boost in its asset-purchase program target to 645 billion pounds ($752 billion), made up mainly of gilts.

The two decisions mark the latest in an escalating global response to an outbreak widely seen driving the economy into recession. ECB President Christine Lagarde reinforced the message that policy makers will do all they can, saying there are "no limits to our commitment to the euro."

The program brings the total of the ECB's planned bond purchases this year to 1.1 trillion euros, its biggest annual amount ever.

"The ECB was forced to react quickly," Christoph Rieger, head of fixed-rate strategy at Commerzbank AG, wrote in a note to clients. "The new envelope of 750 billion euros should help bring in spreads more lastingly, but it is questionable whether this will be the turning point of the broader financial market rout.
The bonds of peripheral Eurozone members did indeed bounce today but Germany's bonds sold off. Spreads might be tightening as a result of the ECB's actions but this is significantly altered environment from what we have seen previously.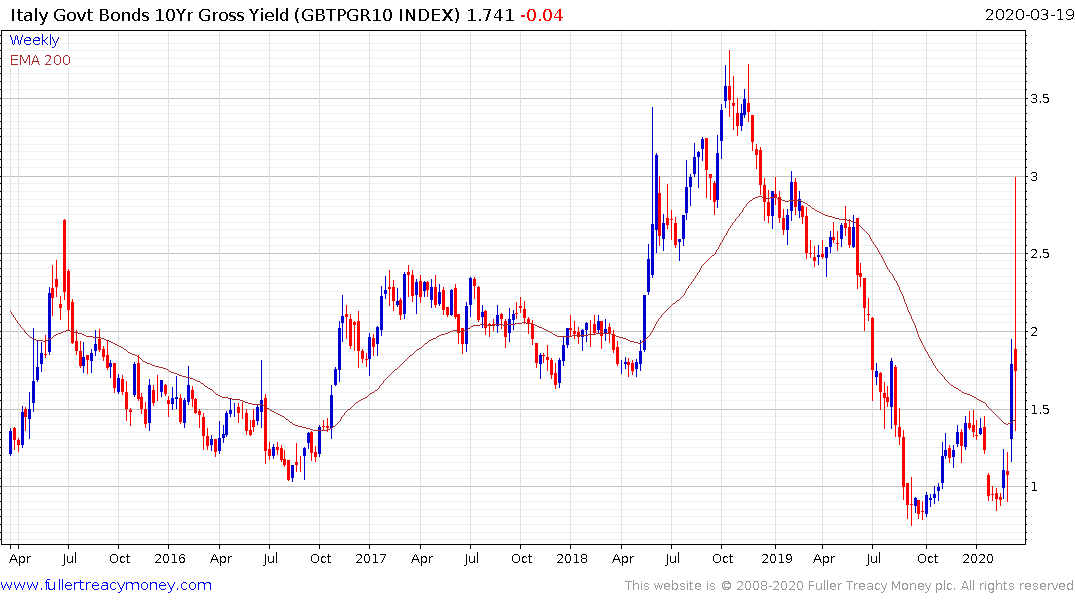 There is an increasing likelihood that Germany will both need to bust its own fiscal rules and submit to participating in eurozone bond issuance to fund the deficits of other countries. That suggests the coronavirus response is going to usher in a Eurozone debt union. Even the suggestion of such a solution has historically resulted in protests across Germany but it could now become a reality on a needs-must basis.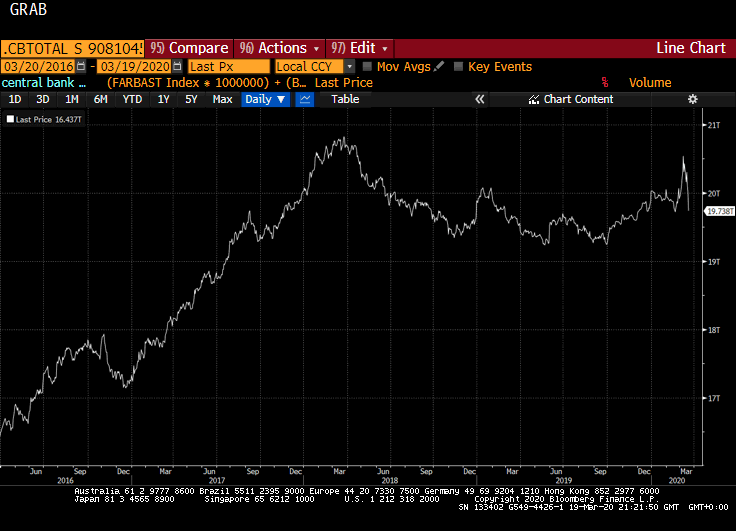 The strength of the Dollar over the last few weeks has resulted in the total assets of central banks contracting significantly. That is part of the rationale behind both the ECB and Bank of England embarking on sizeable quantitative easing programs. Global monetary and fiscal stimulus will help to put a floor under markets once the pace of deleveraging has run its course.
This article from the Wall Street Journal, detailing the impending lack of migrant workers for harvesting seasonal food items is a reason to monitor commodity prices for signs inflationary pressures are about to rise as a secondary impact from the virus-induced lockdown.
Back to top