Email of the day on corona virus outbreak.
Two aspects of the current outbreak I find especially concerning, speaking as a retired veterinarian of some fifty years' experience. I understand the symptoms can vary from barely perceptible with no fever to severe and fatal Some. people with the virus may be unaware they have it but may be very infectious to others, acting as symptomless carriers. My experience with animals which are subject to lockdown on account of infectious disease is that they tend to become very stressed and anxious, this in turn tends to make them more liable to spread infection on account of diminished resistance. I would suggest bottling up millions of Chinese in these cities has its own hazards regarding virus spread.
Thank you for this insight which I believe will be of interest to other subscribers. The reaction of the Chinese administration to the speed of the outbreak has been panicky. The long gestation period where no symptoms are evident but where transmission is possible represents a significant challenge to containment. That was the reason for the quarantine but it is impossible to corral that many people. On top of that 5 million left the city before the quarantine and very little comment has been made on how migrant workers are counted.
The logic of containment and prolonging the New Year holiday is to try and keep as many infected people in one place as possible, even as that increases the potential for infection among the contained population. That's not exactly ideal and the building of new hospitals in record time means nothing without appropriate staffing. During the SARS epidemic it was medical personnel who were the biggest casualties.
If we try to estimate when the number of new cases will peak, it could not possibly be before the containment period went into effect. Therefore, we are looking at February 3rd as the best-case scenario. That is the reason the holiday was prolonged; it leaves enough time for current carriers to become symptomatic while accepting the risk of additional transmission to the contained population during that time. Considering how porous the quarantine is the best-case scenario is unlikely.
Unseen threats like viruses are unsettling but they generally are not enough to change a trend, despite short-term volatility. That suggests the unwinding of short-term overbought conditions is likely but any additional volatility is likely to represent a favourable entry point for medium-term investors. A significant escalation of the infection rate outside China could be a catalyst for that kind of move.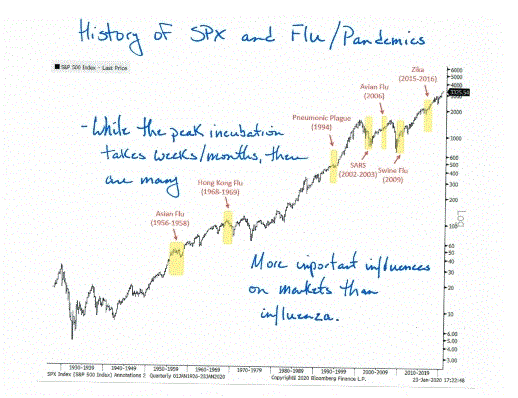 This chart created by Jeff deGraaf may be of interest.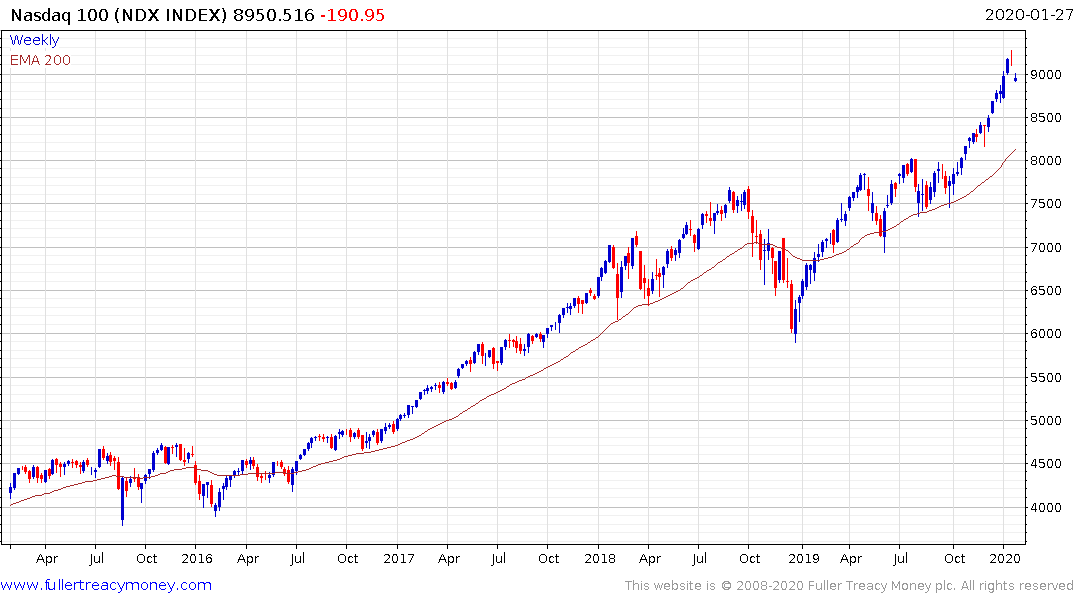 The Nasdaq-100 posted a small downside key and gapped lower today to mark at least a near-term peak. So far, this reaction is not larger than others seen since October but the prospect of a reversion back towards has certainly increased.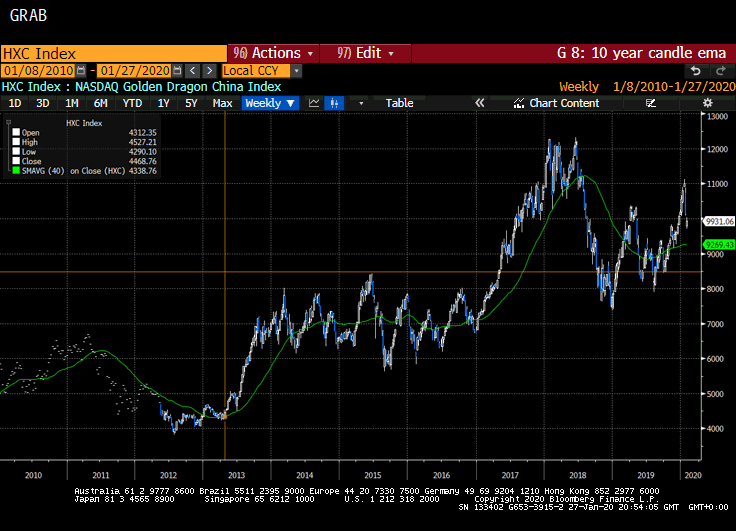 The Nasdaq Golden Dragon Index of US listed Chinese shares has unwound most of its overbought condition. Provided the recent lows hold, at least some ranging will be required to support higher prices.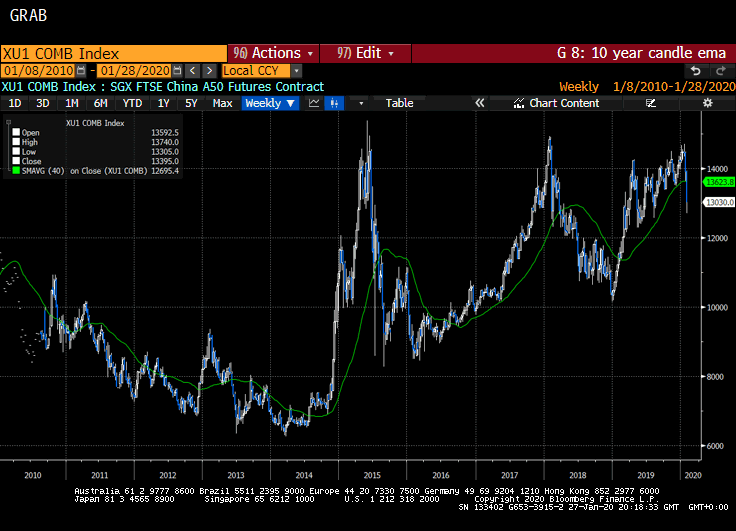 The Singapore listed FTSE China A50 Index futures contract pulled back sharply today to break below its trend mean; confirming resistance at the upper side of its four-year range with a Type-2 top massive reaction against the prevailing trend.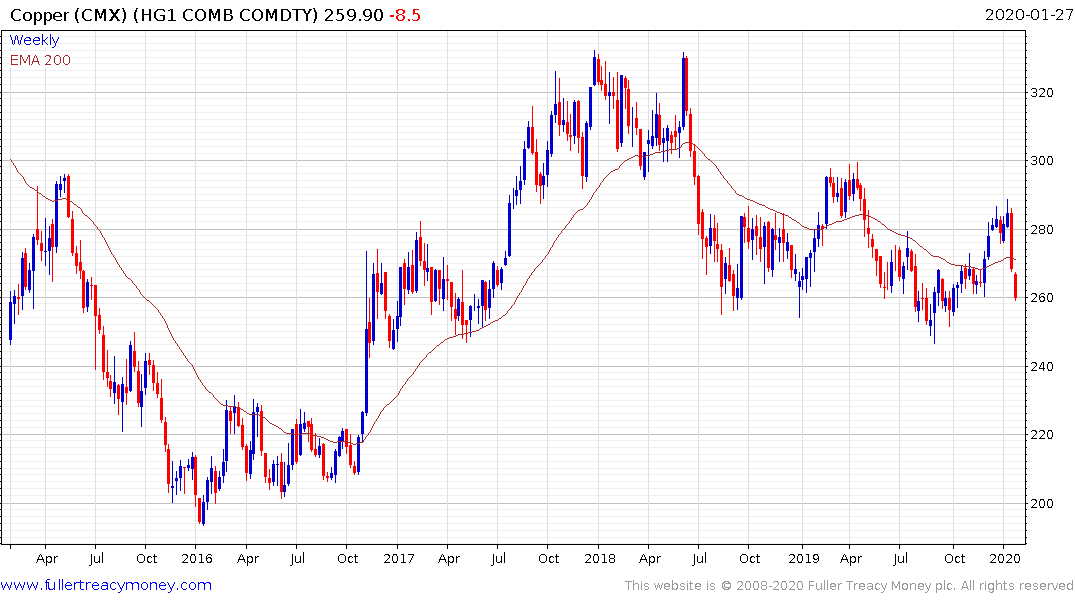 Copper pulled back sharply on expectations for less Chinese demand and is now trading below the trend mean. The $2.50 area will need to hold if support building is to remain credible.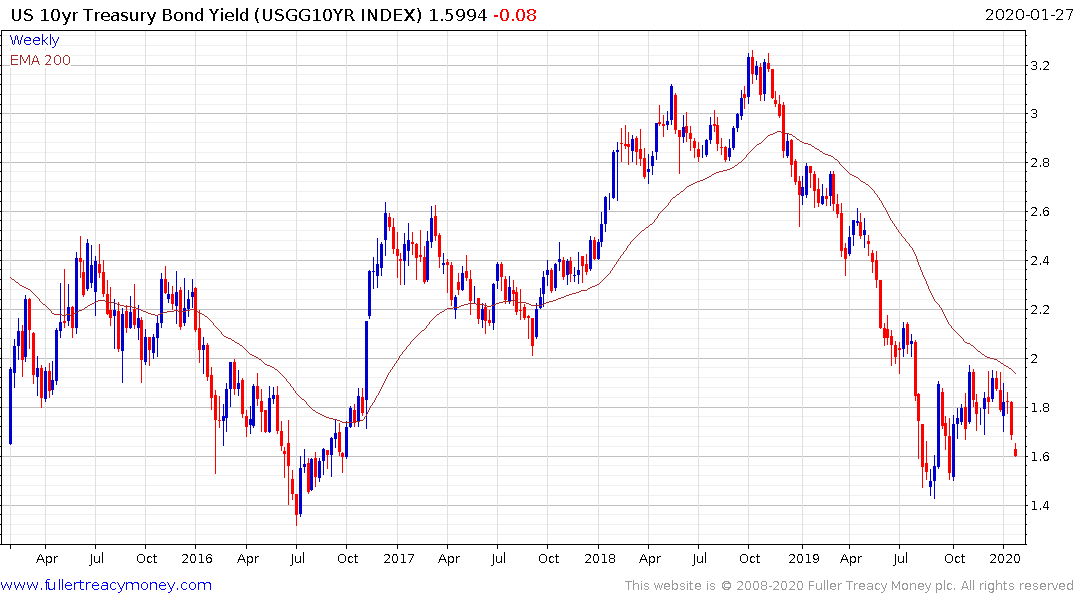 US 10-year yields have now clearly broken the sequence of higher reaction lows suggesting investor demand for a safe haven is jumping even as the set-back in stock markets has been relatively modest so far.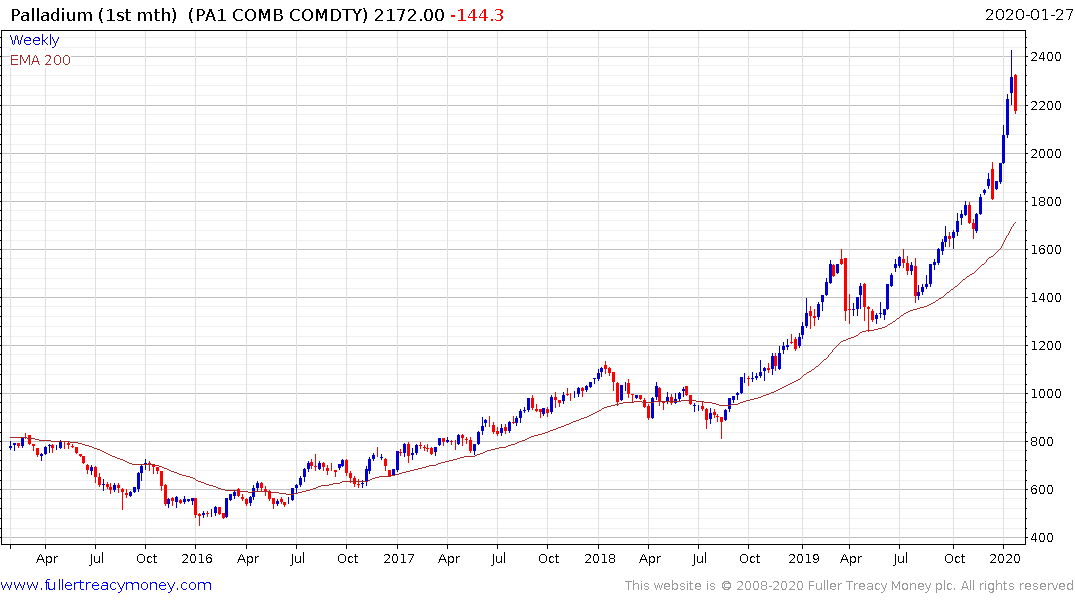 This recent turn to risk-off appears to be the catalyst to cap palladium's recent advance. Today's downward dynamic is the largest in at least a year and signals a peak of at least near-term significance.
Back to top