The SARS epidemic did not become a pandemic. Its effects were limited to a relatively small number of countries and, even then, the majority of infections occurred within the hospital setting. The trough in markets evolved when the growth rate in new infections moderated which eventually contributed to the peak in new infections. COVID-19 is global and has infected many more people that SARS ever did and particularly because the large numbers of serious cases have overwhelmed healthcare systems.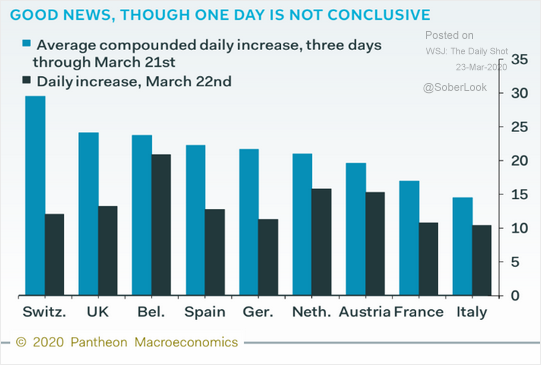 This graphic suggests the growth rate of new infections is moderating in Italy, France and Germany. It is too early to conclude this new moderating trend is going to persist but it is certainly an encouraging development.
Reducing, rather than eliminating the number of people turning up at hospitals or treatment centres is the primary purpose of lockdowns. If the resources devoted to treatment are increased and the number of new cases moderates, the need for lockdowns will be less compelling. We'll still be washing hands, maintaining social distance and probably wearing masks but economic activity can restart.
The speed of the stock market decline lent support to the argument this is only the first wave of multiple peaks in infections because that is what happened during the Spanish Flu. I am sceptical we are going to see a similar pattern on this occasion. We are now a much more technologically advanced society, the numbers of people working on treatments and vaccines has exploded over the last couple of months and solutions are already in the testing phase. That suggests medical workers can at least be protected within the next six months. That alone will reduce pressure on the healthcare system.
If that is the case, we are potentially close to a low in the stock market. It will take time for confidence to recovery but valuations have improved significantly. Some time for base formation development is likely but if this is a 6-month interruption rather than a 24-month interruption, the global economy is quite capable of recovering and particularly when new stimulative measures being announced almost every day gain traction.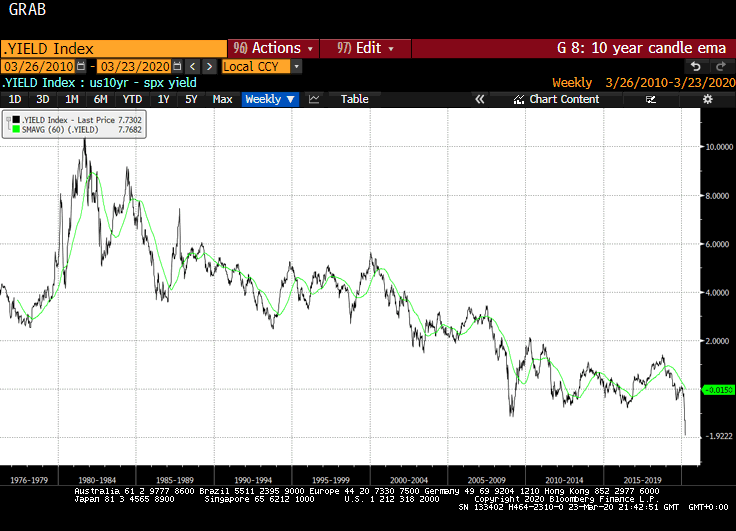 Equities now yield 195 basis points more than bonds which is an historically wide spread and bolsters the argument for owning dividend paying shares like dividend aristocrats.
Back to top