Chinese yuan falls on U.S. tariff threat, Australian dollar sinks
This article by Olga Cotaga for Reuters may be of interest to subscribers. Here is a section:
The Chinese yuan fell to a one-month low versus the dollar on Friday, a day after U.S President Donald Trump accused China mishandling the outbreak of the novel coronavirus and threatened new tariffs on Beijing.

Trump said on Thursday he believed the virus may have originated in a virology lab in Wuhan, the Chinese city where the outbreak began. The Chinese state-backed Wuhan Institute of Virology has dismissed the allegations, and other U.S. officials have downplayed their likelihood.

The Chinese yuan fell in the offshore market by 0.7% to 7.1350 versus the U.S. currency, its lowest since April 2 CNH=EBS. On Friday the yuan fell to its lowest since March 25.

"Given the scale of the COVID-19 impact there is certainly a high risk of geopolitical tensions escalating considerably as lockdowns reverse," said Derek Halpenny, head of research at MUFG.

"This would clearly be another hit to global trade that would add a layer of dollar support going forward," Halpenny said.
There is no political downside during this election year of blaming China for just about anything. It's an easy target because it is less than forthcoming about sharing information on everything from economic statistics to coronavirus infection figures. That ensures there are always going to be questions about its ulterior motives, like global domination. Meanwhile, any politician that attempts to claim the vendetta against China over reaches will be accused of being a traitor.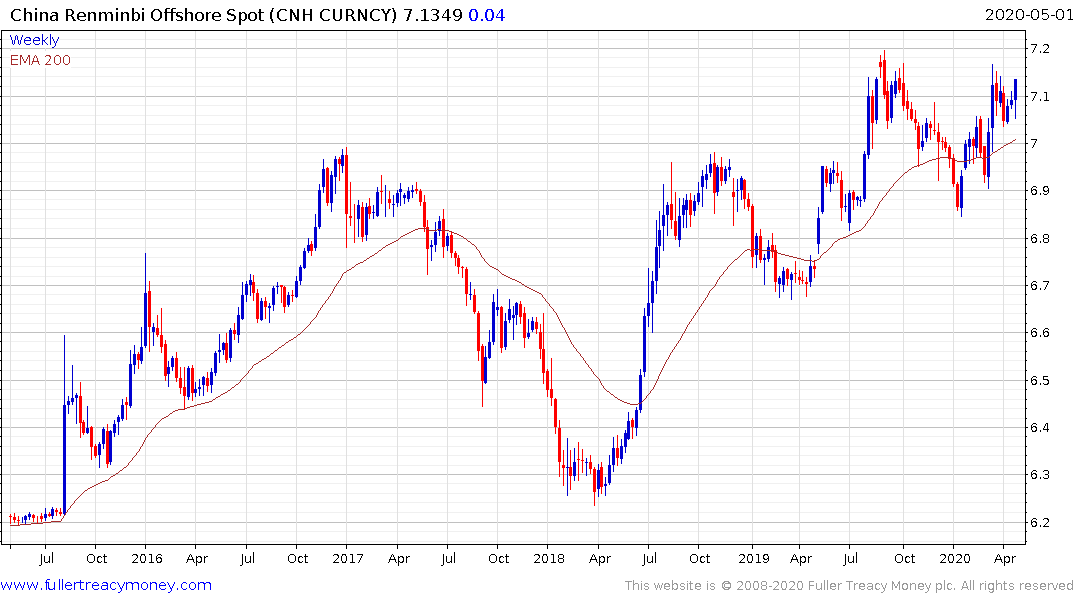 The fact that China is in fact guilty of many of the issues leveled against it is what will likely give this agenda staying power. China will certainly not stand by without reacting to what is sees as aggression. The step lower in the Renminbi this morning being a case in point. A sustained move below CNH7 would be the minimum required to question potential for additional Dollar strength.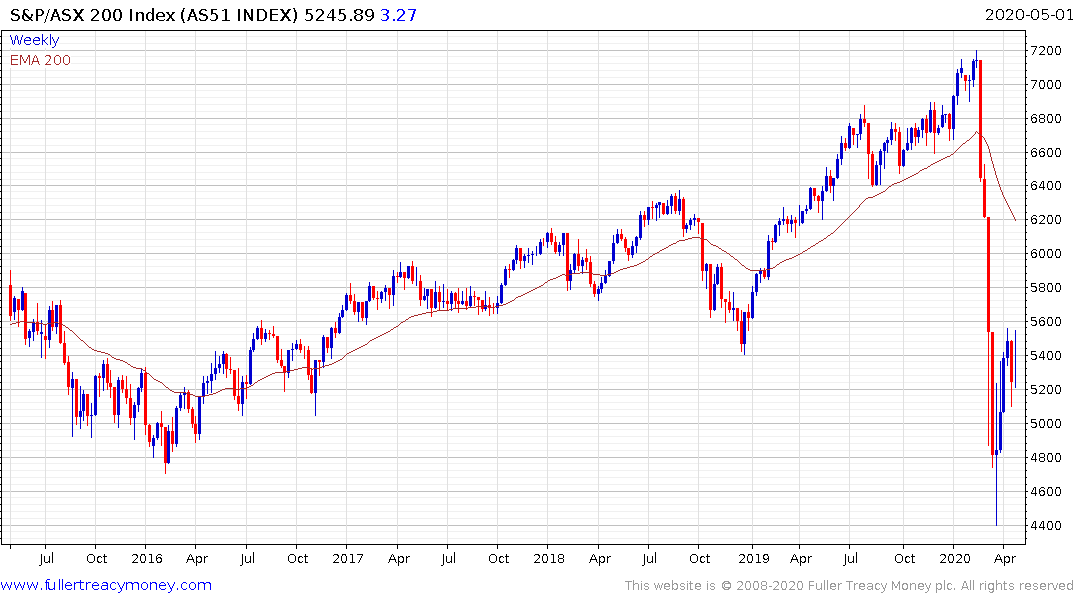 Australia's S&P/ASX 200 dropped by 5% today. Fibonacci retracements are not particularly useful most of the time because the levels chosen tend to be very subjective. However, following a significant decline like we have seen over the last few months, the big question is how much of the move will be unwound before we see the first big consolidation. The ASX 200 unwound a tad more from 38.2% of the decline and is now experiencing resistance near 5500. A retest of the lows cannot be ruled.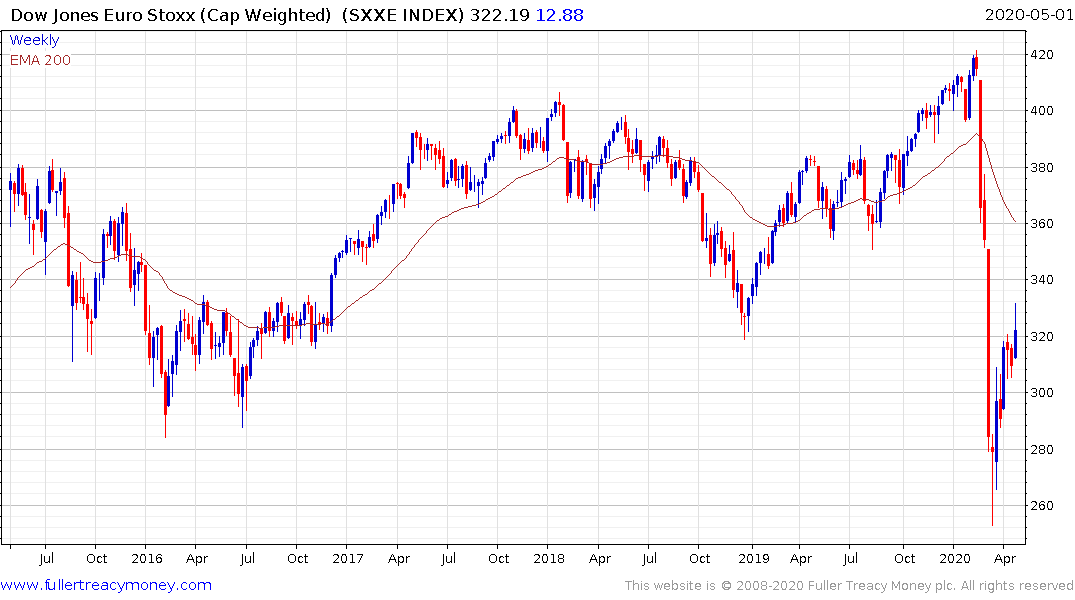 That's equally true of the majority of global indices which experienced the deepest pullbacks in March. The Euro STOXX Index unwound almost half its decline and now looks likely to experience at least some consolidation of the rebound.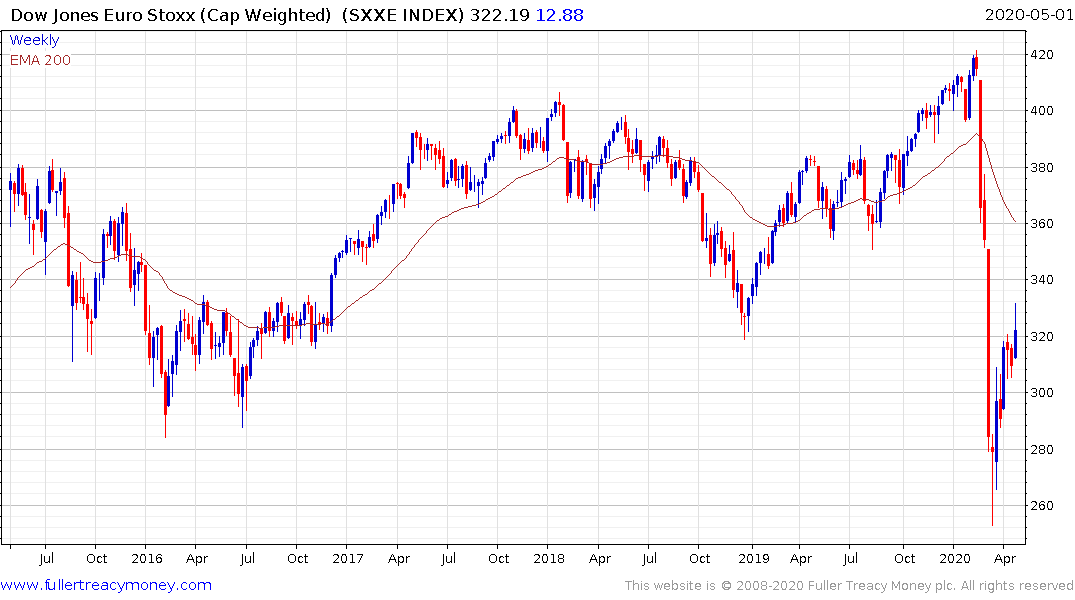 The FTSE-100 posted a downside key reversal yesterday and followed through on the downside today. That suggest a procession of consolidation is underway.
A number of these charts have bearish pennant formations where the acceleration lower gives way to a modest rebound and mildly bullish ranging. If the short-term succession of higher reaction lows breaks it suggest the lows will be taken out of stops are triggered.
Back to top