Chinese Companies Say They Can't Afford to Pay Workers Now
This article by Lulu Yilun Chen and Jinshan Hong for Bloomberg may be of interest to subscribers. Here is a section:
"A week of unpaid leave is very painful," said Jason Lam, 32, who was furloughed from his job as a chef in a high-end restaurant in Hong Kong's Tsim Sha Tsui neighborhood. "I don't have enough income to cover my spending this month."

Across China, companies are telling workers that there's no money for them -- or that they shouldn't have to pay full salaries to quarantined employees who don't come to work. It's too soon to say how many people have lost wages as a result of the outbreak, but in a survey of more than 9,500 workers by Chinese recruitment website Zhaopin, more than one-third said they were aware it was a possibility.

The salary freezes are further evidence of the economic hit to China's volatile private sector -- the fastest growing part of the world's second-biggest economy -- and among small firms especially. It also suggests the stress will extend beyond the health risks to the financial pain that comes with job cuts and salary instability. Unsurprisingly, hiring has all but ground to a halt: Zhaopin estimates the number of job resumes submitted in the first week after the January outbreak was down 83% from a year earlier.

"The coronavirus may hit Chinese consumption harder than SARS 17 years ago," said Chang Shu, Chief Asia Economist for Bloomberg Intelligence. "And SARS walloped consumption."
The knock-on effect of meeting payroll when there is no money coming in is no laughing matter for the service sector; particularly when it is fuelling growth. The gravity of the threat means the range of policy options being explored is open-ended. Everything from direct payments to employees, tax holidays, relaxing regulations, cutting interest rates and boosting money supply are possible and probable.
The Dollar continues to consolidate above its trend mean against the Renminbi. Supporting the currency would appear to the least of Beijing's concerns at present.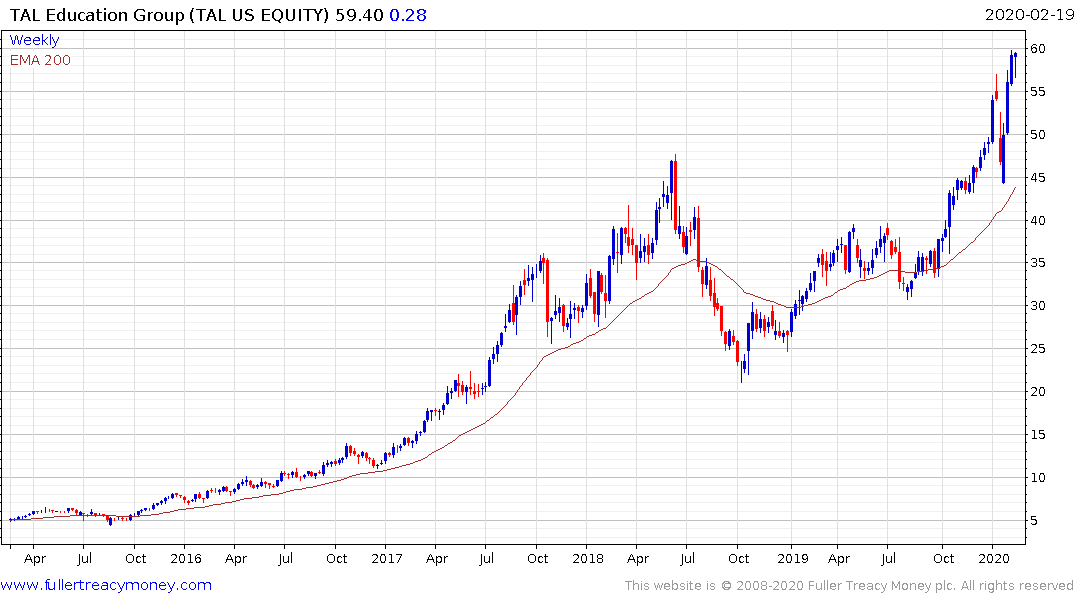 Meanwhile online education provider TAL Education is pushing new highs.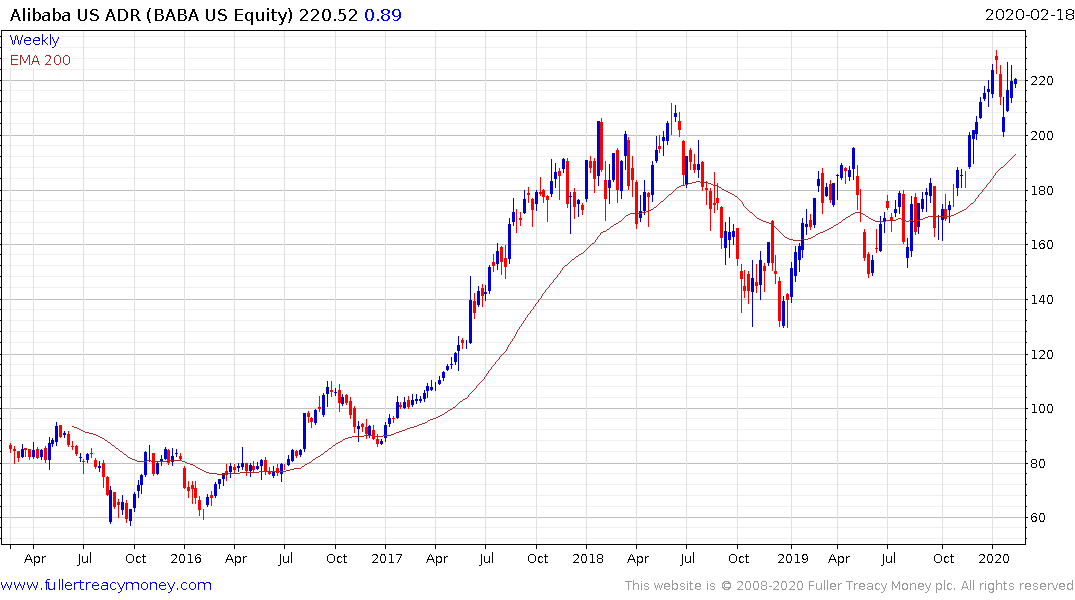 Alibaba's delivery people are still working and the share is holding its break above $200.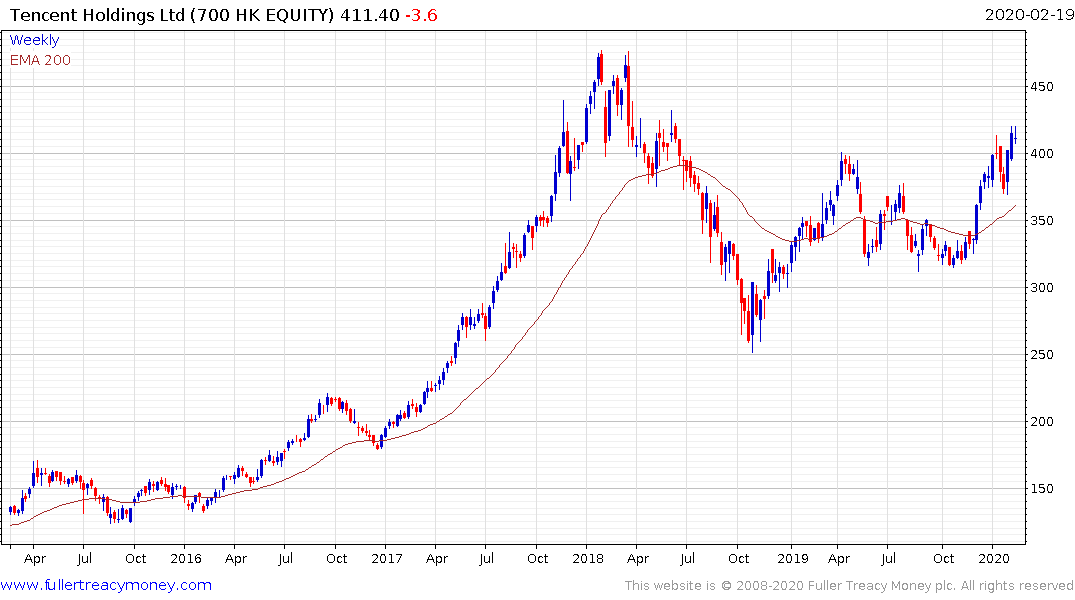 Tencent Holdings hit a new recovery high this week as it continues to recovery from a two-year corrective phase.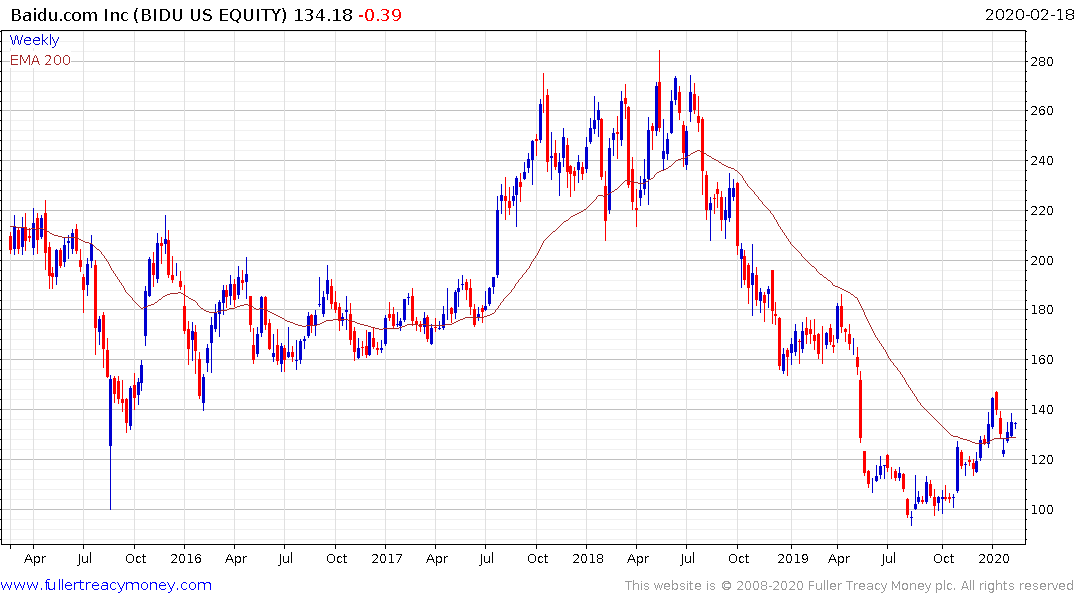 Baidu has broken its downtrend and found support earlier this month in the region of the trend mean.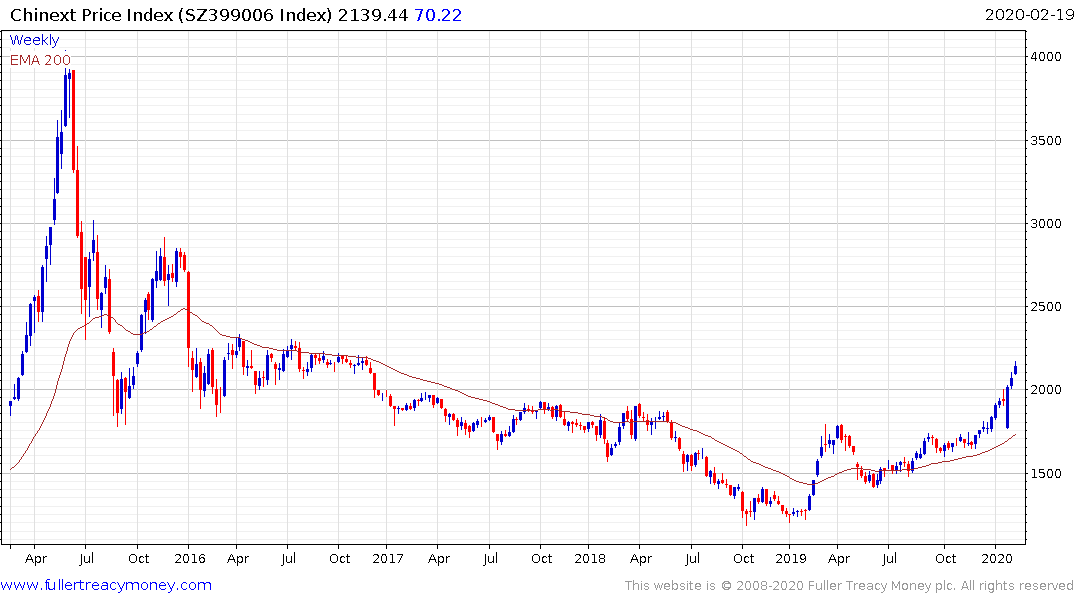 The tech-heavy Chinext Index has broken a four-year downtrend and bounced from the region of the trend mean immediately following the Lunar New Year Holiday.
Back to top