China Virus Spreads to U.S. With Health Officials on High Alert
This article from Bloomberg may be of interest to subscribers. Here is a section:
The new virus "could be No. 2 or 3, that's the concern," Heymann said in an interview. "We need enough information to make a proper risk assessment."

Despite the worries, the new virus is likely less deadly than SARS, said University of Sydney associate professor Adam Kamradt-Scott.

"It's important to stress that this virus at the moment has been causing mild illness in the vast majority of people that have been affected," he said in an interview on Bloomberg TV. "There's around 10% of cases that have ended up in critical condition and there's been deaths, but the vast majority of the 200-plus people infected have resulted in mild illness."
The Chinese New Year Holiday begins Friday evening and lasts about a week. Internally, it is a time for families to get together but the length of the break affords many people the opportunity to travel abroad which is why there is so much concern being expressed at present. The reality however is that there are probably about 300 confirmed cases and perhaps triple that which have gone unreported, but there will be hundreds of thousands of people travelling abroad over the next couple of weeks. There is obviously risk of further contagion but it is unlikely to represent the pandemic many fear.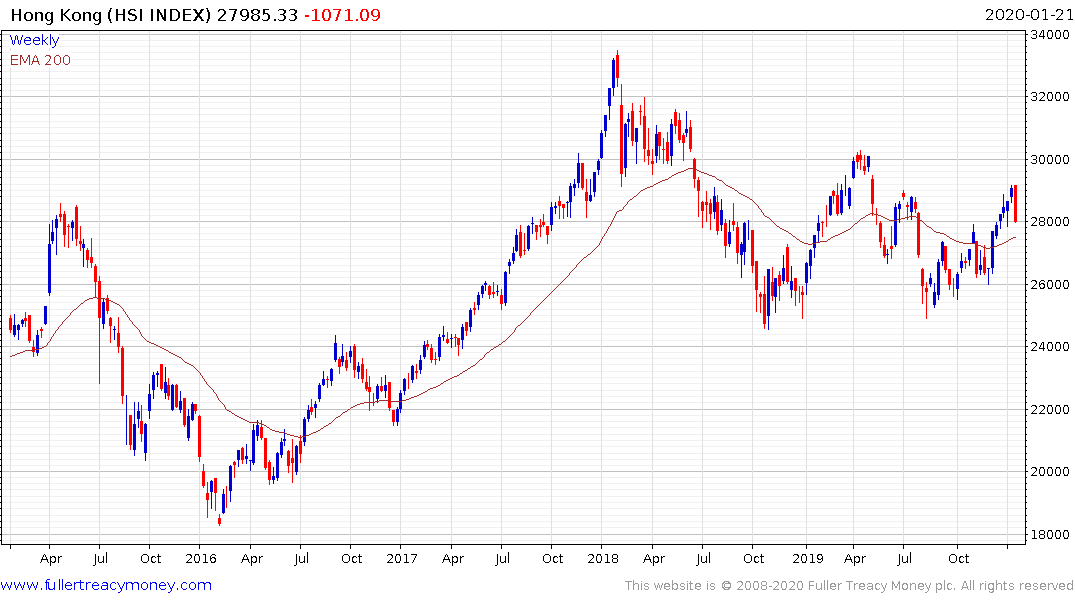 Hong Kong shares pulled back rather sharply today on the dual news items of the Moody's downgrade and the hit taken by airlines, hotel and casino stocks in response to the heightened risk warning. The Hang Seng has held a sequence of lower major rally highs for two years and today's downward dynamic suggests at least some consolidation in the short term. A sustained move above 29000 will be required to reaffirm medium-term demand dominance.
Back to top