China Urbanization 2.0
Thanks to a subscriber for this report from Morgan Stanley which may be of interest. Here is a section:
Here is a link to the full report and here is a section from it:

Despite the near-term growth setback from the COVID-19 disruption, which we view as transitory, we believe China's continued development of smart supercities via new infrastructure will bring its urbanization ratio to 75% by 2030 (vs. 60% today), translating into 220mn new urban dwellers.
The adoption of next-gen technology and increased urban agglomeration effects will sustain total factor productivity at a 1.5% CAGR through 2030 (vs. 2.0% in 2015-19) – still ranking as one of the highest rates in the world – and labor productivity could increase 80% from today's level. Our growth accounting analysis suggests that 55% of the labor productivity increase will come from the agglomeration effect of smart supercities, with another 40% attributable to rural-urban migration.
We thus remain confident that China is poised to attain high-income status by 2025, with annual per capita income almost doubling from US$10k today over the next decade.
The virus scare has highlighted how susceptible China is to the export market. They have worked extremely hard to get factories back to full capacity but, having succeeded in that objective, they now find there are no orders.
The objective of developing a domestic demand model, where the nation's large population drives consumption of products and services, has been the model for the last decade. The coronavirus is only going to intensity that trend. From China's perspective that is the only suite of policies that make economic and geopolitical sense.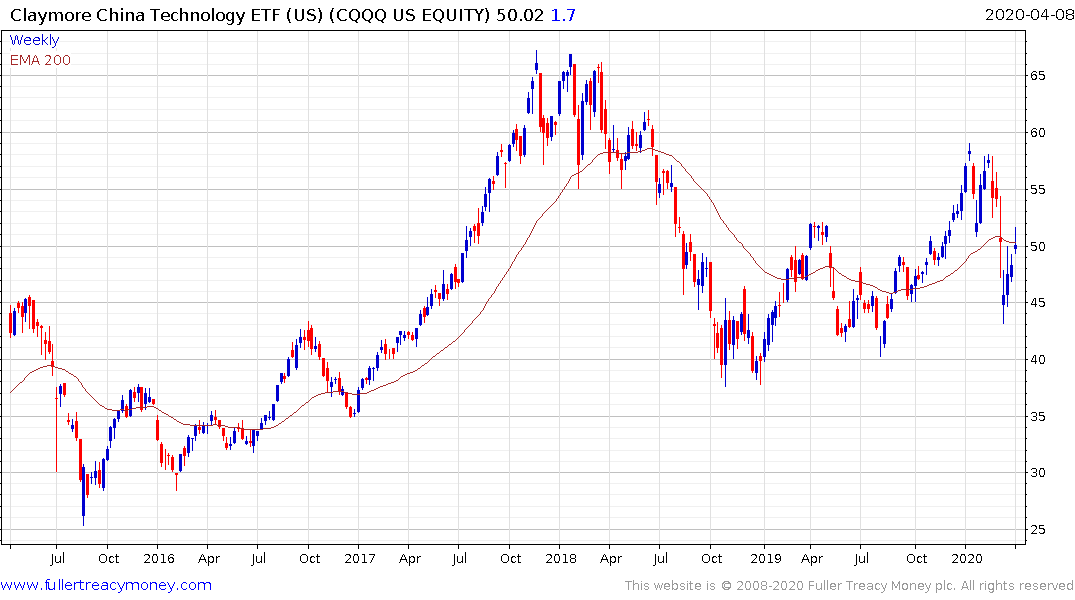 Energy independence, automation, 5G connectivity, artificial intelligence and social media/control are likely to remain the primary themes of China's industrial model. The Invesco China Technology ETF (CQQQ) has exhibited relative strength over the last six weeks and continues to hold an 18-month sequence of higher major reaction lows.
Back to top