China's Yuan Tumbles Past 7 Per Dollar for First Time Since 2008
This article by Tian Chen and Sofia Horta e Costa for Bloomberg may be of interest to subscribers. Here is a section:
The yuan declined 0.9% in mainland trading last week, its biggest loss since mid-May, after President Donald Trump abruptly escalated the trade war with new tariffs on Chinese goods. Beijing pledged to respond if the U.S. goes ahead with a plan to impose a 10% tariff on a further $300 billion in Chinese
imports.

"It appears that the tariffs hike suggests the return of tit-for-tat moves and a suspension of trade talks, and the PBOC sees no need to keep the yuan stable in the near term," said Ken Cheung, a senior currency strategist at Mizuho Bank Ltd. The tumble exacerbated losses in Asia's financial markets.
China devalued its currency when the first round of tariffs was imposed and it is doing so again now that tariffs have been imposed on all of its exports to the USA. The Renminbi broke below CNY 7 today and that represents the reassertion of its bearish trend.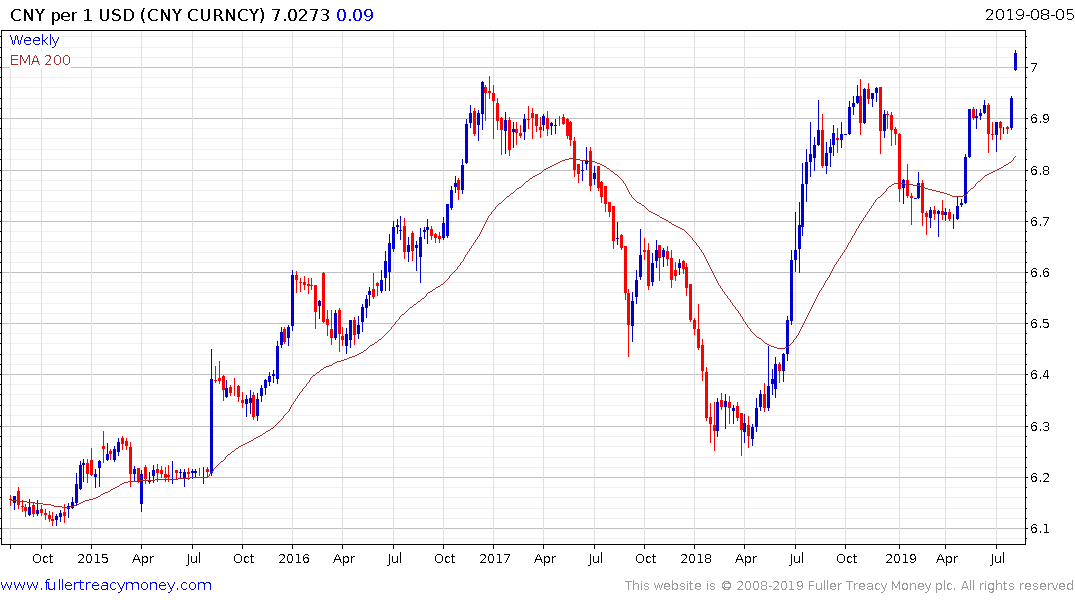 The devaluation of the currency below CNY7 is a major change of policy for China and it greatly increases potential for capital flight. That is the one thing China cannot afford to allow. The entire rationale for supporting the economy, and ensuring the ability to manage systemic risk in the nonperforming loans sector, is based on the trillions in deposits sitting in the banking and post office systems.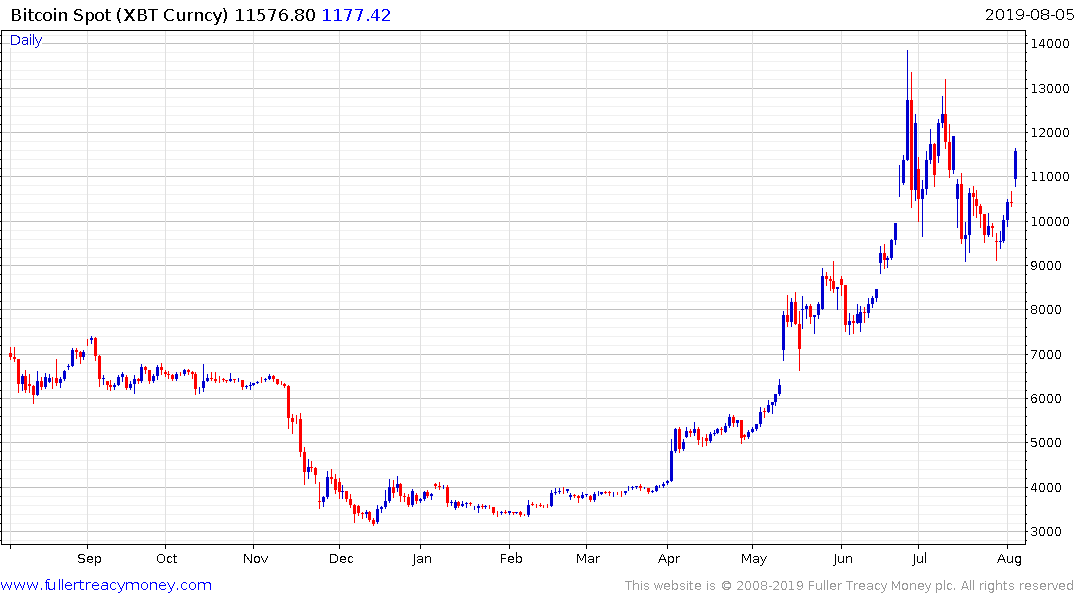 Bitcoin popping on the upside, confirming near-term support in the region of $9000, which suggests investors are voting with their feet.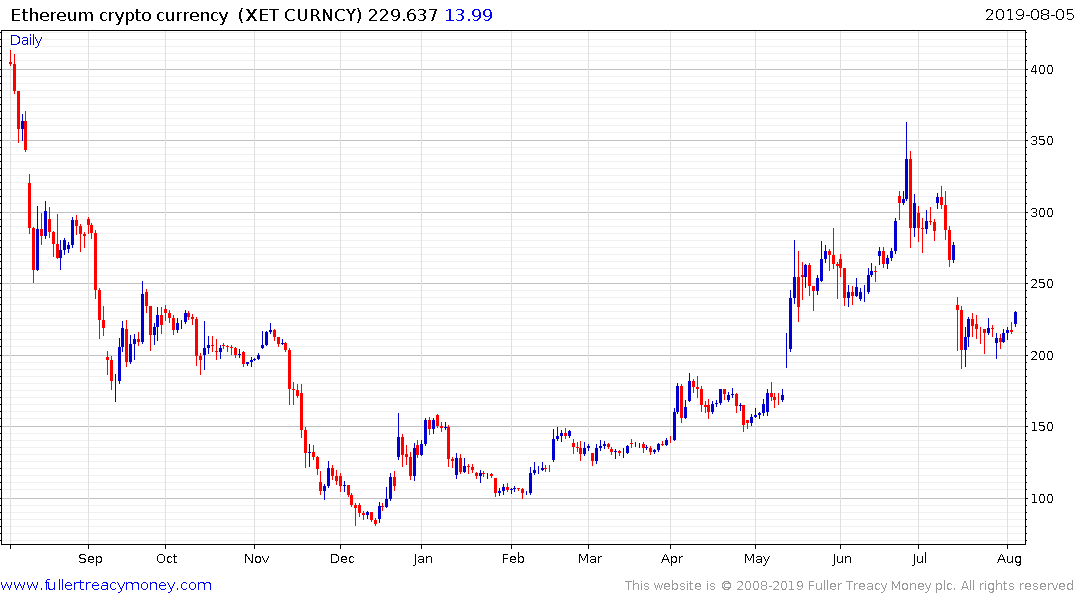 Ethereum also steadied from the $200 level.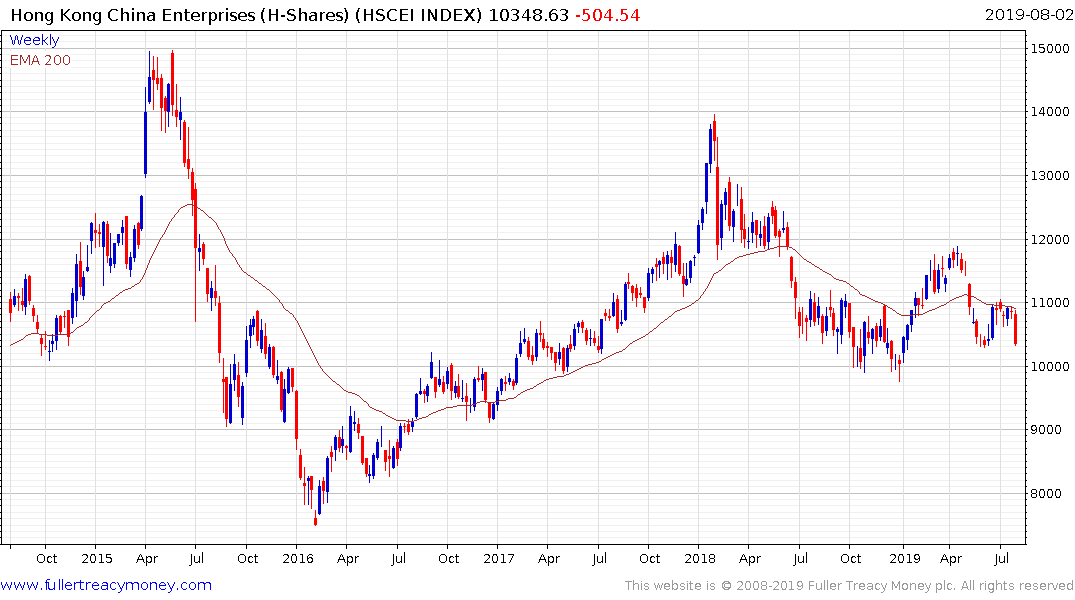 Against this background the clear risk of a disorderly result in Hong Kong is putting pressure on the city's stock market. The H-Share Index extended last week's breakdown and a clear upward dynamic will be required to question potential for further downside.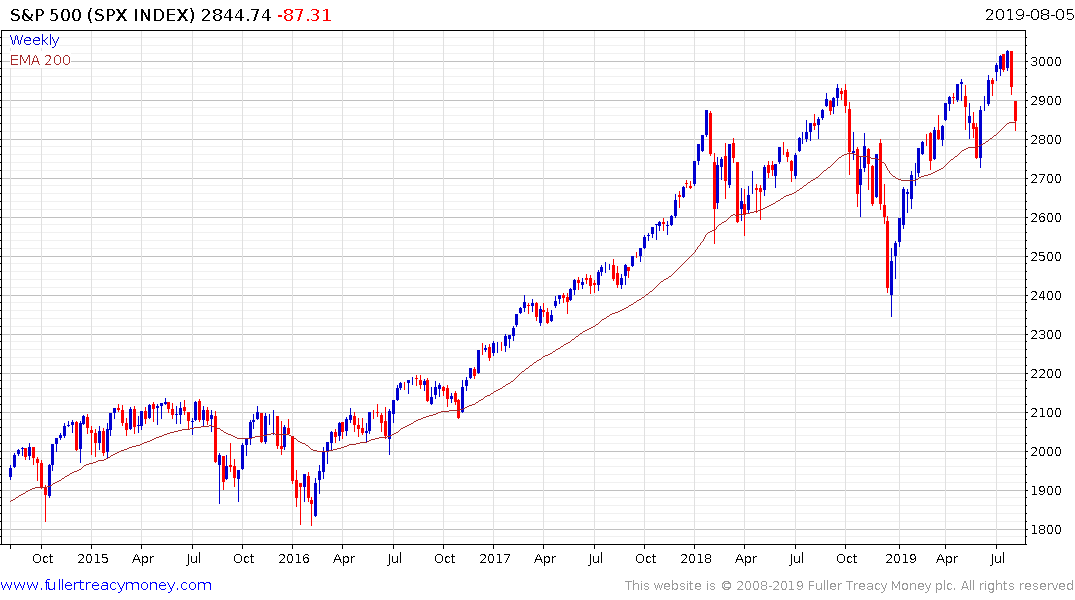 Wall Street pulled back sharply to test the region of the trend mean and will need to domonstrate support in this area if a major failed upside break is to be avoided.
Back to top